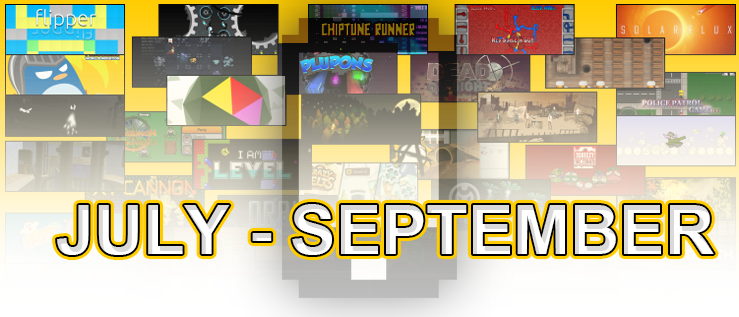 Year in Review 2013 Quarter 03
July through to september saw some great releases and lots of updates, check out what made the headlines, to find some new favorites, and dont forget, vote for the games you like.
Candlelight is an upcoming platform-adventure video game. After a series of catastrophic events extinguish all candles in the land, a lone surviving candle sets out on a most important adventure to bring light back to the land. The lone candle's journey will not be easy as it must battle through rain, wind, water, lava, TNT and more. Will the candle's life be extinguished before the journey is complete? Only you can help determine this lands fate!
To avenge your mentor's death you have to defeat the countless minions of the killer. Use precise timing and deadly gestures to burst the hearts of your foes in this frantic yet simple action game.
AudioBrush brings a ground-breaking new way to game on your iOS device with your own music. Choose a track from your music library and starting gaming against the world to gain new high scores, unlock achievements and get some great rewards!
Other Featured Releases in Q3:

PLUPONS HD RELEASED

SlothDrop Released.

BGP ORBIT 1.1.0

Gear Jack Android Release

AudioBrush Beta for Android


Dead on Sight

Touch of Death

ONCE UPON AN APOCALYPSE

Flipper Released

Crazy Belts Alpha

O'zapft now Free

Past Memories Released

Hell, The Dungeon Again! Released

ColorField Released

FATS OF PYORI LITE

Boxing Manager

Tilt Mania

Fork Truck Challenge Version 1.0.1

SMASHGRID

Junction Action Arcade

I Am Level is out now,

Heartography

BUNNY RUSH 1.1.5 UPDATE
CANDLELIGHT

Police Patrol Game v1.0.3

Solarflux

SQUEEZY THE TOMATO IS RELEASED FOR ANDROID!

EVILEYE IS RELEASED!

PENGUEMIC DEMO RELEASED!

XY Cannon 1.0

Lugdunon Alpha 0.5.3 released.
Autumn Dynasty Released

Orris HD

Chiptune Runner