NEW FEATURES:
-Coins are randomly generated and provide an extra 50 points when collected. They could influence how you strategically place your jellies before each level begins.
-You now have 50 seconds to complete each level. If time expires you lose a life.
-A trace of the fan is not present when the fan is not in use. This shows you exactly where it will be at all times when you turn it on, so there are no more surprise fan caused jelly deaths for misjudging distance.
-Instead of a boring number, lives are now displayed as actual jellies so you can easily monitor your number of lives with your peripheral vision.
-For every 2000 points earned, you received an extra life (not to exceed 6).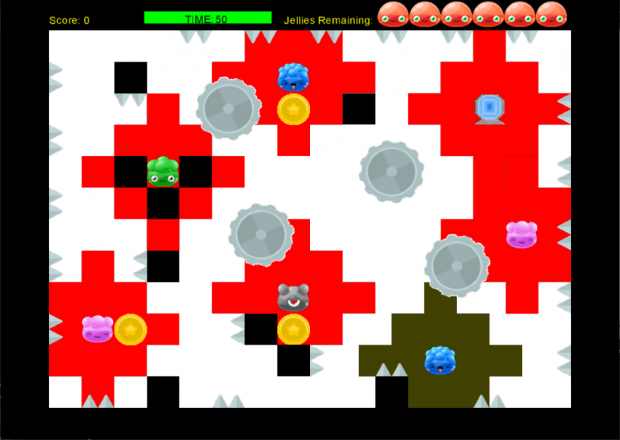 I am looking for feedback regarding the game's difficulty. Is it too hard? Too easy? Should you be given more time? Should there be more obstacles? More or less lives?
Tip: Press the enter key to restart the game and load a new randomly generated level. You can see more levels this way to get a better feel for how the generator works without having to complete levels.
Thanks!