The Game consists of 3 main layers: management, global map and tactical combat. In management, you will be responsible for making choices on how to improve and advance your company, maintain a sustainable economy to provide supplies and salaries for members, and build and improve your barracks infrastructure. It is also through your company that you can train your members, forge equipment for your adventures, issue orders to your advisors, and choose which traditions the company will follow. On the global map, you will be able to choose your destination and your actions, from looting, fighting to sailing to distant lands in search of spices and trade. The Angon region is hostile, so going out to clear the land can be a dangerous but very rewarding task. On the map you will have to deal with the events that arise along the way, as well as groups traveling across the continent, which may or may not be friendly. When the action begins, you enter the tactical combat part, where the real fighting takes place. Each combat will present a characteristic and it will be up to you to devise a strategy to survive the dangers of Angon.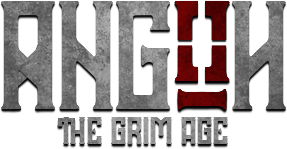 Open world:
A world marked by the past: cities in ruins, dead forests and a people forged in war. Travel through Angon and find out about the past that drove humanity into chaos. You decide where to go and what to do with your company's fate. But remember: choices have consequences – the world will permanently react to your actions and it may never be the same again.
Economy:
The economy in times of desolation can be tough, but also presents many opportunities: contracts, lost treasures, trade, naval explorations, looting, conflicts and politics. How you build your company's fortune is up to you.
Enemies:
Enemies don't just differ in appearance and name. All enemies have unique abilities and unique AI behavior. For you to survive the dangers of Angon, it will be essential that you have a consistent strategy to face the different types of enemies throughout the game.
Equipment:
Each piece of equipment grants unique abilities – inflict deep cuts with swords, stun enemies with maces, form a shield wall, or crush heavy armor with a warhammer. Each piece of equipment has its advantages and disadvantages and it is up to you to establish how to make the best use of them in your strategy.
Health system:
Each character has unique characteristics that affect how he deals with the world: alcoholics, myopic, lame and other characteristics are present in the inhabitants of Angon.
Wounds:
During your journey you will deal with different conflict situations, whether at sea or on land. Conflicts can be extremely lethal if your soldiers are not prepared for it, resulting in injuries that can last a long time or even forever: loss of limbs, scarring, broken bones, cuts and infections will be major problems for an unprepared company.
Develop your Company:
Each company grows in a different way, and it's up to you to develop yours, whether through trading, producing goods or completing contracts in the city-states of Angon. Improve your company structure by upgrading and building, recruit members and advisors, improve your relationship with cities, forge alliances and choose your side in the conflicts to come.