Greenlight Campaign has started
We have started Steam Green Light company. Now you can vote!

Here a Green Light page of our game: Steamcommunity.com

Also, we have updated gallery, added screenshots from the latest game build.
Unique?
All city building simulators somehow similar, but always there are some unique features - the devil is in the details. If we talk specifically about the difference between our game and Banished there are several significant differences.
Ecosystem
First, the biggest and most important difference is that in our game is very carefully designed ecosystem. Many of the player's actions affect it - for example, deforestation leads to the disappearance of many resources, such as medicinal herbs and edible mushrooms. People who walk in the woods, scare wild animals and they go deep into the forest. Because of this it becomes more difficult to hunt.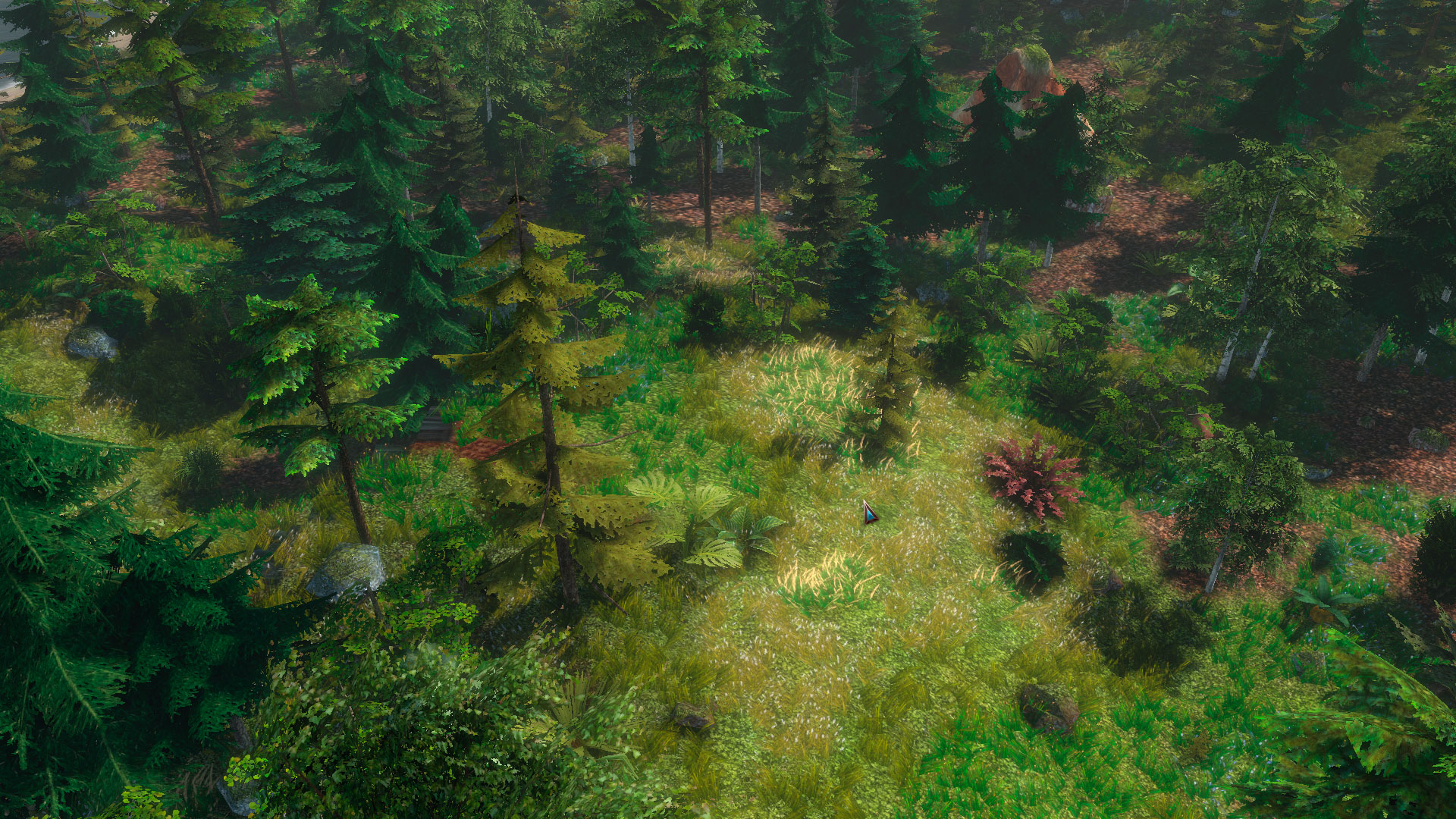 The amount of the crop, which is collected by the farmers depends on the weather. If there is a drought, they will irrigate fields taking water from wells. If it is raining, then they will take the hoes and will loosen the soil in the fields. However, if peasants not to be working on the fields, the crop will grow poorly. Different crops also have different air temperature requirements - some of them can grow immediately when air temperature reaches zero, some other needs more warm weather. It also needs different time to grow and gives different types and amount of food.
Disasters
During rainstorms lightning hits ground, which also can hit a building and set it on fire. As we all know, lightning often hits top of hills - so it's worth thinking about where to put the construction. Buildings located in the lowlands are less likely to ignite from lightning. Due to the fact that our game has an opportunity to construct buildings in the lowlands and on the tops of hills or slopes - the player has a choice where to put the buildings. Weather (temperature, rainfall) have changes from day to day, from season to season, from year to year.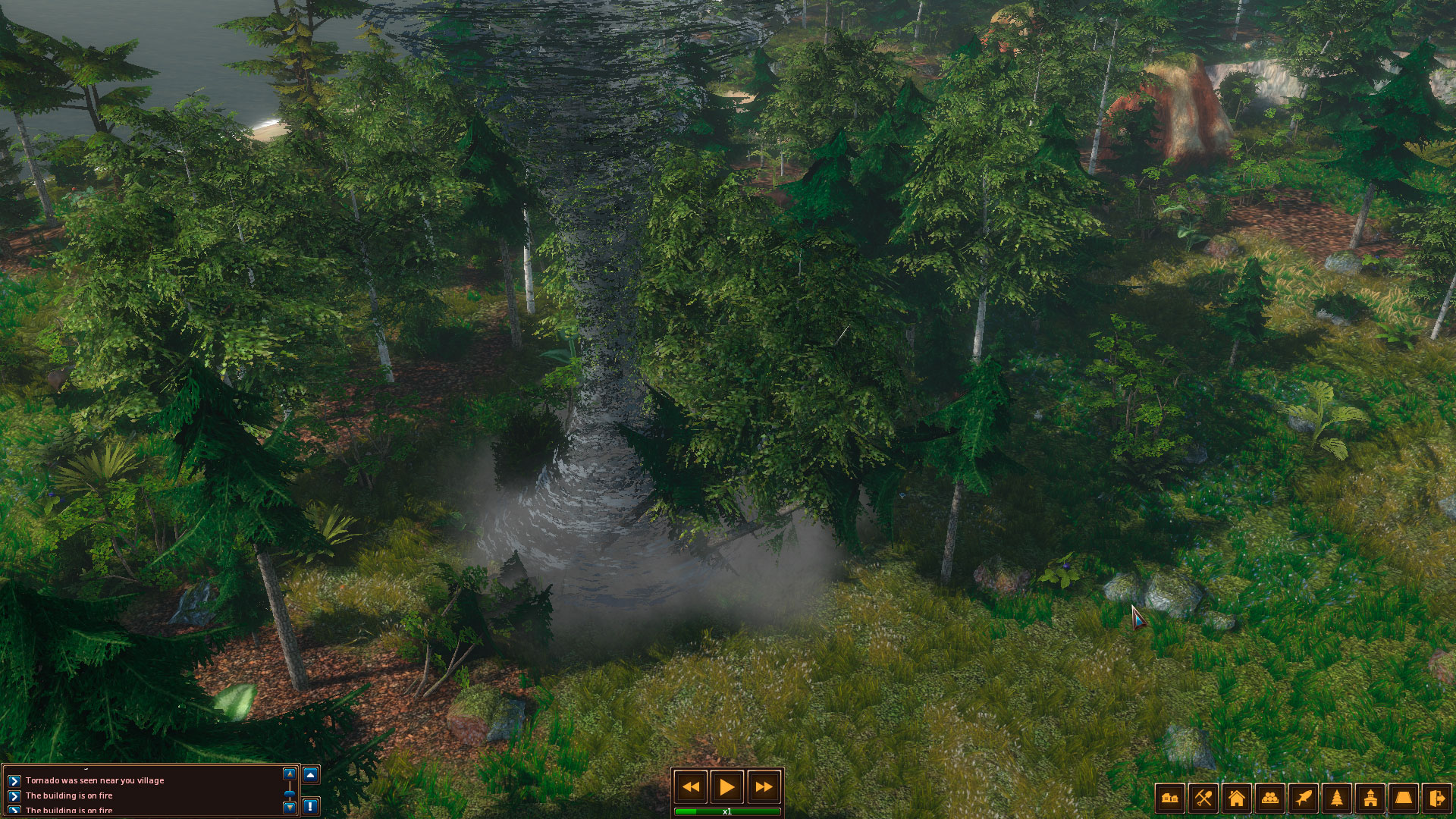 During extraction of the resource from deposits voids are formed in the ground, and this can lead to earthquakes. If you strengthen the walls of the mine (upgrade the mine), the chance of earthquake will be significantly lower, but upgrade needs a lot of resources.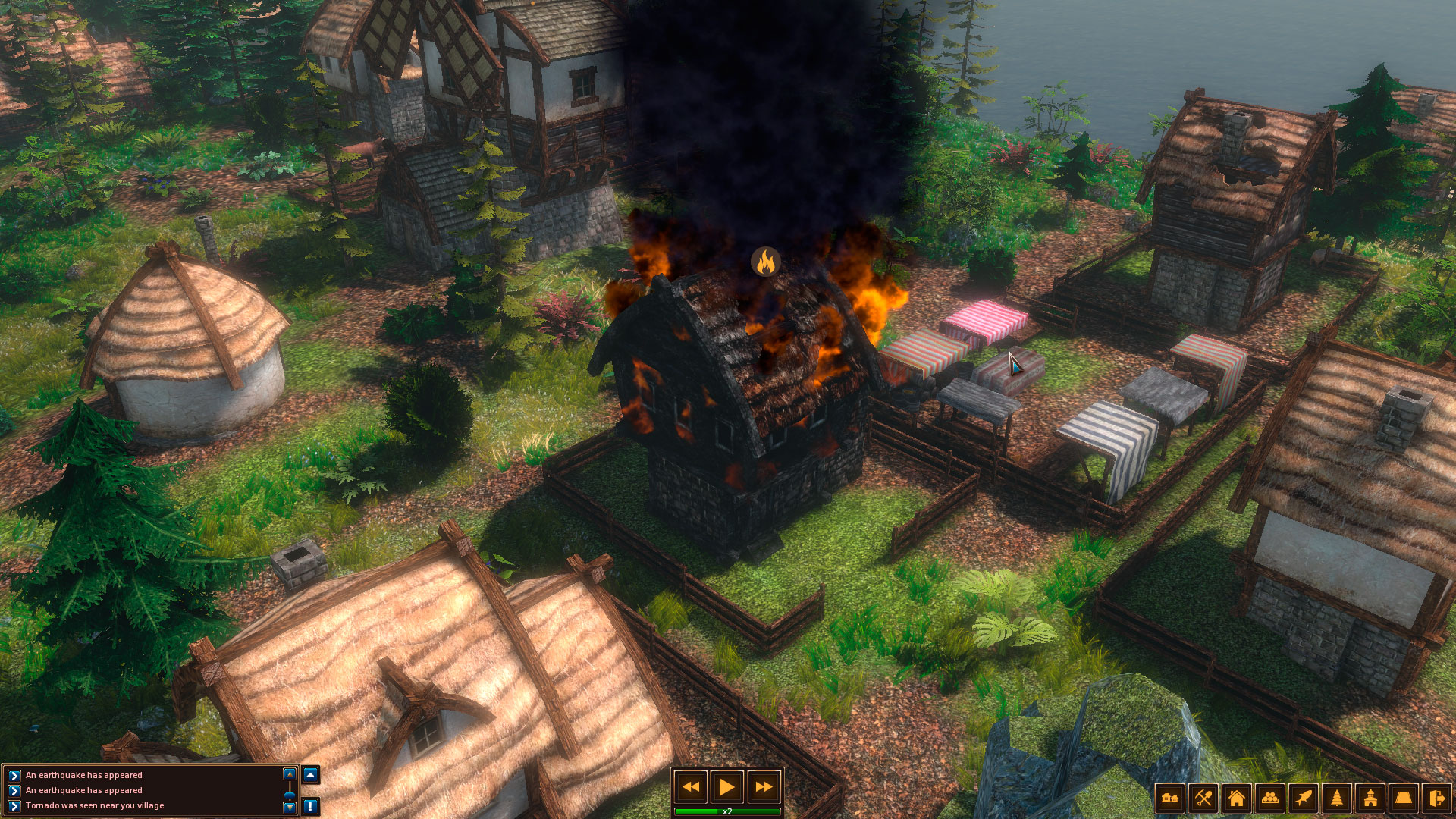 Diseases of the residents can be caused by different factors - it is monotonous food, cold weather, and contacts with sick wild animals. Therefore, you need to take care not only about food, but also about food types - meat, bread, berries, and mushrooms are necesary for a healthy diet and productive work. To keep warm in the cold citizens need warm clothing. And for protection against wild animals they need hunters.
Hunters also need to protect your pastures. Without the protection your pastures will be attacked by wolves, foxes and other wild animals, and they will eat your livestock. Most wild animals are born and live in the woods. You can cut down forests and wild animals will no longer annoy you. But, among other things, the hunting of wild animals brings you meat and skins. If the wild animals disappear - your residents will have nothing to eat and they do not have clothes that would keep warm in the cold.
House system
Different houses have not only a different number of places to stay, but also differ in some other parameters. For example, a good home makes resident be happier. And the higher the happiness of a resident, the better and faster it works. On the happiness level also affects several other factors - for example, if one of the residents of the house dies for some reason, all the inhabitants of this house temporarily reduced level of happiness.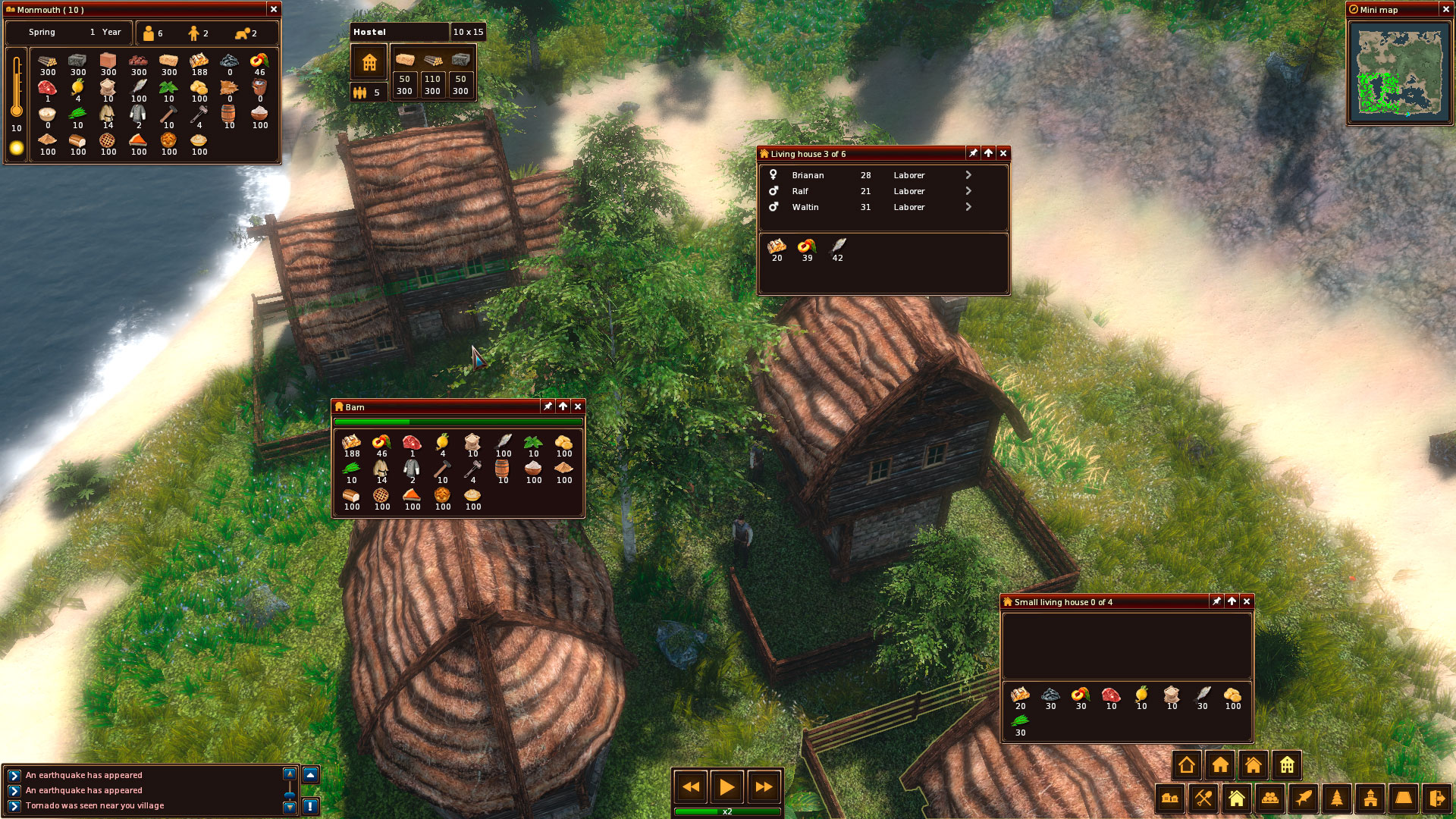 The level of the house also affects the probability of conceiving a child. The probability of conception in the shack is much lower than in a large stone house, and in a hostel it is minimal. Because of this you can build several residences that settle of your entire population, but the number of inhabitants at the same time will grow very slowly, or you can build a lot of shacks that require few resources and population will grow faster. Opposite you can build a lot of nice houses, but it will require from you a lot of time and resources, but your citizens will be happy, will work well and the population growth rate will be significantly highe.
In order to successfully develop their city, the player must find a balance between all of these and many other factors.
Cosmetic features
Also the game has so many small features. Some of them is a cosmetic only, some - not. For example, most of game buildings have a fences, which affects to peasants pathfinding and need player attention to place buildings at right place and right entrance direction. Wells has a limited amount of water, which replenished over time - because of this if player build many pastures/gardens/fields at some area, it need to build many wells. Some types of the resources can be collected by peasants all the year, others only in warm seasons.
There are a number of animated buildings, like a windmill, stone pit, ore mine and some others in the Forest Village. Game modders will have all access to animations modding - for buildings, peasants, animals. Also 90% of game AI is scriptable and can be completely redefined by modders - task and resource management, navigation, animations, sounds, etc can be completely changed through game scripts (game scripting language is LUA).
The game have a dynamic day/night cycle changes (which don't affect gameplay at the moment), sun moves at sky sphere by time, and sun shadows moves in sync with sun movement.
On a 3d-landscape buildings can be placed at different heights and slopes. At a start of the new game, user can choose one of landscape types: plains which is really "flat" and is very simple to play, "hills" which is more complex and harder to play, and "mountains" which is really hard to play and survive. Type of the landscape has impact to ecosystem, i.e. on trees, bushes, mushrooms, edible roots, animals, etc.
Earthquakes can not only damage or completely destroy player buildings, but can break and cut down the trees in the forest on large areas. The strength of earthquakes depends on some random factors, but also from resource extraction in mines.
There are so many resource types, and some of them can be used in many ways. For example, player can grow oat at fields and apples in gardens. Then oat can be uses to feed the animals. But player can also use the mill to process oats into flour and bake an apple pie in the bakery, which is well quench the hunger of the workers.