MAIN FEATURES
There are thousands of features and things to do in this game, like clicking on the ground to make Detective Case move or reading through extensive and boring dialogues. Here are the main bulletpoints taken from the producer powerpoint presentation.
Play as Detective Case and Clown Bot (duh!)
Gather items and manage your inventory.
Search for clues and interview witnesses.
Solve the murder in the Hotel Lisbon.
Includes 3 aditional cases.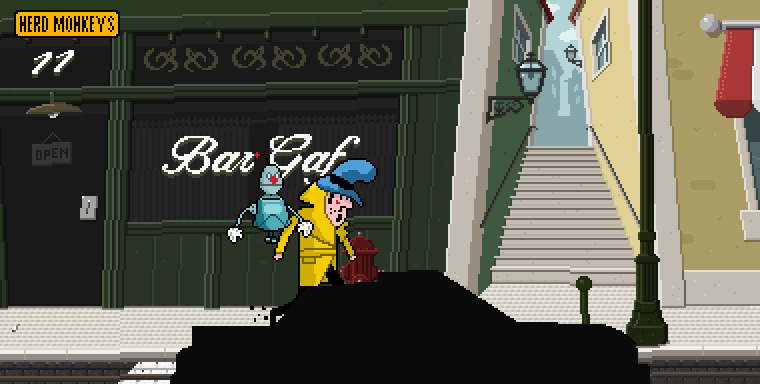 INVENTORY
Clown Bot manages the inventory.
He is capable of carrying an infinite amount of items because he... er... is capable of... er... well, you have to see it in-game to believe it because it is all very complicated and involves an octopus.
INTERFACE
Play as Detective Case and Clown Bot.
Interact with things and stuff using your mouse. Click on doors, people, items and random stuff and see a radial pop-up menu appear! It's magical! You can even click on Clown Bot and ask for a random joke.
CHARACTERS
A cast of thousands.
Murder in the Hotel Lisbon has a cast of thousands, but unfortunately only a few accepted to work for free to be in the game. It has something to do with "onions" or whatever.
SIDEQUESTS
3 aditional cases.
Are you tired of the main case? Stuck on some stupid awfull puzzle? You can always go for a sidequest and relieve your tension with an easier assignement!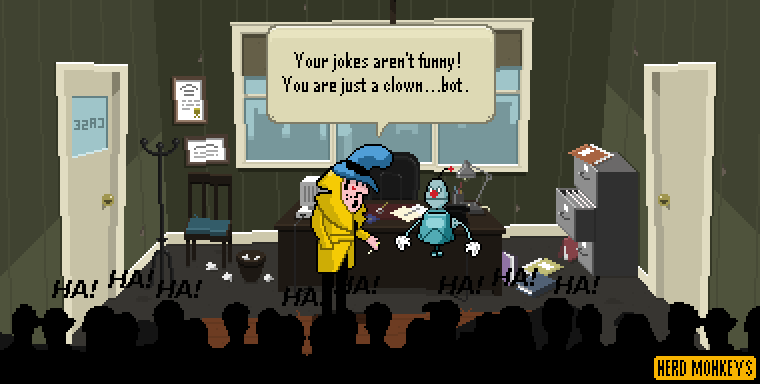 These are just SOME of the amazing features cointained within the pixelated universe of Detective Case and Clown Bot. If you are hungry for more take the plunge and visit us at www.caseandbot.com
Detective Case and Clown Bot in: Murder in the Hotel Lisbon is currently on pre-order on the oficial site and on Desura. Check it out yo!