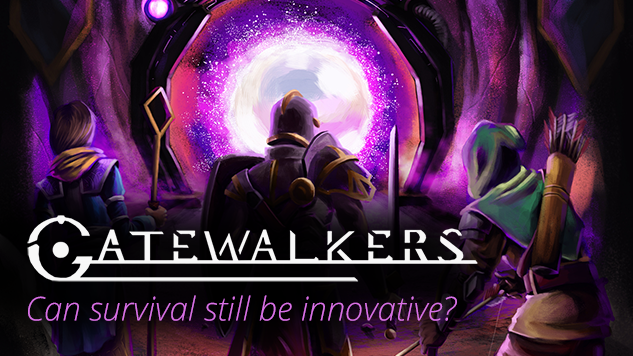 When considering survival games genre, the first thing that comes to one's mind are bivalent titles, that very often mix the kind with some sort of apocalypse, for a climax, or battle royale, as a mode. No matter how strong this picture is rooted inside our minds, nowadays the survival games are far from that pattern, growing and becoming something unique with every new title.
Since that time survival games have become extremely popular and, because of that boom, more and more game creators have decided to use the idea in their individual project. Sadly, most of the first survival products, following Minecraft's and DayZ's as their precursors, were often just lookalikes, with a little of changes added to the gameplay or setting. After some time, the players, bored with the lack of diversity, have started to walk away from the genre, looking for something more interesting to play. This groundbreaking moment was the greatest sign the developers could have ever asked for and, from that time, the genre started to evolve and abandoned its prototypes in order to develop and improve.

It came as a surprise that survival games can tell different stories than world after the zombie apocalypse or spreading fatal disease. Considering the setting of survival games – there are no rules. Everything that limits developers is brought down to their imagination only. And one of the best examples is, having its premiere back in 2014, Subnautica, created by Unknown Worlds Entertainment. This open-world game not only allows the players to do whatever they want, during their exploration of the alien planet ocean, but – in all its openness – will be forcing them to gather information and collect resources needed in order to survive. The survival part here isn't about joining the battle against other human beings, but about growing as a person in a completely unfamiliar environment and by being more cooperative than destructive.
Actually, when it comes to analysing those radically varied approaches to survival games, the one's beginning to wonder what would happen if there was a title that, actually, could have combined those features with each other. And it looks like the hero's having its big entrance just in time for our expectations.

Gatewalkers – a survival-co-op game, that's going to be published in the nearest future – is the perfect example of how you can implement freshness to a slowly disappearing genre. As a hero travelling through multiple dimensions, the players will be forced to fight various kinds of enemies. However, will they do it is a whole different story.
Every opponent will require the player to be highly flexible with selecting the right strategy. The combat alone will not be as simple as the ones we've been dealing with so far, in the previous titles. Gatewalkers really wanted to spice things up regarding fight, so the player will need to make sure that all the pieces of a plan work together. The skillset, the upgrades of one' equipment, positioning and momentum must be in perfect synergy, in order for the player to emerge victorious from the battle. What's even more entertaining – despite the fact that Gatewalkers is partly MMO game, there are no classes to choose from. The way the player's character is going to overcome various obstacles is defined by decisions made during gameplay and not by means of a class-assigned strategy. And the character's development will not take place at the same time as reaching levels, but it will depend on what conclusions we draw from travelling through different worlds, and how we're gonna use the recipes we found, to permit our character to grow. The weapon won't jump out of a defeated opponent, either. The player will have to assemble the correct fragments of the schematics, understand them and, in connection with the collected raw materials, craft his own equipment.

All the survival games will throw the player into a world where he will have to fight for one's survival, but not all of them will follow a realistic approach. There is still some place for innovation in this genre, but in order to absorb the player, they need to create a realistic sense of threat, not just pretend that it exists and has no unpleasant consequences for the player.