This last couple of weeks Tim and I have been trying to define a look for the art style of HOPE. By specifically aiming to define the style of one block, I'm hoping we can define the overall art style, working out any kinks in the art pipeline while we're at it.
So I figured it'd be interesting to discuss with you guys the way we are defining the artwork, how the iteration process works.
Firstly, we start with mood boards, reference images and generally discuss the aesthetic style we're after. I can't show you images of the references, but if you look for the concept art of Ian McQue on google, or look at rusty metal in general, you'll see the style we're after. There are of course a huge range of influences here, including physical items, anime and animation, artworks etc. In general what we want are colours, shapes, forms and inspiring images. I particularly wanted a sort of "shanty town" or "favella" look to it. My thinking being that a world built from salvage, living on what are essentially flying oil rigs wouldn't be very well put together or have much space.
So with some references discussed, the first thing we did was try and define a set of overall shapes and forms. I made the decision that all game objects have to live within an 8m grid unit, with the majority being based on multiples of that size, so for this particular shape, we're looking at 16m cube shape to keep it within.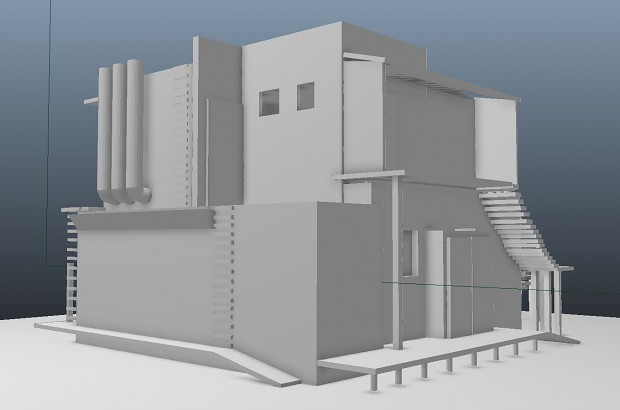 Here's one of the initial shapes Tim sketched out in 3D.
It was initially just a free-form exercise in getting an overall shape. Blocking out ideas as we discussed items. Tim created a bunch of different shapes, where we worked over what form the building should take. We quickly converged on a two story housing block, because it needed to support a small community with multiple families in one block.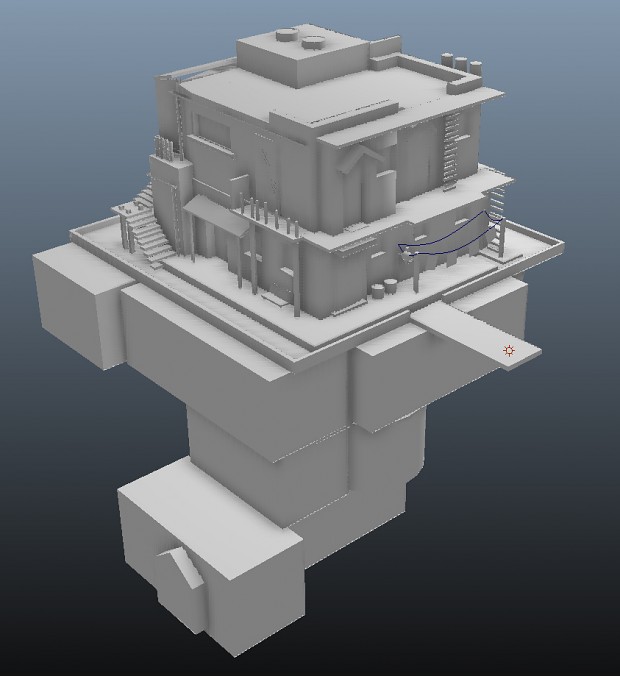 Here's a shape with more of a vertical aspect.
Once we'd worked out the two-floor requirement Tim did a block with a detail pass applied. This is still what we call "whitebox" in that it isn't meant to be used, but really to inform us of style and size requirements.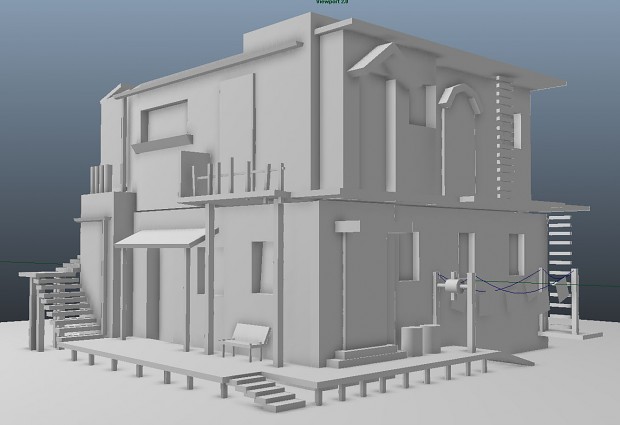 Here's the detail pass whitebox.
One of the problems with the initial whitebox was that it felt too "square". Too regular in terms of angles and shapes. Thinking that this society would be entirely based on reusing salvaged goods, I suggested thinking about how to create the block from individual parts, with references to things like reusing streamliner caravans, parts of old ships, salvaged walkways etc.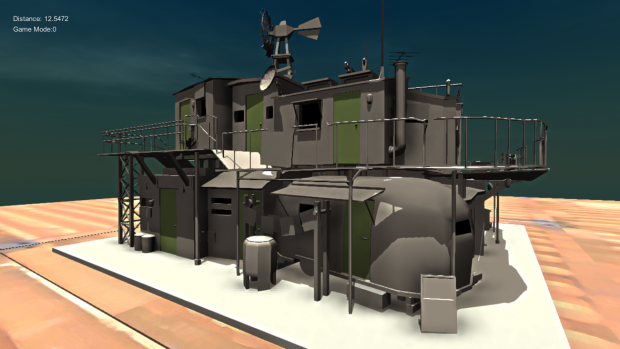 Here's the reworked shape with more separate forms within it.
Once we had this "shape made up of lots of smaller shapes" concept down, the next thing to focus on were walkways and connections. The plan is to allow for some procedural generation of these, but for this asset we wanted to model them as example structures. Tim spent quite a few iterations going over the look of them, one issue we had to fix was that once in the game, it wasn't possible for the player to navigate the initial walkways because they were too narrow. It was a great relief to have found and fixed that issue early, although the plan is not to have the player necessarily walking around the walkways anyway.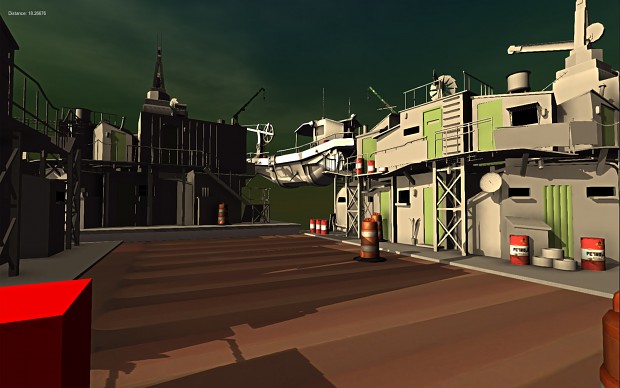 Here's a test in game with a few copies of various revisions.
The point of all these iterations was to find the style we liked. Not putting in any final asset work until we had something we could really be happy with. The next phase we are at and which I'll cover more in Part 2, is to texture up the individual parts and make a "final" block from the roughed out shapes of the whitebox.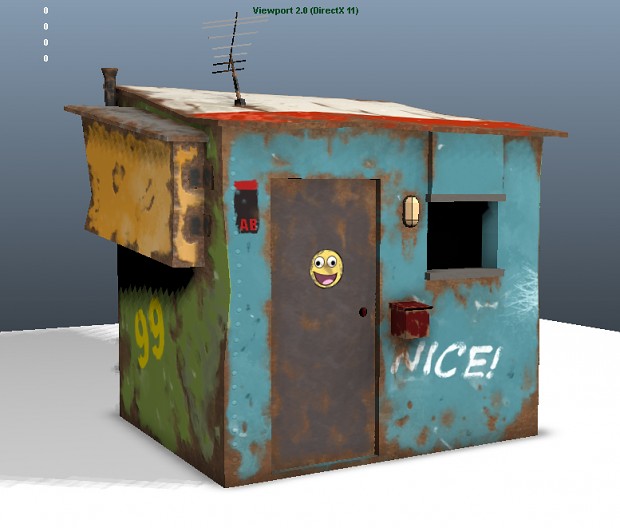 Here's a work-in-progress on defining the texture style for an individual block.
This is only part of the iteration process. We've spent lots of time trying to find source materials for reference for the kinds of junk in the world. The aim is to have the buildings feel "salvaged" but still homely and welcoming. Very much on the happy side of post-apocalyptic.
Anyway, hope that shows a little bit behind-the-scenes on the work that's been going on.
Til next time!
.Z.