Game Interface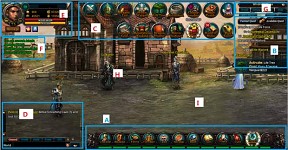 A:Function Table — Here are the main functions of the game like Character, Backpack, Refine, Formation, Talent, Astrology, Besert, Skill, Friend, Guild, Meditation etc. It is the main operation area of players.
B:Quest Traction—— We can view quest list and do related operations here.
C:Activities—— The Daily Activities area, we can join daily activities and other game events here. Just click the button to enter the corresponding interface. (Daily Activities, Ring Escort, Arena, Guide, Altar, Daily Salary, Online Rewards, Dragon Lair, Dragon Hunter, Heroic Instance, Hand of Midas, Guild Events, Life Tree, Championship, Weekly Ranking and so on.)
D:Chatting Form—— We can see the system notice and communicate with other players here. (General, World, Guild, Event, GM)
E:Character Avatar—— This area includes the character avatar, name, level, HP value, recharge portal, Hand of Midas, buff status, action points, money, VIP level, reputation, honor, Mail system, etc.
F:The quick entrance of some common functions——The corresponding interface will come out after we click the green underlined words.
G:The Mini Map Function—— World map, Game Setting(Background Music, Consumption Tips, Duel setting, Icon Display), Guide, Hide/Show button.(to hide/show other players in the game interface)
H:NPCs —— The NPCs in game always stand in a row and provide our players with their service. Like the equipment/item trade, backpack management, quest proceeding and so on.
I:Character Walking Area—— We can walking in this area by using mouse or keyboard.
Game Operation
The operation of DCII is very easy, we can fully control it by using mouse. Of course, some of the other players like to use the keyboard, it is also available. Except the "W, S, A, D" or "↑、↓、←、→"for the corresponding "Up, Down, Left, Right", most of the functions can be opened by the shortcut key. Just move your mouse on the button to check the homologous shortcut key please.