Work in progress concept art
Lance sent along this concept art for the engineer/worker in HOPE. He was doing a proportion study to help us nail down what a worker might look like on the rig. I gave him some reference images of the types of proportions I was interested in. He really did a great job though, now we go round again and try and refine the ideas a bit more.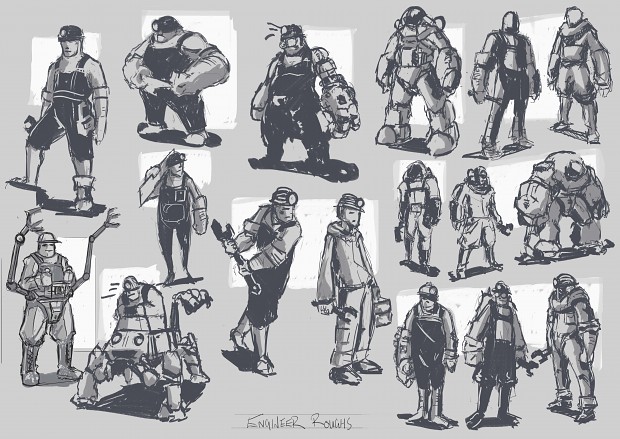 The point of all this work, is to try and nail down a set of proportions for some of the rig workers that you will spent time with.
What does the engineer do?
Almost all of the people who inhabit HOPE have a job to do (except maybe the children, although you could say their job is to have fun). The rig is very much a working home, so naturally it needs maintenance, but also you need help with tasks like repairing the mechanisms of the rig, adding new facilities etc. The engineer will act as a general maintenance/upgrade worker. He'll erect new structures, maintain the existing ones, fix any ships that are in the repair bay etc.
As you can probably tell, we're not going for a "realistic" style to the characters. Hopefully (groan) we will nail down an art style that everyone will like, but the most important thing is that it is unique and makes HOPE look unlike every other game. That differentiation is important for indie games and it feels like many indie 3D games rely so much on technology like Unreal or Unity that they often forget to make a game that is original!
Looking forward to showing you more of these guys as we progress.