This update of Word Shot game comes with highly expected feature of displaying a player's progress, a brand new Relax mode and more than twice extended English vocabulary. What's new in details:
New Relax mode of the game
Player's metrics and typing statistics
English vocabulary with 1700 words
Letter Size option
Improved UI and Timer, better keyboard support
Pass a level to discover your actual typing skill. The stage completion screen shows the following metrics: Words count, Characters count, Mistakes made, Level time, Overall accuracy, WPM (actual & 5-keystrokes), CPS (correct & total), Speed Rank.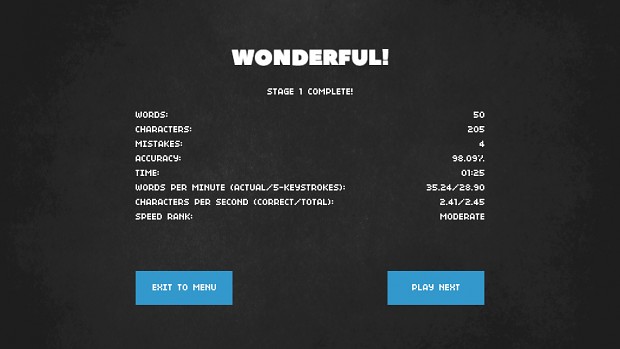 In a new "Relax" mode there is no rush, the timer is off, but each next level requires more words to complete. A good way to practice in a typewriting.
The game is available as Windows, OSX, Linux downloads or as an online playable Web version.