Hi guys, here is a quick preview of the wolf with animations !
The wolf wont behave aggressive towards you or the villagers, but you will be able to interact with him of course.
Maybe you even can rescue one from vicious traps, so that you gain his trust and even becomes your ally in the end? Who knows ? :)
No behavior or AI so far which is why he still is shufflin' on the spot. :p
Hope you like it !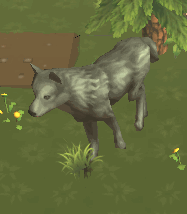 comments or thoughts are greatly appreciated !