#AdLiberum at it's heart is a war game, which is where the development phase is currently set... the game world features a crumbling humanity divided into multiple factions all with their own agenda. To protect the future of humanity.
I want the player to achieve their agenda multiple ways, to see and feel consequence, and not always gain the upper hand or win just by the use of brute force.
I want the player to be able to have as little or as much control over the world as they wish to maintain, at it's core cannon fodder'esque but with enough new stuff introduced based on security level, allowing the player to gather intelligence, sabotage, gain the influence of the people, and apply politics and persuasion to alter the flow of time. Time can be slowed or sped up also to match the players play style and speed.
Wars aren't just all about conflict.
One key elements is securing the right buildings in each sector, controlling the oil or power supply prevents others who might intend to use it for harm.
Zones under control (known to you) are represented by color of the faction controlling them to allow the player to see at a glance quickly who is controlling what resources within a given sector.
---
Below: hostiles have occupied a nearby derelict building in a bid to plan an assault on nearby Ad Liberum Revolutionaries.
---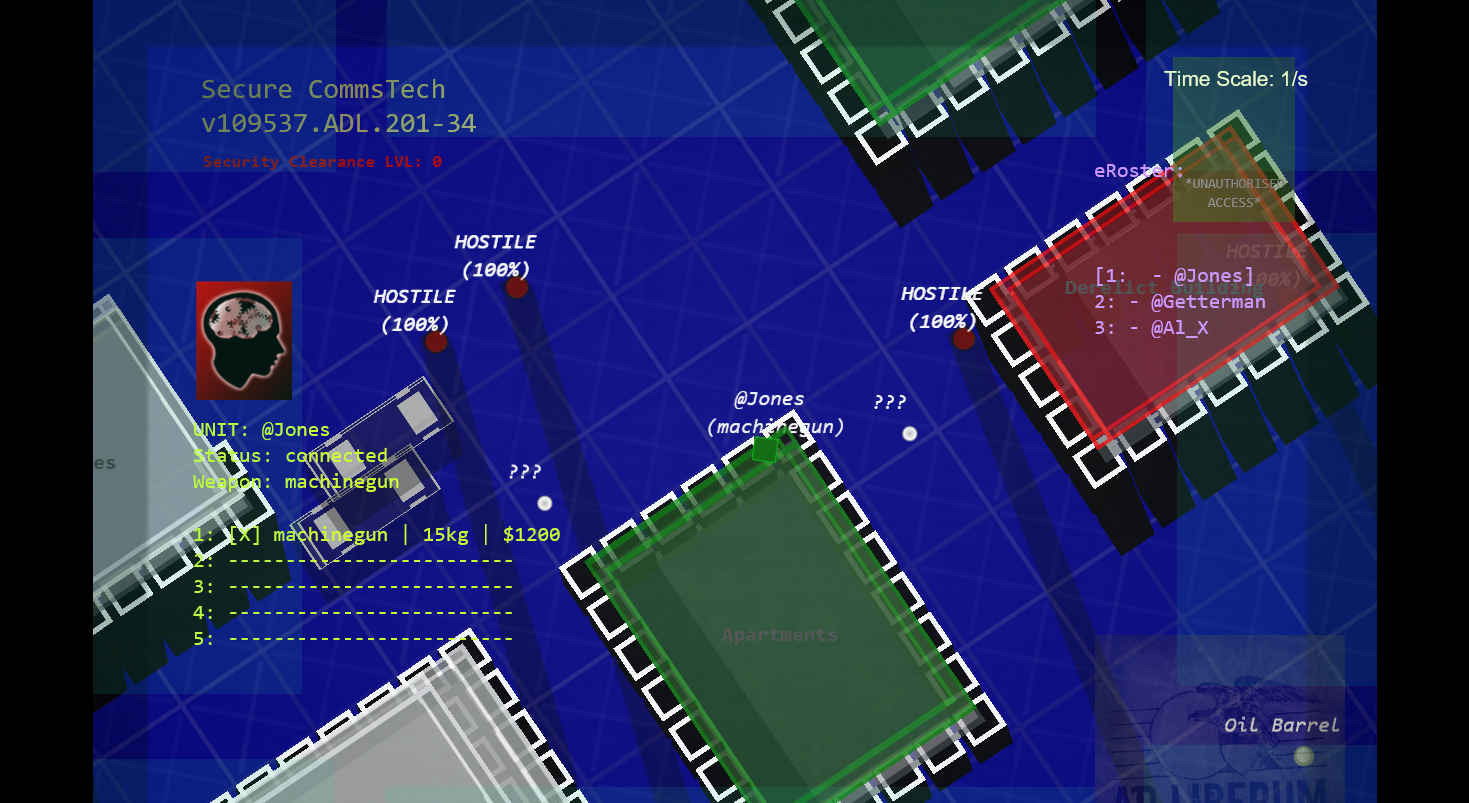 ---
In this image below: you can see the polar chart overlay that represents the influence of each major faction in the current sector based on various factors, including but not limited to buildings under control and units present.
---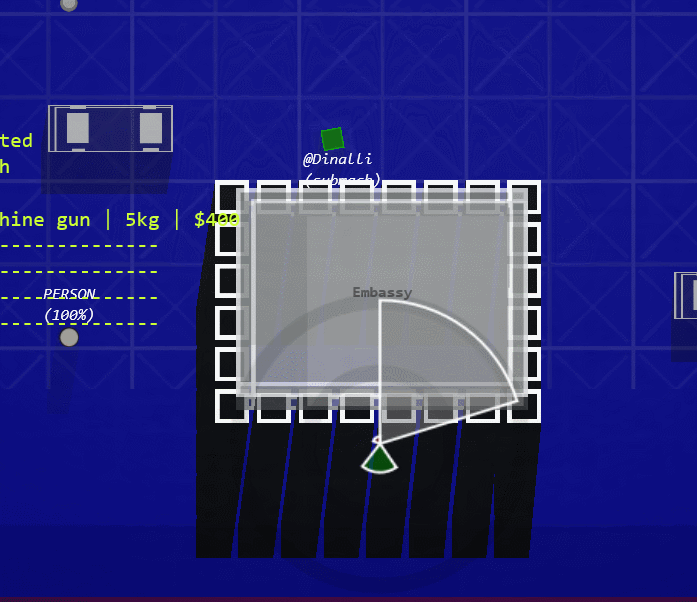 War is not avoidable and unfortunately is strongly about conflict which is why it's important the player has the means to defend or attack when the duty calls. To give the player a visual heads up trails are present on weapons, which I plan to have fire faster than the bullet themselves to give the player time to react.
---
RPG with full trail: currently the trail falls behind...
---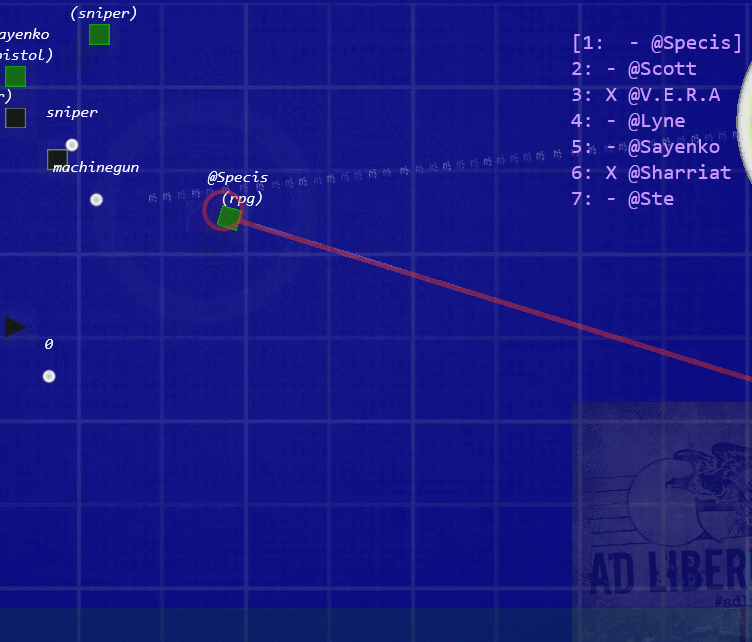 Each unit will have a traditional five slot inventory with an overall weight maximum for carrying only the essentials, the use of vehicles will be required to transport resources, goods or items that are too cumbersome.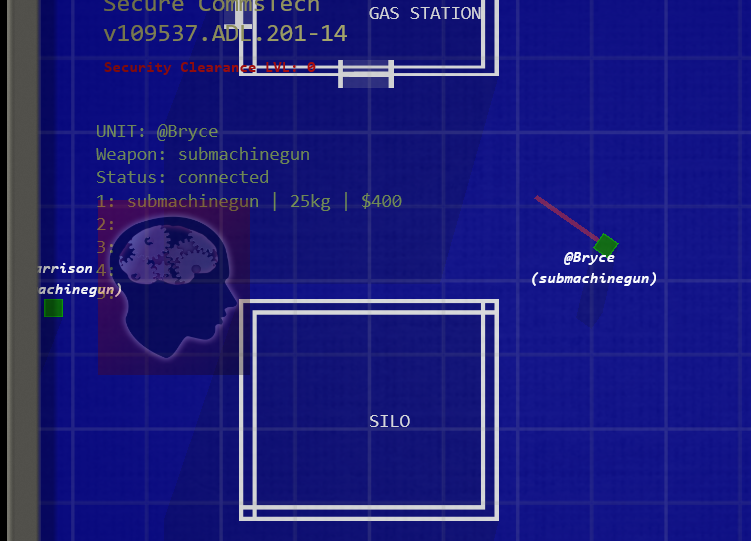 Vehicles also have designated seat positions available that allow for driver, passenger, gunner and other roles.
One of the most important aspects and "weapons" at your disposal, that will make #adliberum truly unique, is the console system from which the game is accessed and played, providing the player with a wealth of information to give you the upper hand, the player need only to search and access through the data via the use of various console commands.
---
Console Access
---
However should your access ever be terminated... know that humanity may well have already fallen...
Unless of course humanity should fall at the mercy of your own hand, intentionally or not...
I look forward to bringing you more updates about Ad Liberum's development as I continue to work on it.
Ad Liberum is essentially my last major stand in #gamedev! So it's time to make something worthy of the 20+ years I've devoted to my hobby.