Why Kickstarter?
Greetings survivors, a common question going around our community is why are we going to Kickstarter? The simple fact is game development is an expensive process due to the various disciplines involved. Today's post is designed to give you a behind the scenes look at how we finance Last of Humanity as well as how we operate. We will also detail what our plans will be if we receive the additional funds.
Financing a Video Game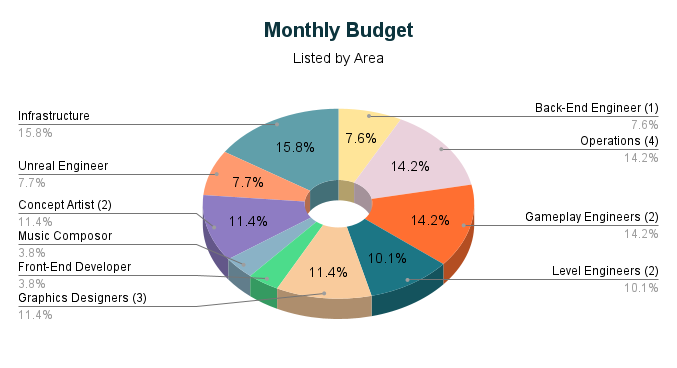 Figure 1.1: Last of Humanity's current monthly breakdown


First let's break down what the chart actually outlines. Next to each title is the number of people we have in that position. Operations for example involves our Business Manager, Project Manager, Project Accountant and Social Media, hence (4). Our entire staff works part time, around 40-80 Hours a month in total.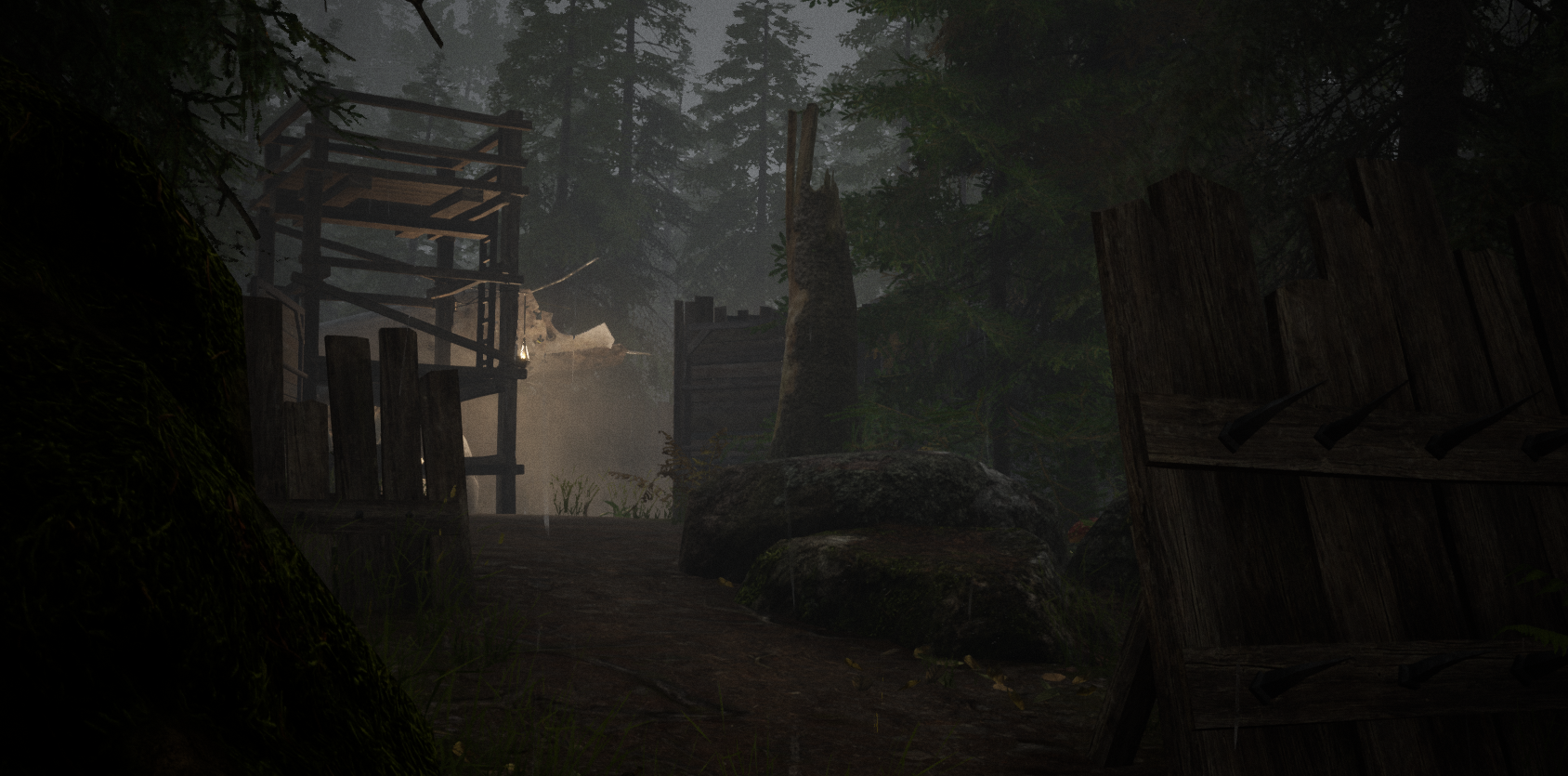 The monthly cost for development is somewhere around 4000 to 10,000 depending on our month to month workload. To keep this balanced and continue development, we've routinely scheduled/traded hours (with the staff members prior approval) in order to accomplish key-workloads.
Our operations staff have never taken a salary and even put in their own savings to ensure our development team can continue to build the game and press forward. As a team we understand that developing a video game is even more expensive than our pie chart shows. Our Belief in the project is why everyone has accepted a pay that's below average than their industry peers.
Creating Triple-A Quality On a Budget
We're an indie studio, and we understand that we are limited on what we can actually produce as a team of our size. When our current team came together to produce Last of Humanity we had 3 issues that affect all game projects: Scope, Time and Budget.
Last of Humanity's scope is a Hardcore Survival Shooter, with RPG elements that include server to server traversal which allows our players to explore our world. We wanted to include the ability of our players to continue the game, long after release (10 years down the line) as well as offer a Triple-A Graphical experience and features.
Our team decided to conquer the issues affecting our scope in a variety of ways. First to eliminate concerns for the budget, our team agreed to work at a reduced rate so that additional funds can be put towards the project's base foundations (assets, licensing fees, required operational services).
We also made the decision to switch from Unity Engine to Unreal Engine. Unreal Engine's marketplace, unmatched graphical fidelity and abilities ensured that an indie studio like ourselves would be able to produce a Triple-A quality title in terms of graphics and features.
To handle the issue of Server to Server Traversal our Lead Developer spent 4 years studying and creating back-end infrastructure and microservices to ensure our multiplayer experience could be realized in full. This also ensured our games longevity would be secured as we can now release dedicated server files for players to host themselves; instead of relying on a service provided by us that would most likely be retired after 10 years time.
Resolving our issues with scope and budget, the final constraint we faced was time. We realized time could only be resolved if we scale up beyond our current budget. As a result we decided to take the game to Kickstarter to help alleviate this issue.
What Will Additional Funds Cover?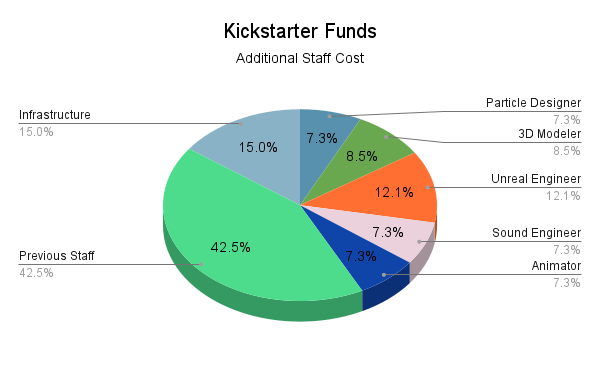 Figure 1.2: Projected cost of additional staff (Part Time )


The pie chart above lists how we would utilize the funds. 42.5% of the funds would enable our staff to go beyond part time. 15% Would remain for infrastructure purposes, while the remaining 42.5% of the budget would be reserved to retain new staff.
Additional assets and operating costs that we would require would likely come out of pocket from our lead developer. The additional staff members would enable our project to make great leaps forward in terms of presentation and features as we would now be able to sculpt the game's world to our vision.
We understand funding a game is risky, which is why we're only asking for $55,000. $55,000 enables our team to perform accelerated development for 5 months straight. Each position listed above would enable massive leaps in our project. A 3D modeler would enable us to give our game a more unique visual look and better align with the visual aesthetic we wish to give to the game.
The sound engineer would enable us to make a unique audio experience for our game. A Particle Designer would provide our project with more elaborate visual effects including larger horde visualizations allowing for a more immersive experience. Our team's goal is to give the player the ultimate zombie survival experience. If our Kickstarter's stretch goals are reached. We will have the time/talent to implement the following features:


Additional 14 levels set around the Last of Humanity globe

Unique zombies will spawn on each level allowing the player to farm for specific items.

Unique items/materials will also be restricted to specific areas.

Players will be able to form a global community by forming and creating bases in the different levels.
Crafting will be expanded

Additional elements will become craft-able including armors, vehicle components, and place-able traps

As we expand on the levels, our single player mode will be given additional storylines to help show the player how these specific areas impacted the world around them when the zombie apocalypse arrived.

Custom models/animations that will help our games style be more refined

Modding tools will be released allowing our players to create more content.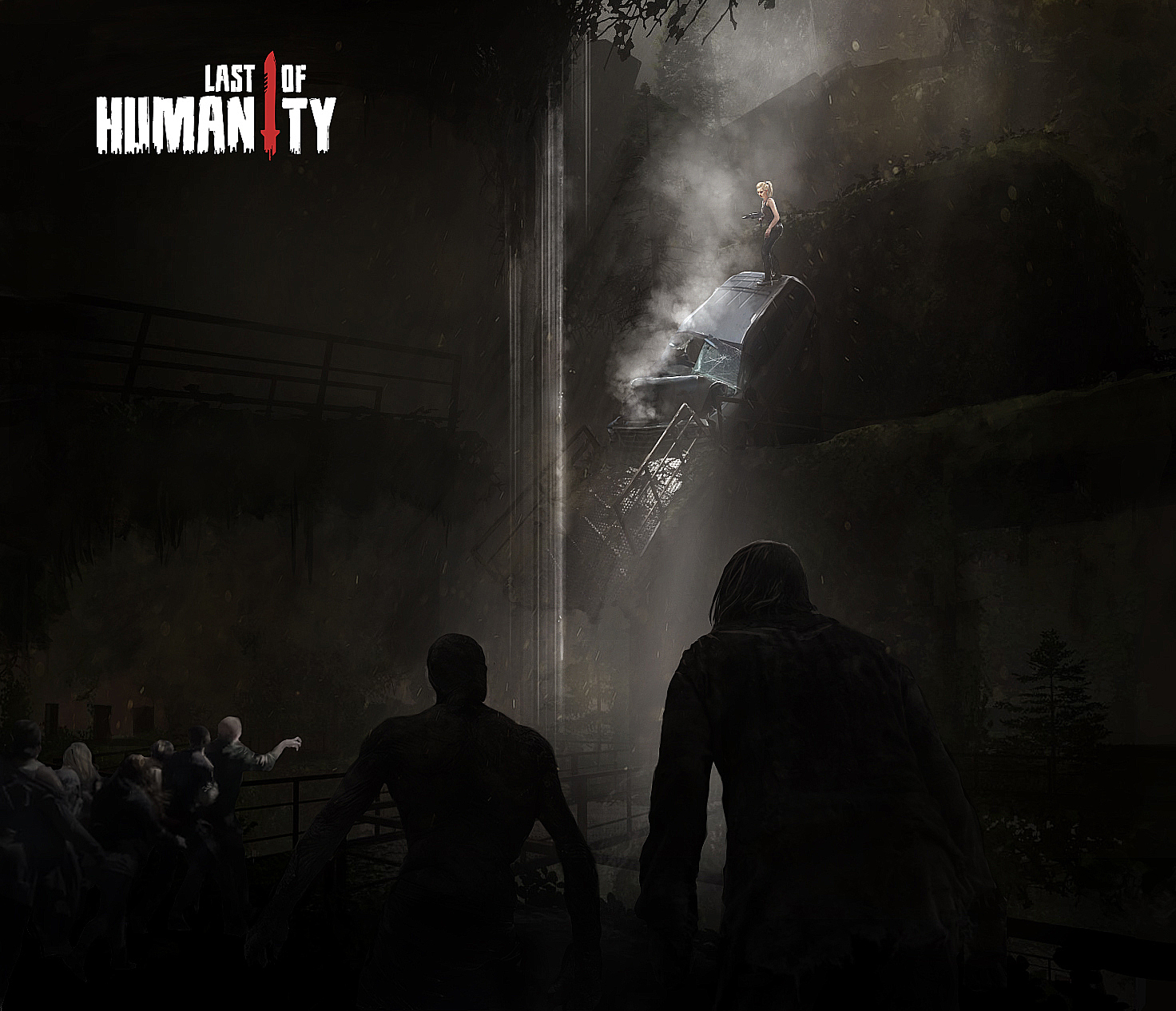 Benefits of Being a Backer
Our crowd funding site found at Lastofhumanity.com is officially live and provides a more in depth look at the experience we want to give to our community. We have multiple tiers for our players to pledge with a variety of rewards.
Our Player tier provides our community with the biggest benefit: You will gain access to our Vertical Slice Demo, as well as receive all future DLC Content for free, along with special in-game items showcasing your early support. Also because we know people's financial situations are different, we've enabled pledges on our crowdfunding site to become stackable allowing our supporters to gain access to the higher tiers when it suits them.
For those in our community who prefer kickstarter for pledging. Our official kickstarter page is up and will be launching soon. Our Kickstarter will contain more information such as our additional stretch goals. It can be found here: Kickstarter.com
We are also announcing our community goals we hope to achieve during our campaign. So please don't forget to share our campaign with your friends as each Goal hit unlocks additional content.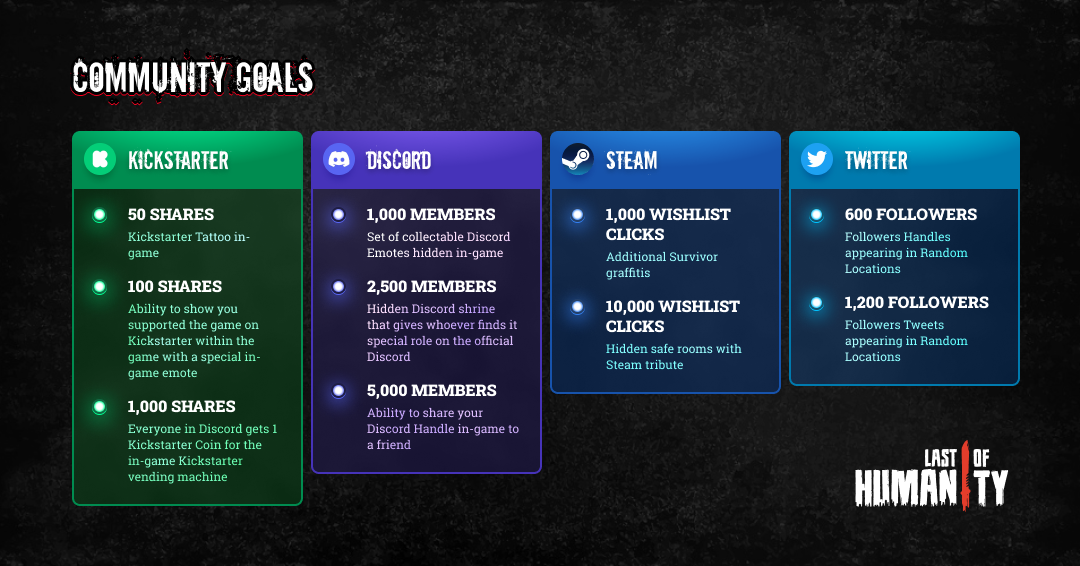 Figure 1.3: Our Community goals listed by platform
Communication and Accountability.
We all know and understand that regardless of marquee or budget, projects can underdeliver and communication can go cold, regardless of how many staff members a studio has. To help alleviate this issue our backers will gain access to our Trello which we use for development. This will help our supporters gain an understanding of what is being worked on. We also have one strict internal mandate: We will never promise anything we can not actually deliver.


Every item we list is something we know we can achieve. In addition, backers will gain access to our early supporter chat in our community discord, where they can talk directly to the development team at any time. Backers will also receive a monthly newsletter giving information and updates as well.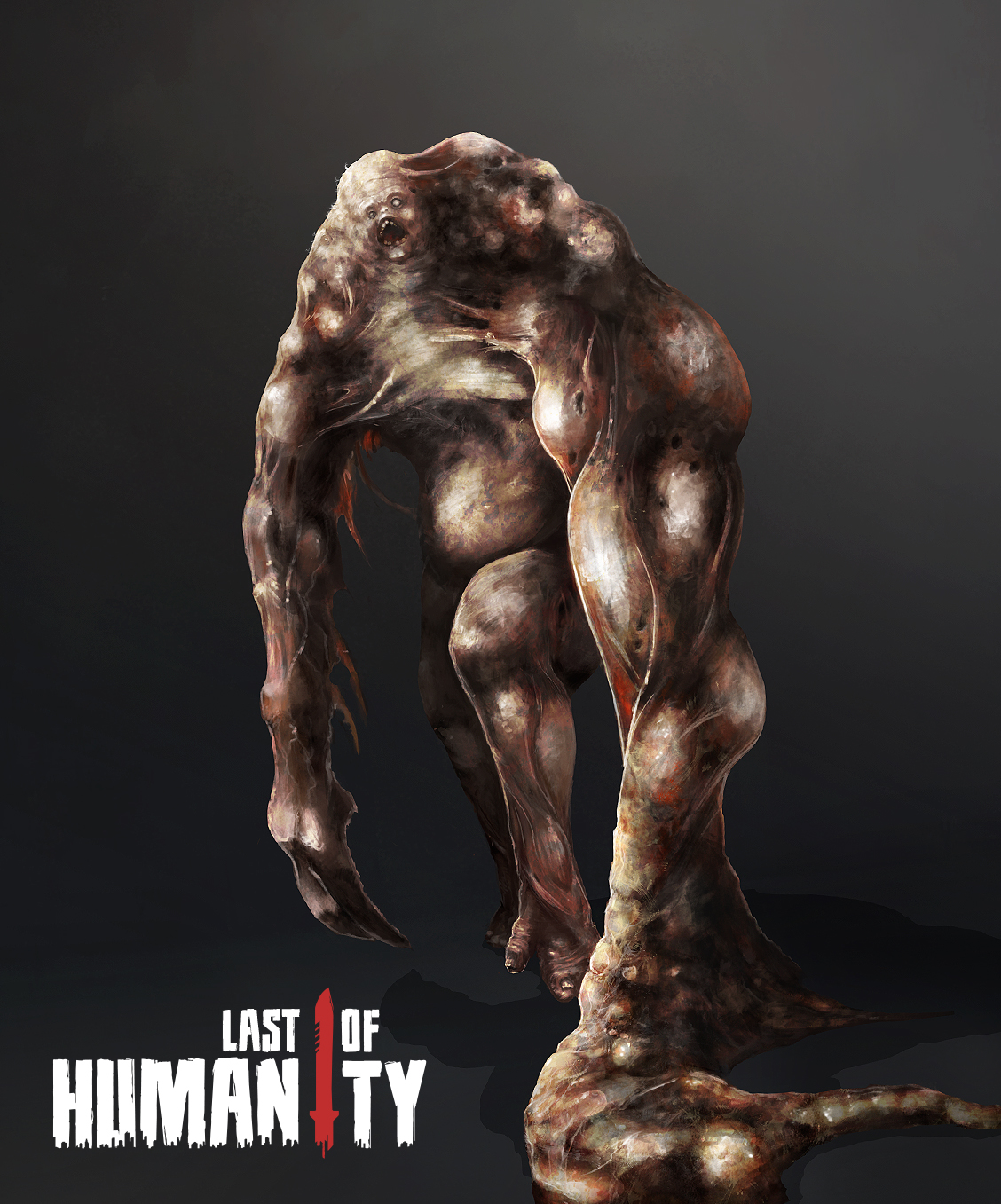 State of the Game and Our Vertical Slice
The biggest question on our community's mind is what is the State of the Game? The state of our project can be defined as follows: Functional and Networked (Multiplayer ready). Below is a list of features currently implemented within our game.
Functional elements for our game include the following:
Player Character

Customizable clothing (not featured in Vertical Slice)

Skill Tree (not featured in Vertical Slice)

HUD all working and functional

Cover/Vaulting System
Zombie Player Controller with a zombie specific skill tree (will be featured in Alpha Stage not featured in Vertical Slice)

Players will be able to customize their own zombie to match their play style

Players will be able to level up their zombies, as their DNA strands can jump host to host.
Looting system

Can loot Crates, Vehicles, Dead bodies

Items range from Flashlights, Weapons, Ammo, Food, as well as materials for crafting.
CCTVs

Showing live feeds around the level gives players an advantage in multiplayer

Players can go through each CCTV in real time

Player controllable/spawn-able CCTV for personal bases(multiplayer) (not featured in Vertical Slice)
Baseline Combat

Assault Rifles

Shotguns

Pistols

Melee (not featured in Vertical Slice)
Hunger and Thirst

Players will face hunger and can die if they don't forage for food

Players can drink water to help fight off thirst
Swimming

Players can Swim underwater

Breathing Meter applies
Third-Person to First Person

Players can switch from Third-Person to First person. Allows them to experience the game in their preferred preference.
Inventory System

Inventory System enables players to customize character (Full body)

Backpack to Store Items

Stash for saving items for later [Multiplayer] (not featured in Vertical Slice)
Interactive Locking System

Players can find keycards/passcodes/retina scanners/ around the world and use them to open up specific doors allowing players to gain access to different areas.

These locked areas can contain additional loot and storyline items.
Zombies

We've currently implemented the standard horde zombie so that we can test out movement mechanics

This foundation enables us to add more advanced zombies at a later date.
Options Menu (non-gameplay and gameplay affecting)

Enabled ability to control graphical settings allowing players to modify the experience to their computers specs

Enabled ability to switch monitors for players with a multi-monitor setup

Game-Pad support for players who prefer a Game-pad to a mouse and keyboard
Interactive environments

Destructible environments (not featured in Vertical Slice)

Reroutable power grids

Reroutable fluid systems

Interactable Environmental Effects, Traps, Switches, CCTVs
All of our features are networked and ready for a multiplayer environment.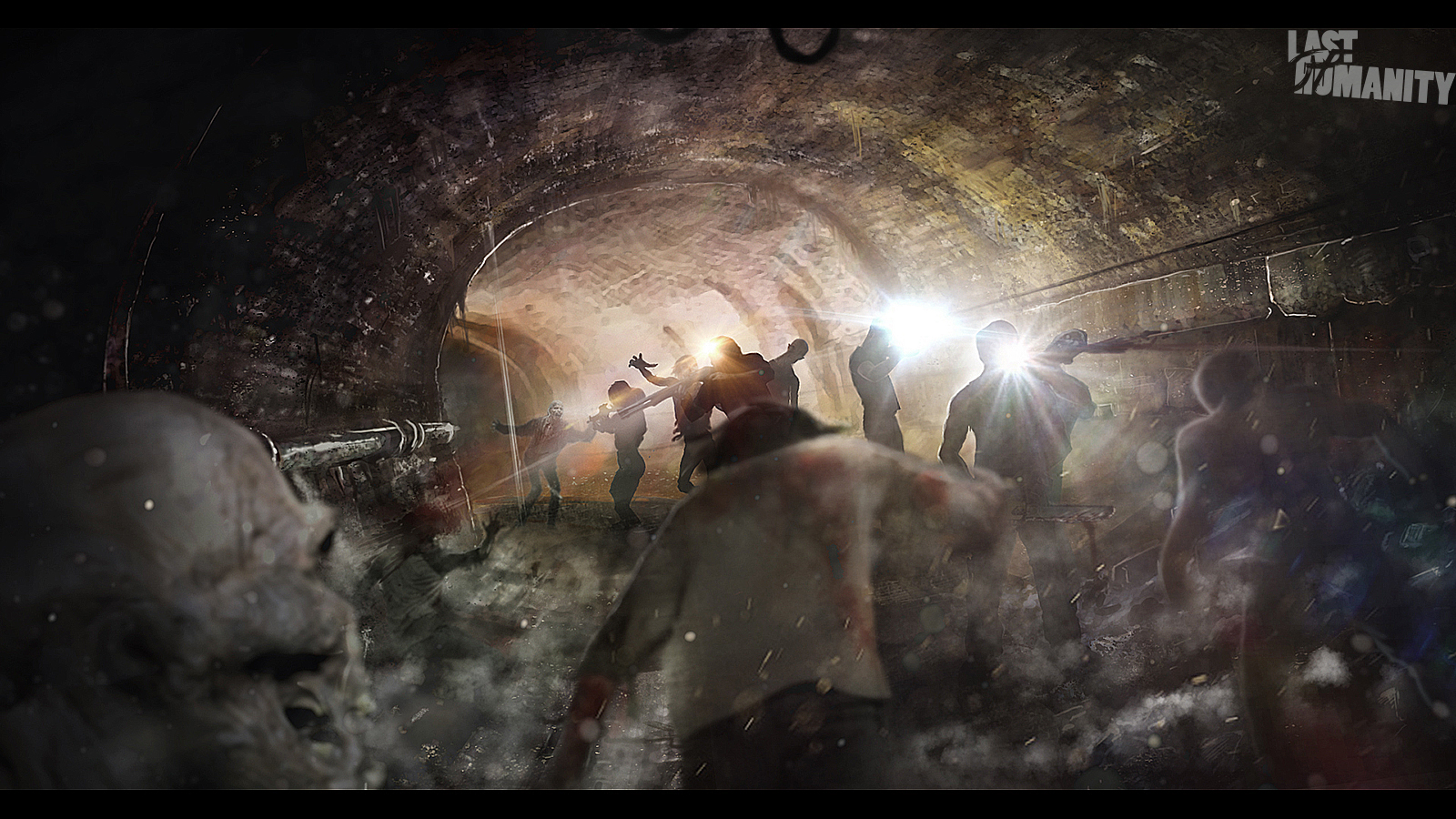 Vertical Slice
Our Vertical Slice was separately designed and made to showcase the current functionality we have implemented and the general visual style of what our game will look like. We've decided to not show off every feature we have actually implemented (or planned), so that our vertical slice is a more focused experience. This was also done specifically so that we're not distracting from our main projects development timeline.
We wanted to give our backers a taste of what our development team can accomplish on just a barebones budget.
Our Game's Future
Monetization Plan
Our game is not a live service, we will not be implementing a Battlepass, Seasonal Passes nor an in-game store. All of our post-launch content will be made and priced as fair as possible for what our content packages provide.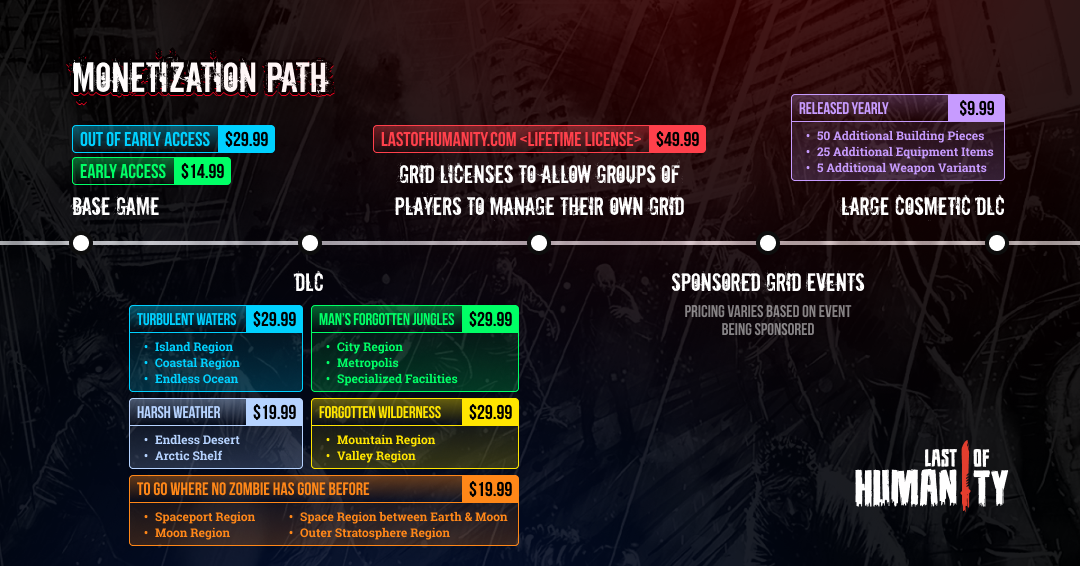 Figure 1.4: Monetization Path. Reminder: any player tiered backer or above will receive a copy of the game and every stretch goal DLC that is reached for free.


Where are we in the Development Stage?

We've set up a general outline of how we want our project to progress into a final game. The chart below details our operational goals for each major milestone in development.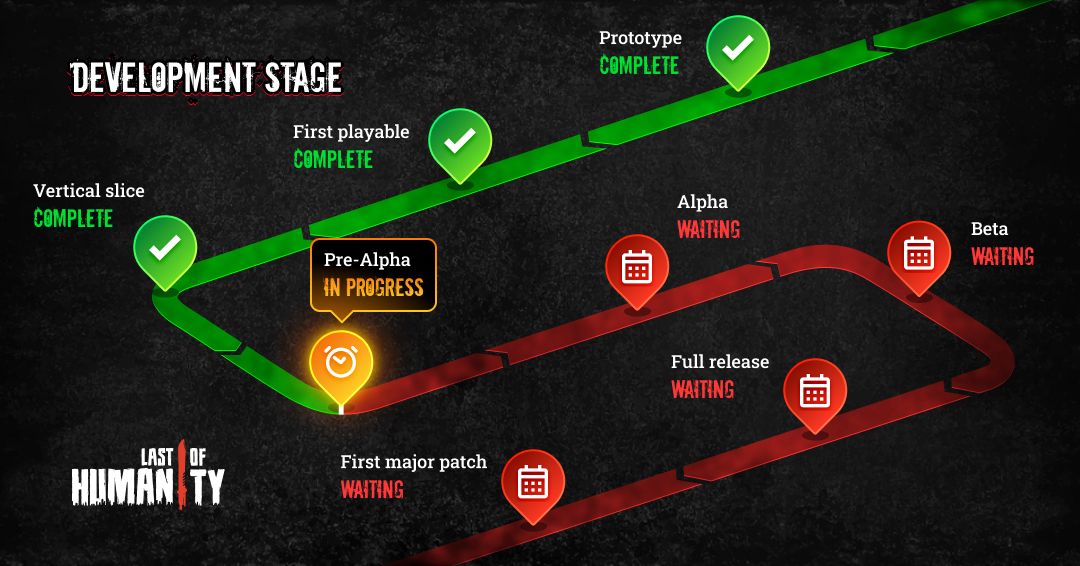 Figure 1.5: Development Stage Outline


Each stage represents a specific goal we wish to achieve in terms of our project's scope and features while also being aware of what we're going to accomplish in the next and to ensure how we design our code facilitates this next step rather than hinder it. We also want to share a more detailed timeline of what to expect in the coming months.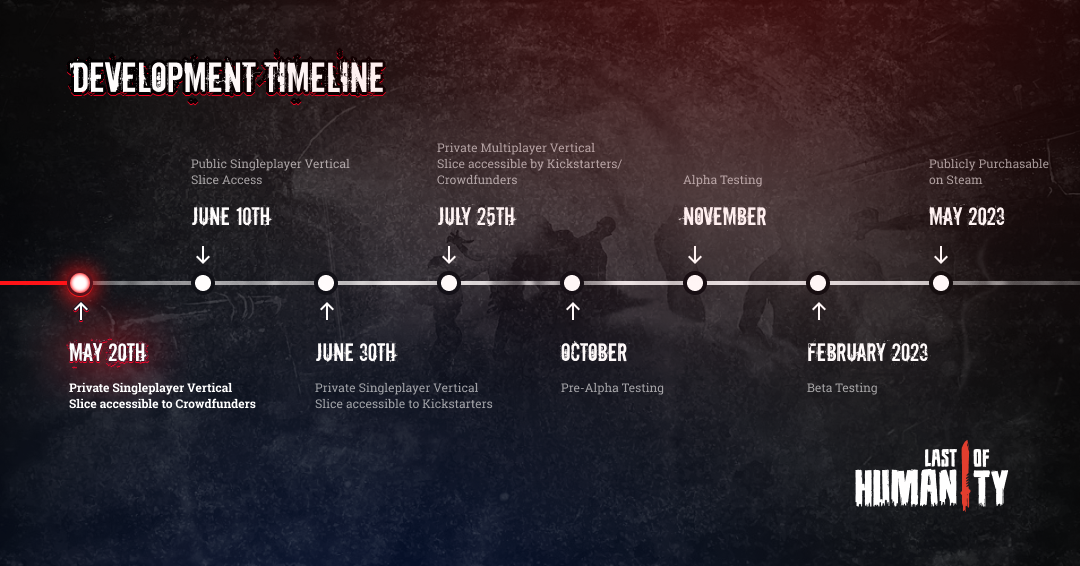 Figure 1.6: Development Timeline


Lastly we wanted to share a list of some of our planned features (With more to be revealed once our Kickstarter launches).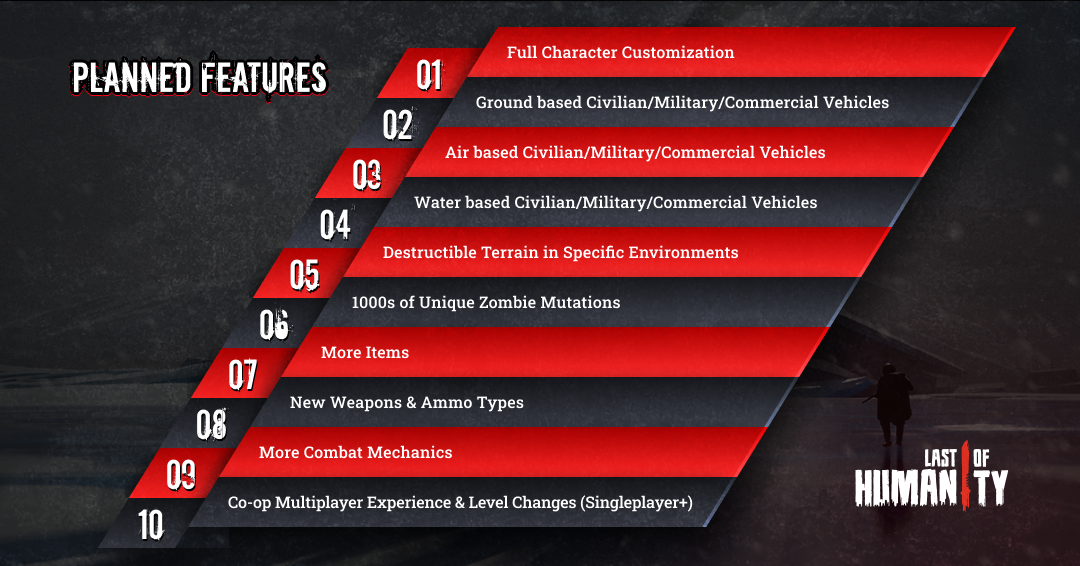 Figure 1.7 Planned Features list



Again, your support isn't to help us build out the functional elements of the game, merely the custom visual elements. Regardless of how well our crowdfunding or Kickstarter campaigns go, our staff is able to produce a game for our community. The only difference would be the timeline (the one last constraint we're in the process of defeating). So understand survivors regardless of the outcome the Zombie Apocalypse will arrive and you all will be the Last of Humanity.


Follow our Socials!
Official Website
Lastofhumanity.com
Community Discord
Discord.com
Kickstarter
Kickstarter.com