Welcome to the first of many dev diaries about The Great GameCo! - the ultimate game-making game - where you build a video game studio, hire a team, and design your masterpiece.
THEN YOU GET TO PLAY IT!!!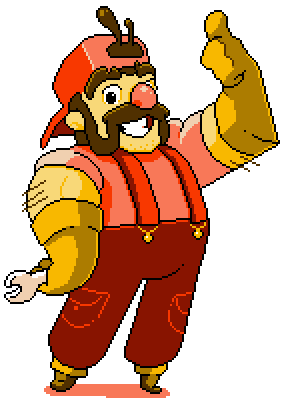 Mechanic Guy likes the sound of that!
The Great GameCo! is one half Game Dev Tycoon and one half Mario Maker, combining the thrill of managing a growing game studio with the joy of creating and playing those games.
But how does it play? So glad you asked!
- Step 1: Build Your Studio -
Your office is the foundation of your studio. Build various rooms and buy new floors to give bonuses to your employees and perks to your project.
- Step 2: Hire your Staff -
If you want to build a gaming empire, you'll need employees skilled in code, art, marketing, and IT. Manage morale to keep them happy - or else bad things can (and will) happen!
- Step 3: Design your Games -
Jump into design mode to piece together your masterpiece. Pick your basic gameplay then build up from there, adding heroes, enemies, levels, and gameplay rules.
- Step 4: Ship It! -
Games are released, reviewed, then have to fight it out in the marketplace. Did you target a growing demographic with your themes? Is your gameplay more of the same in an oversaturated market, or are you providing new experiences to your fans?
- Optional Step 4: Play It! -
While totally optional, playing your games is big part of the fun! Note that several abilities and events tie into your skills as a gamer, so practice is highly recommended.
- Step 5: Deal with Rivals -
Other rival studios are battling for new fans from the same pool of players, so you can bet they'll be be calling. Do you befriend them and create a cozy, creative community - or wage war on your entrepreneurial adversaries?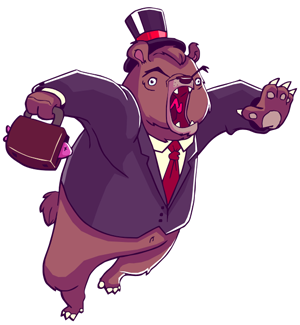 - Step 6: Profit! (but probably Bankruptcy) -
You'll definitely be going bankrupt your first few playthroughs - The Great GameCo! takes its cues from FTL in terms of replayability. You won't be winning your first gameplay session, but keep honing your skills, and one day you'll build a mighty video game empire!

---
And those steps are just the tip of the gameplay iceberg! You'll also be managing the research of new techs, sketching heroes and villains concepts, launching advertising campaigns, and choosing the best course of action when things to awry (something always goes awry in game dev).
It's still early, and there's still a lot to do, but If you like the sound of The Great GameCo! and want development updates, feel free to become a Watcher on IndieDB or follow me on Twitter (Twitter.com)!