We are currently on week 2 of Work In Progress development and we are already getting some good vision of what the game will look like.
Game Design updates:
In the game design part we had to re-do the target audience and our persona that would buy our game because our art and concept didn't really fit in the ages that we were looking for so we managed to define our target audience like this:
Our target audience is a more pre-adolescent audience, with ages between 10-15 used to gaming on keyboard and mouse and that's because our game is a PC game and it has some hard to learn mechanics, for those who are not used to play with keyboard and mouse it will take time to get the those right. The game itself is a fast pace game with hard parkour and dodgeble flying projectiles, therefore it requires some fast reaction and dexterity from the player and that's what gamer pre-adolescents have more. We want to target mainly masculine adolescents therefore the Comic Book style will satisfy them the most. We want to catch the audience that mostly consumes nintendo games like Super Mario, Sonic, Splatoon, etc... and we want to bring them to the PC platform. This audience probably are more likely to watch old cartoonish series like Huckleberry Hound, Jackie Chan Adventures, Rick and Morty, Batman: The Animated Series, Superman: The Animated Series. Briefly, most of the childish content that is produced by Warner Bros. Animation.
For our Persona, we've defined this person:
Name: Rodrigo
Gender: Male
Age: 14
Education: 8th grade with an average grade of 4
Occupations: Student
Hobbies: Playing PC and Nintendo, playing basketball, watching Youtube videos, watching Disney Channel series.
Location: Portugal
Motivations: Rodrigo plays PC games either to pass time or to compete online. When he has some short periods of time to play games he decides to play some story based/fast-pace/low time commitment games where his dexterity can be challenged. For long periods of gaming time he chooses to play online competitive games on his Nintendo like Splatoon, that is his favorite game. The feeling of challenge and "aim" that Splatoon involves makes him adore this game, the concept of reaching certain objectives is a thing that makes Rodrigo play the game for long periods of time. Fast reaction time and dexterity are two things that Rodrigo has the most and so, Splatoon is a really good game where he can use those skills. When his tired of playing in PC or he just doesn't want to play it, he'll play Nintendo, games like Luigi's Mansion 3, Super Smash Brothers, and so on... His really into cartoonish TV series like Batman: The Animated Series, Superman: The Animated Series.
Criteria to play a game: Rodrigo plays games that are either recommended by friends or recommended in Youtube videos. He can't buy all the games that he wants, therefore he only has 3 games for Nintendo because they are really expensive and his parents won't buy them frequently. Rodrigo mostly plays games that imply dexterity skills, or that are visually or story apealling. He really is into the concept of getting rewarded for doing good and he does not like at all pay2win games.
In the other hand we created a twitter that is ( Twitter.com ) and we have already defined how we are going to manage our time to complete the game until june.
Programming updates:
Added Jump mechanic (Space Bar);
Added Player's projectile;
Enemy template created:
Added Physics;
Added Collision;
Added Enemy's projectile;
The camera now follows the player (smoothly);
Created enemy spawner;
Created enemy layer ordering manager;
So, as you can tell we are getting a good evolution in our main project.
Artist updates:
For our artist updates we have updated our Sketch, so now he is in grayscale.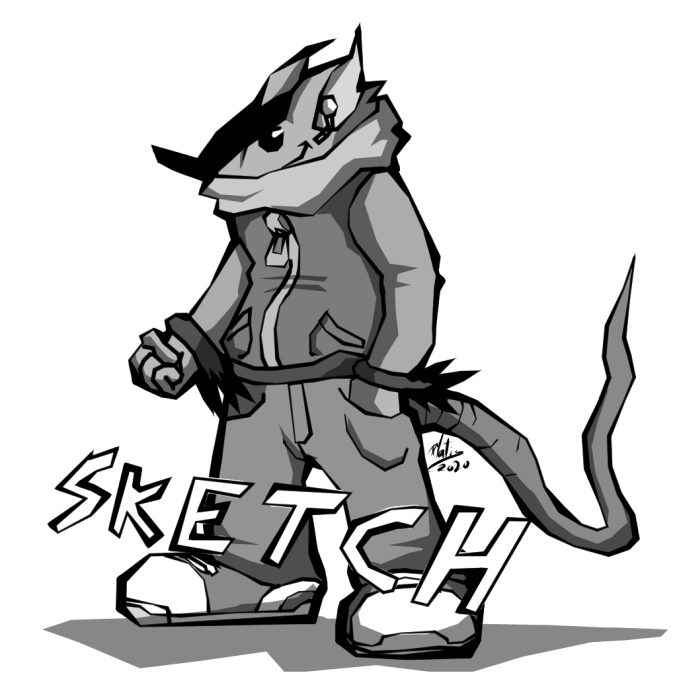 For the concept of the map we already have some looks how it will look like in the first level, take a look: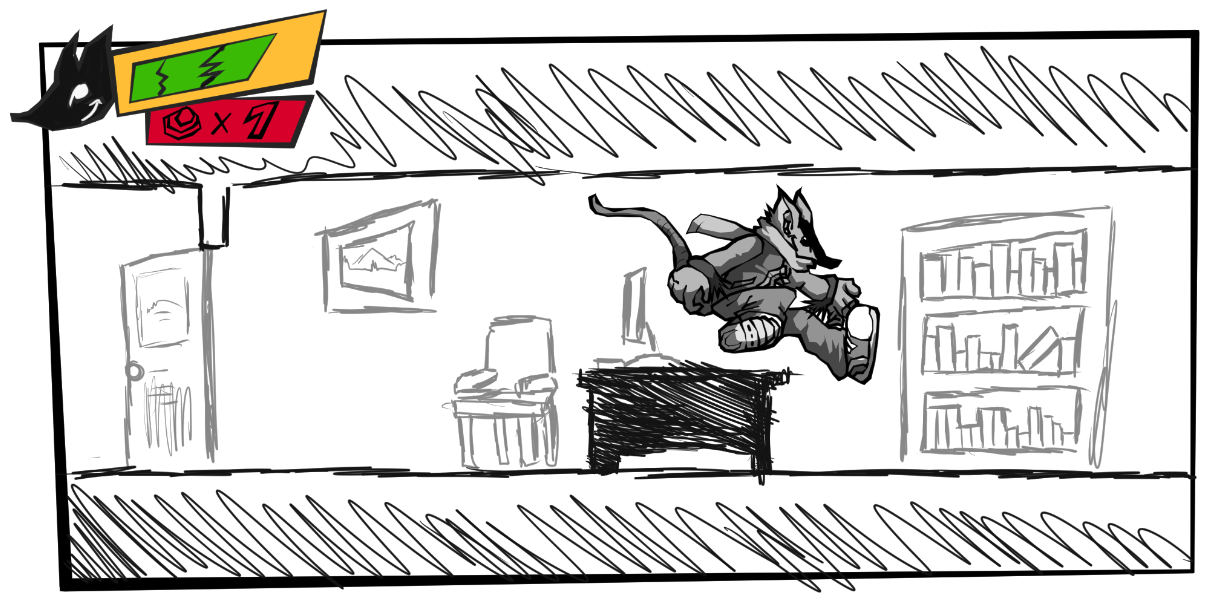 We are really excited to continue with the development of this game.
See you next week,
João Cardeira, the Project Manager of WIP