Dear explorers,
Being left behind and forgotten, it's time to escape Castle Rock again, if you're clever enough...
We Were Here Forever is out now on Steam and Epic!!. You can get the game until the 17th with a 10% launch discount on both platforms! The game will also be released on PlayStation & Xbox soon.
This is our biggest game yet! With over 12 hours of gameplay, 22 puzzles and 6 chapters, it feels like we've been working on this game forever .
We're super happy with how the game turned out visually too! There are a lot more areas for you to explore. Each with their own lively environment and colours.
Furthermore, the story of Castle Rock will run towards a climax and you'll finally discover if breaking free from its curse is possible, or perhaps you'll be trapped forever…
That is up to you, our dear explorers! Good luck and we hope to see your thoughts and experiences on social media and here on Steam.
We Were Here Forever
: Complete Fan Pack
For our determined and loyal explorers, we got a special Complete Fan Pack for the game. This will include:
We Were Here Forever Game

We Were Here Forever Digital Artbook

We Were Here Forever Digital Soundtrack

We Were Here Forever Wallpaper Pack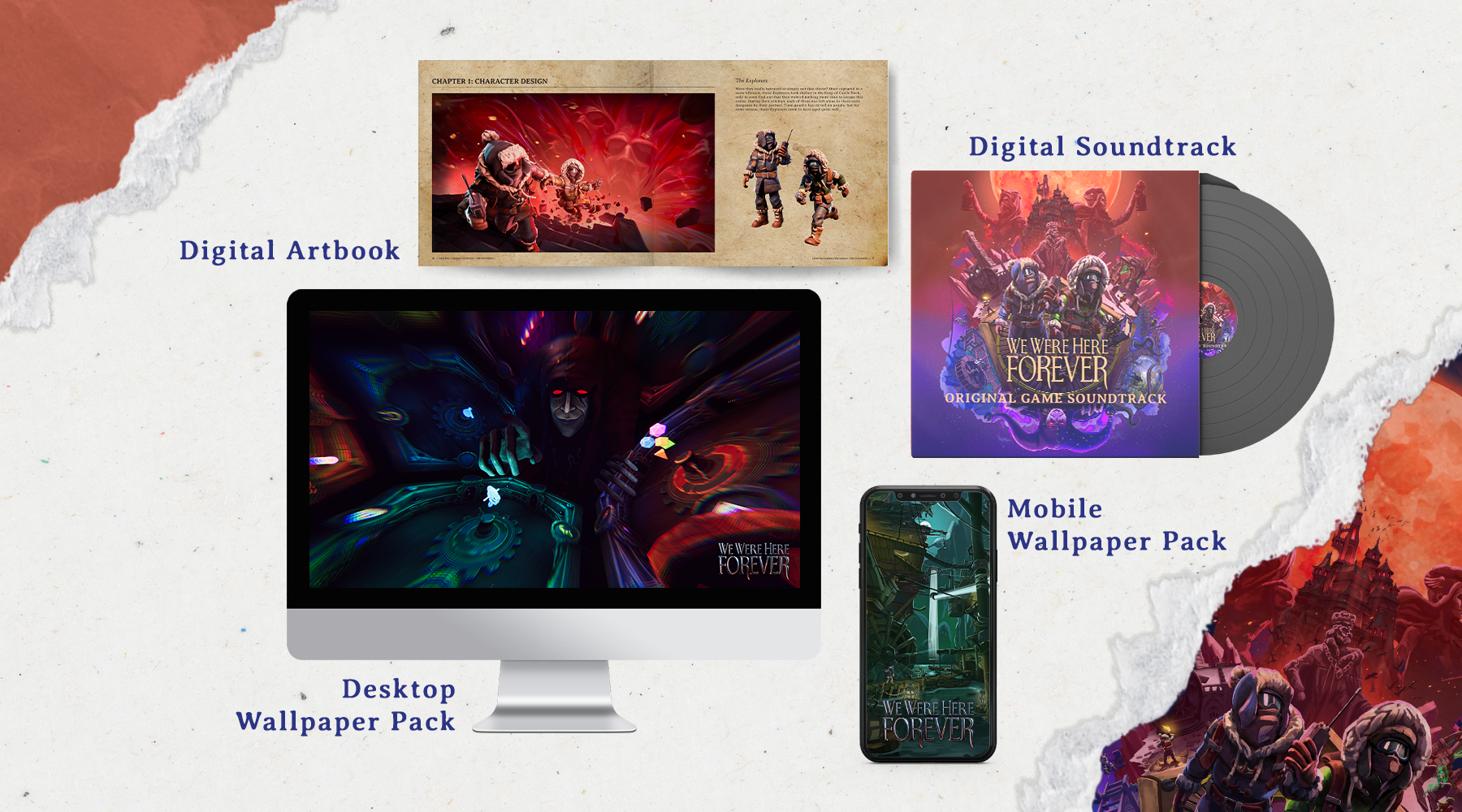 The artbook has over 150 pages and the soundtrack contains 40 songs! This pack is available for $22,98. We're super proud of how everything turned out and hope you all enjoy the amazing art and music that is provided with this edition.
Special thanks to our explorers
It's crazy to think how far we've become since our first student project We Were Here and we thank you, our wonderful community, for playing our games and being such amazing people! Without you guys there wouldn't be a Total Mayhem Games and We Were Here series as we know it today, so thank you from the bottom of our hearts.
And a SPECIAL THANKS to our beta testers! Your love and input for our series and We Were Here Forever has been really helpful!
Chronicles of Castle Rock
While you wait for your game to download, be sure to check the fifth episode of our live-action series! The finale of the series is scheduled for upcoming Thursday, the 12th. So stay tuned!
Thank you for everything dear explorers!
Yours forever,
Total Mayhem Games