WE DID IT TOGETHER!
The End of the Sun is 150% funded by AMAZING 741 backers!
BIG BIG BIG Thanks for all support! 🧡
It wouldn't be possible without you!

Last Few months were really hard but amazing in The same time! We started preparing our campaign about 5 months ago :) With only 2 people organizing campaign there was a lot of work to do. We get many positive opinions and remarks from You! It was awesome We didn't expect to get such a huge Support!
LAST COUNTDOWN – 18 000$ Stretch Goal Funed in Last minutes! It was so exciting! Thank You! Late For Campaign? "Support and Get Rewards" via PayPal NOW AVAILABLE!
Kickstarter campaign was very short and before it ended, we received a lot of messages from people asking if there is another way they can support us. Some people only discovered our campaign after it has ended. Therefore, we decided to give a little extension of our campaign by opening "Pledge and Get Rewards" on Our Webpage
You could Pledge Here on Our Webpage by PAY PAL and get Rewards!

18k $ Stretch Goal Reached in last minutes!
In the campaign We reached "More Stories" Stretch Goal. In last minutes of campaign (probably last 2 minutes) We collected 18 000$ and Unlocked another Stretch Goal! "Additional Puzzles"! It means that we will implement into the game our additional puzzle ideas that wouldn't be possible without that funds :) More mysterious secrets and puzzles to solve for everyone! :D We can't wait to share some ideas and screenshots with You! :)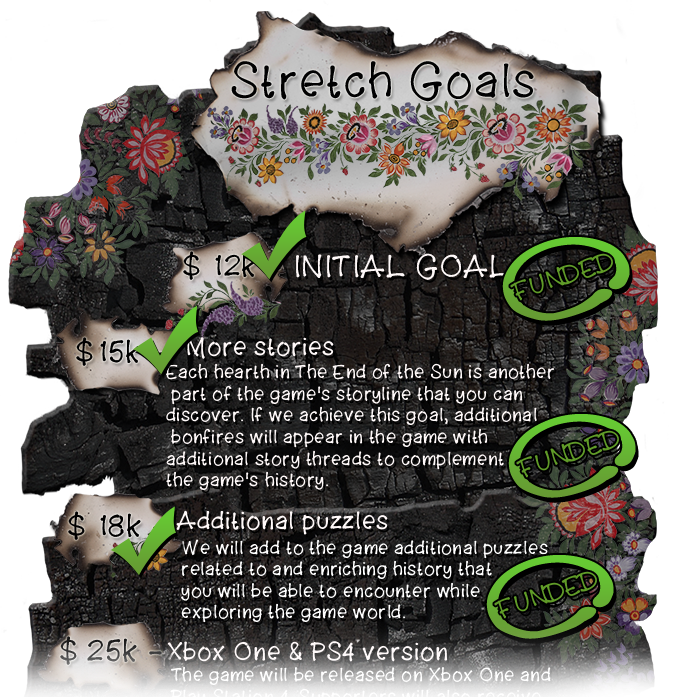 What With Consoles Version of The game?
We didn't reach Xbox One & PS4 version Stretch Goal but it doesn't mean that game won't be available for that consoles! :) Many publishers are interested in our project so game will be Released on Consoles almost for sure! :D
In next Days we will share more info about Rewards surveys, shipping etc. so follow our updates :)
Thank You for support! :D🧡

Social Media Link are below:
The End of the Sun Team