Client Version 1.4.22
It's monday again and that means another Monday release of the client. This time around we've been working on various improvements and bug fixes that have been brought to our attention.
New Settings
There is a new audio settings button in the settings window that now shows the active microphone device. This is a great way to see if the client is properly detecting your microphone. In some cases if your microphone isn't working there may be more than one recording device in the list. Try choosing a different audio device and click apply.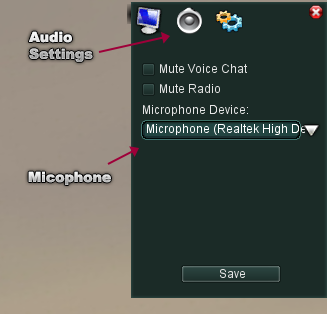 Also if you plug-in your mic after running the client double check this screen and if it shows a recording device availble then click apply. This should hopefully resolve some of the issues users have reported with not being able to use the voice chat feature.
Friend Invites
There was an unfortunate bug in the friend invite system where users were not able to accept friend invites in client via the new mail system. This has been fixed and clicking the accept / decline buttons will actually do as they're told now.
There are many more updates and fixes so be sure to check the release notes below for all the details.
Note: If you are experiencing issues updating in the launcher please perform a Force Re-Install as shown in this guide.
Release Notes
[Updates]
- Enhancement to how products are loaded to make the load process smoother when loading a lot of different products in an area.
- Minor change to the look of toggle buttons
- Options window now shows tooltips when hovering over top buttons
- Options window now has an audio button/section which contains audio settings including a Microphone Device drop down
- Can now plugin a Microphone while the client is running and under audio options click refresh to see the new microphone device
[Fixes]
- Event Window tabs now show proper tooltips
- Event attendee list now has scroll bar when attendee list is longer than list area
- Help questions on destination screen now link to correct website pages
- Products with particle systems that are set to zero scale have been fixed to increase performance
- Update to voice chat plugin
- Minor update to server connection code to reduce network activity which should result in less lag in some cases
- Accept/Decline buttons for friend invitation emails now work as expected.