It's all hands on deck at the moment with the Kickstarter begin date looming on the horizon. I've been hard at work putting things together on that front, there's pitches to write, press to pursue and videos to get filmed. I took some time away from all that craziness however to get a spot of concept art done.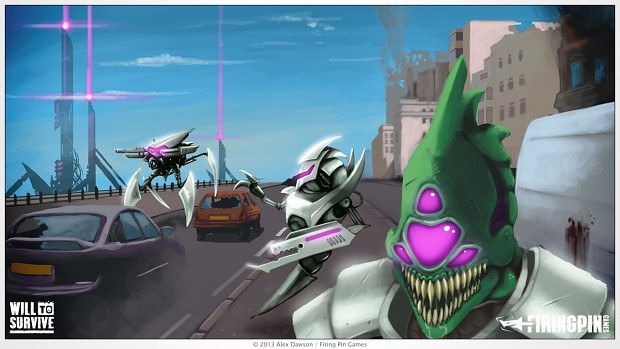 The aim of the images is to show that the aliens will come in various forms. From large mechanical walkers to small drones and not forgetting the bog standard foot soldiers, who will come in various armoured variations... can you call something a foot soldier if they don't have feet?
I also wanted to show the large alien structures the invaders have built which now fill the horizon. They use these to steal precious resources and they don't like that Will is around because he'll be grabbing those resources too.
The game has also had it's first news feature, I sent the prototype build over to Chris Priestman at Indie Statik so he could get a hands-on and see how it currently plays. This is what he had to say Indiestatik.com
I'm hoping to get a few more concept pieces up this week as well as looking into getting the iOS, Mac and OUYA builds up and running. I'll also look into filming the game running on Mobile so you can see how it looks in comparison to the PC build.
Until next time!
Alex