PVP arena - HALL laboratories
HALL laboratories is the first PVP arena level. The rules are quite simple: the first player to kill 10 other players is the winner. There is no option to build turrets in this mode, that is reserved for the (in development) PVP versus mode. However if you are logged in, you still can use all your inventory items to kill the other players. The PVP arena level is a night level. If in the future it seems that the level may be too dark, it will be made lighter.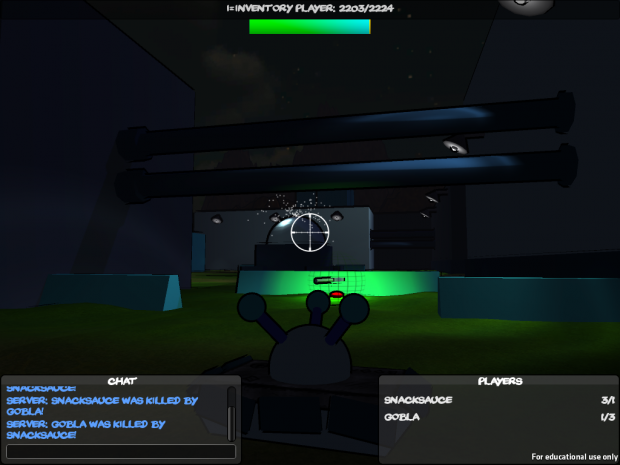 Spawners
You can find spawners around the level. These spawners can spawn health, armor and weapons when you are not logged in. If you are logged in, you must use your previously collected armor and weapons since all the spawners only spawn health. In the picture below you can find a a spawner to the right. Spawners have a 20 second delay once logged in and a 10 second delay when not logged in. The delay timer starts when a spawner item is picked up.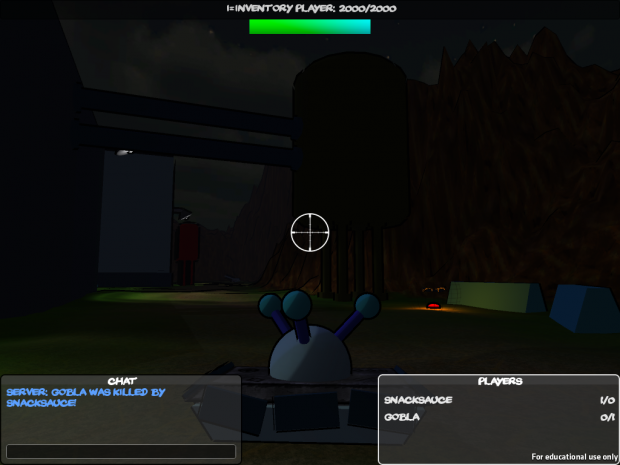 Anti grief
Players that leave during a PVP match will be registered. It is always possible that you have to leave during a match due to unforeseen situations. However if a player tends to keep on leaving during matches there possibly will be consequences in the future. At the moment this is only being registered, and there are no actions regarding leaving. If you are the last player to leave before the match has ended, no registration will be made.
Damage
A damage modifier is active in PVP. This means that all damage is doubled. This balance was needed to provide more smooth gameplay.
Self-destruct
Self destruction is not available in PVP arena. If you manage to get flipped upside down, you must wait until you are killed.
COOP - The Valley
The Coop level is now named "The Valley". This level had some updates. The first one being a graphic update. Some props and buildings have been added to give a better feeling to the level. Another thing is that there are now separate spawnpoints for the players. This will prevent players from getting stuck on each other in multiplayer.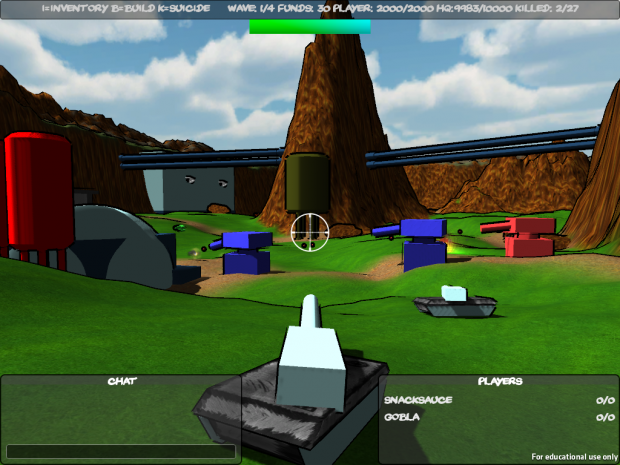 Fixes & New Features
Of course there are new fixes and features in the game. There are many but I will only show a selection here:
Camera and turret will now properly snap when going into game mode (at the round start).
Client side Tesla effects are normally cleaned after shooting.
Multiple player spawn points for all maps.
Map selection on server lobby.
Disconnect button is available in the lobby for both the server and the client.
The server list now shows the current selected level and game mode.
There are no more huge weapons inside the collectible items on the clientside.
Enemy boss has more health and does more damage.
Known bugs
You can start a PVP arena level with no other players.
Some Enemies still cluster around the place you died
It is possible to flip upside down.
Sometimes Enemies ignore some collisions with you and then will keep on driving.
Feel free to ask questions, do suggestions or report bugs. Your feedback is welcome!
Game on!