UI, Battle System & Unity
---
This last month has been a whirlwind of activity! Things with Arcadian Atlas hit the ground running with the switch to Unity and we've been working closely with Patrick to get everything built in the new system. Here's just a peak at what we've been doing:
User Interface
The way you interact with the game is just as vital as the experience itself. A clean, concise user interface helps guide the eye and is both pleasing and rocking awesome, so we've been hard at work to plan out the user interface from a practical standpoint. Much of this is likely to change down the pipeline, but here's a glance at the encounter predictor:
With a visually updating turn order, at-a-glance HP and MP readings, and predicted success rates on attacks along with a likely percentage of damage, we want players to know the likelihood of success in an encounter where every attack matters.
And the new and improved Action menu complete with a cartography design inspired by the Atlas side of Arcadian Atlas: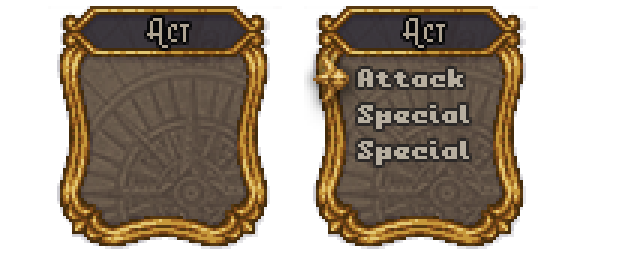 Battle System Creation
Because the battle system is the cornerstone of the maps, we're working diligently to convert everything to Unity, and the progress has been rapid to say the least! Take a look at some of what Patrick has already been able to whip up in terms of the movement and attack systems:
The circular menu houses all the essential features like Move, Act, Status, and Wait options, along with room to grow and functionality that can translate well to a controller setup.
Unity Changes
And with the change to Unity comes a ton of great features that we've been hoping for! Now it's easier for us to create unites with different hair colors, hair styles, and body types. We've been tweaking sprite sheets to take advantage of that, and you can see a bit of that process below:

And this next month will see us focusing on fleshing out more of the battle system to ensure the maps, skills, and movement all work properly so we can start work on the cutscenes.
Charting the Atlas
We're moving quickly on the transition to Unity, and next month we're extremely excited to show you the things that we've been working on in the background while the system groundwork has been laid!
So all you space cadets, we'll see you next month with some more of the unknown reaches of Arcadia revealed!
Until then, name a planet for us in No Man's Sky!