These days a ton of game developers use twitter to interact with their fans and keep them informed of updates. A lot of these updates may just be minor and not worthy of a news post, but worthy all the same - which is why we have just integrated twitter feed support into all profiles across the site.
How does it work?
Right now you can add your twitter feed to your personal profile as I have done. If you are developing a game, mod or engine you can also add it to the profiles you are in control of. If you are in charge of a group or company on the site you can also add it there. Provided your twitter stream is public, we will pull the tweets from it and display them in your profile. Here is how it looks in my profile (shown on the right sidemenu).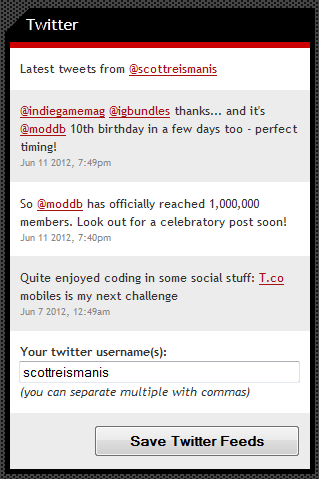 Add multiple feeds
...but the feature i'm most happy with is the ability to add multiple twitter feeds to the one profile. Let's take Mojang the makers of Minecraft for example. Mojang has a ton of employee's such as Notch and Jeb all of whom have twitter accounts. The system supports that too, just enter all twitter feeds separated by comma and the latest tweets from everywhere is shown.

Apply anywhere
We hope that soon on game, mod and engine profiles you will be able to see tweets from all the developers on EA's profile you will be able to see tweets from all of their games and so on. Enjoy!