In all likelihood, the Not Your Space Kickstarter will not succeed. I may discuss the reasons for this in a future post, but for now, I'll put it down to a lack of pre-campaign advertising, my value of substance and gameplay over "flash", and some big concurrent events in the gaming community (The launch of Fallout 4 and StarCraft 2 LotV on the SAME DAY as my kickstarter, and Star Wars Battlefront during the second week).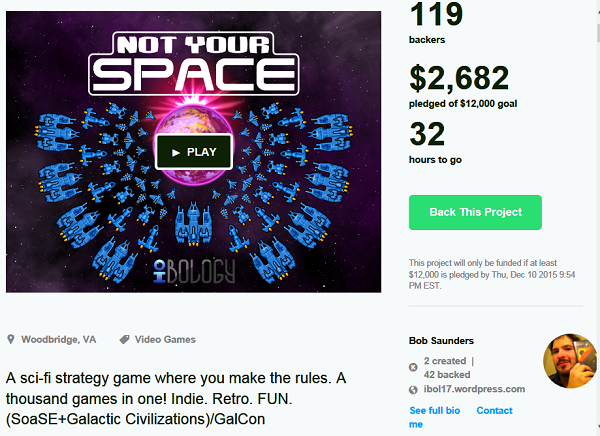 Regardless, I am now treating the Kickstarter campaign as a sort of "sign up sheet" for the next time, because it absolutely will continue to develop. If you like the idea, please go pledge even $1 right now. You will be kept up-to-date, and will be the first to know about any closed alpha or beta versions.
If you want something easier to sign up for, you can now subscribe to the bi-monthly Ibology GameDev Newsletter. Find out what's going on with Not Your Space, as well as XenoBloom, Approaching Infinity, and other new games in development.
If you haven't tried the old demo, or you're itching for MORE Not Your Space, Demo version 3 is now available, with lots of fun additions!
I was on the "Average Giants" twitch stream a few nights ago, and we had a lot of fun. Here's a quick highlights reel:
The Average Giants are @CallMeGIANTYT AND @Avg_Gmr . They do a weekly show where they play indie games and talk to the developers. They (and their extended family) are heavily active in the streaming community, you can also visit their youtube channel.
Here are a few things that have been added in the latest demo (and a Simpson's quote) :
One thing that may change about NYS is the name. I think its very descriptive, but it also conjures up memories of "myspace". The first name I had for it was "Expand and Exterminate", but I found another RTS mod by that name. I've just got a number of good suggestions from some kickstarter backers, but it's still up in the air for now.