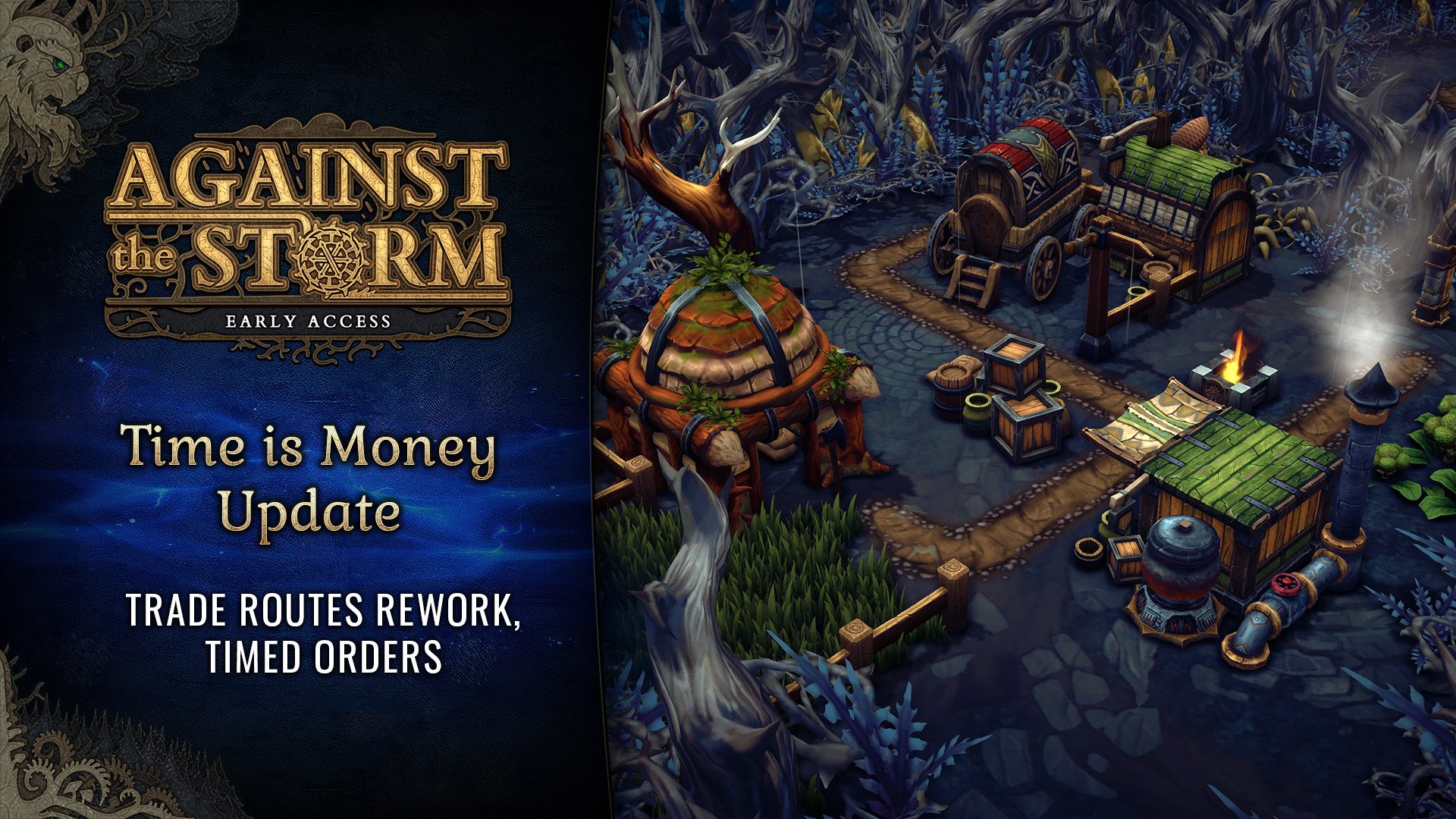 Greetings Viceroys!
Listen, there's no time to explain! Download the new update and enjoy these new features:
Trade Routes rework

New mechanic: Timed Orders

60 new Timed Orders

And more!
Hey, I know you haven't downloaded it yet. The clock is ticking!
Also, Against the Storm is now on sale and you can get it with up to 36% discount.
DEVELOPER NOTES
We're nearing the end of the Phase of the Citadel, which means there are only a few more meta systems left to revamp - Trade Routes, Factions, and the World Map. We're still not ready to release the new Map, and Factions are still a work in progress, so with today's update, we bring you a new and improved Trade Route system. But that's not all! We also have an exciting new mechanic for you - Timed Orders!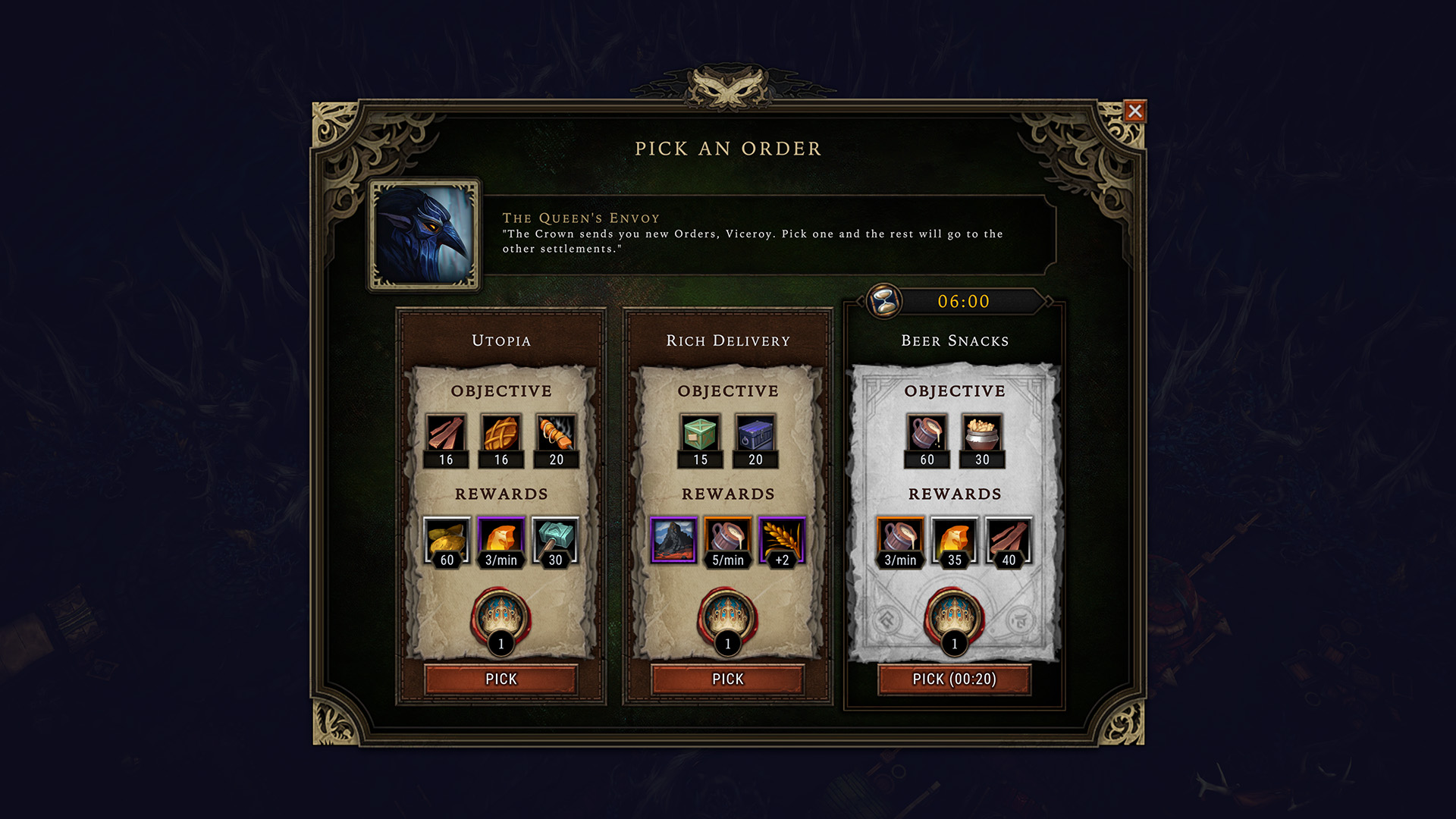 Let's start with Timed Orders - they are a new type of optional challenge you can take on in place of regular Orders. Timed Orders are difficult, time-sensitive, and very rewarding, but they can also be failed. Once the timer runs out, you will forever lose that one Reputation Point you would otherwise get by completing the Order. Our goal when creating this system was to give players a sense of excitement and provoke a more rushed, reckless type of gameplay. Additionally, we felt like the game needed a bit more opportunities to take on big risks and be rewarded for it. It's a rogue-lite after all.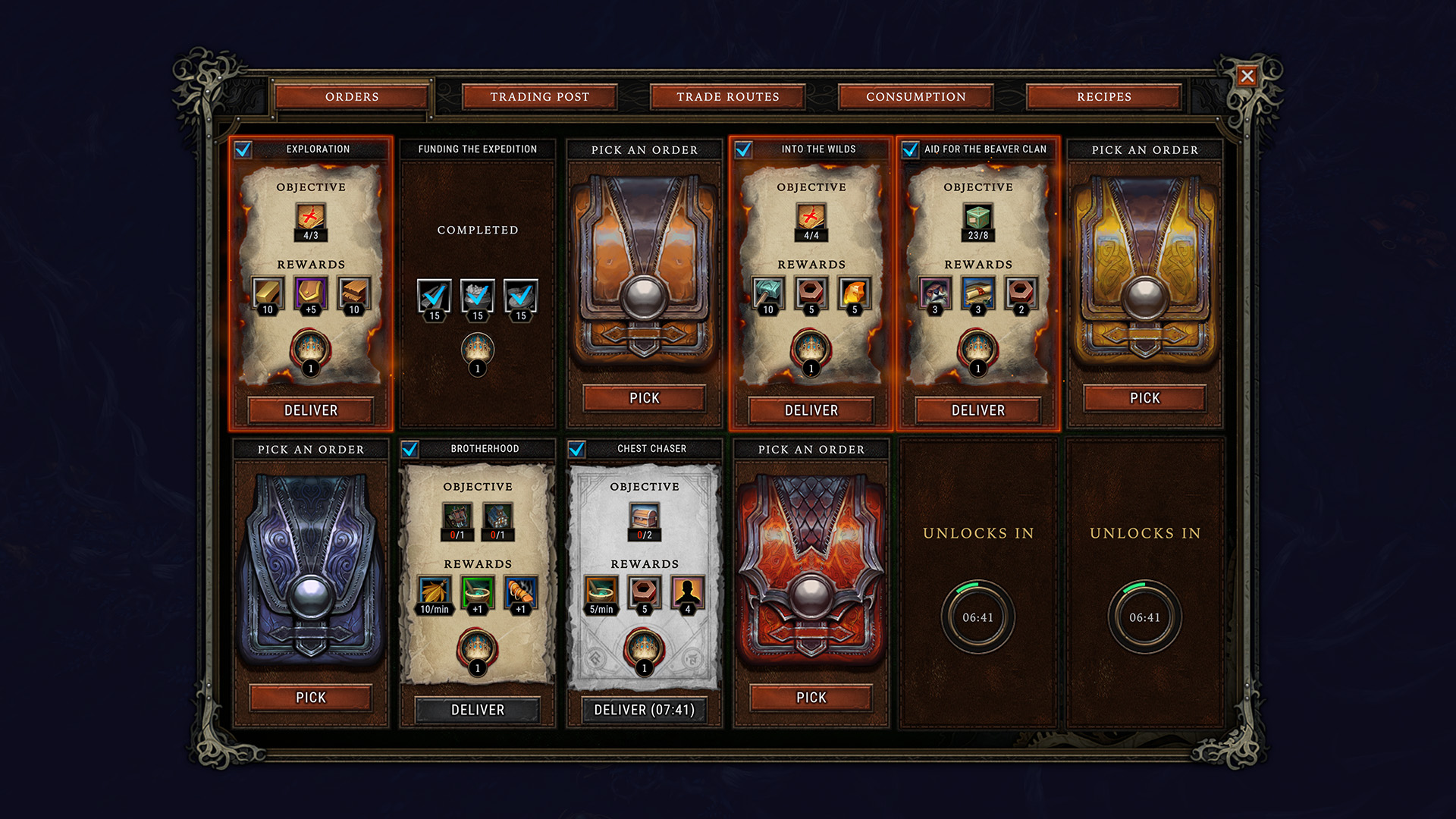 The second big addition coming in this update is the Trade Route revamp. We wanted to give the entire system more meaning, while also answering some of the most prevalent pieces of feedback we have gotten over the last few months. We came up with a new approach, which can simply be described as an export system with an additional layer of building relationships with nearby settlements.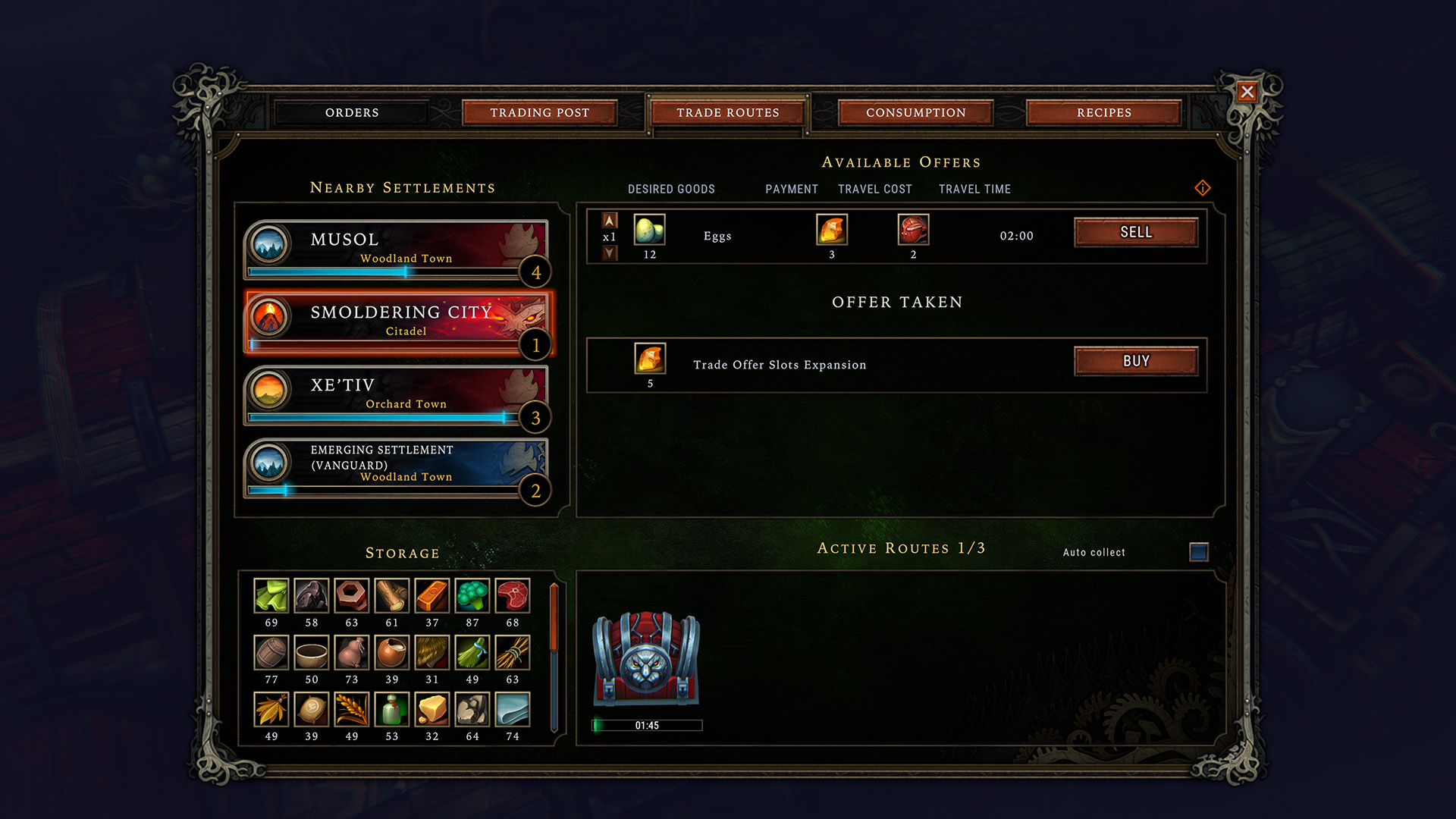 From now on, Trade Routes will take the form of Offers - requests for different goods from your neighbors. By filling these requests, you will earn Amber and increase your Standing level with a given town. The higher your Standing, the better Offers you will get in the future. At the same time, these interactions are not instantaneous - the traded goods need time to be transported, and you need to equip the caravan with enough provisions (Packs of Provisions). All Offers are procedurally generated, with different prices, durations, and fees, so it's up to you to keep a cool head and find the most profitable deals out there.
At this point, we'd like to thank all of you who tested the new Trade Route system on the Experimental Branch last week. We've gotten some incredible feedback which helped a lot in improving this feature before today's update.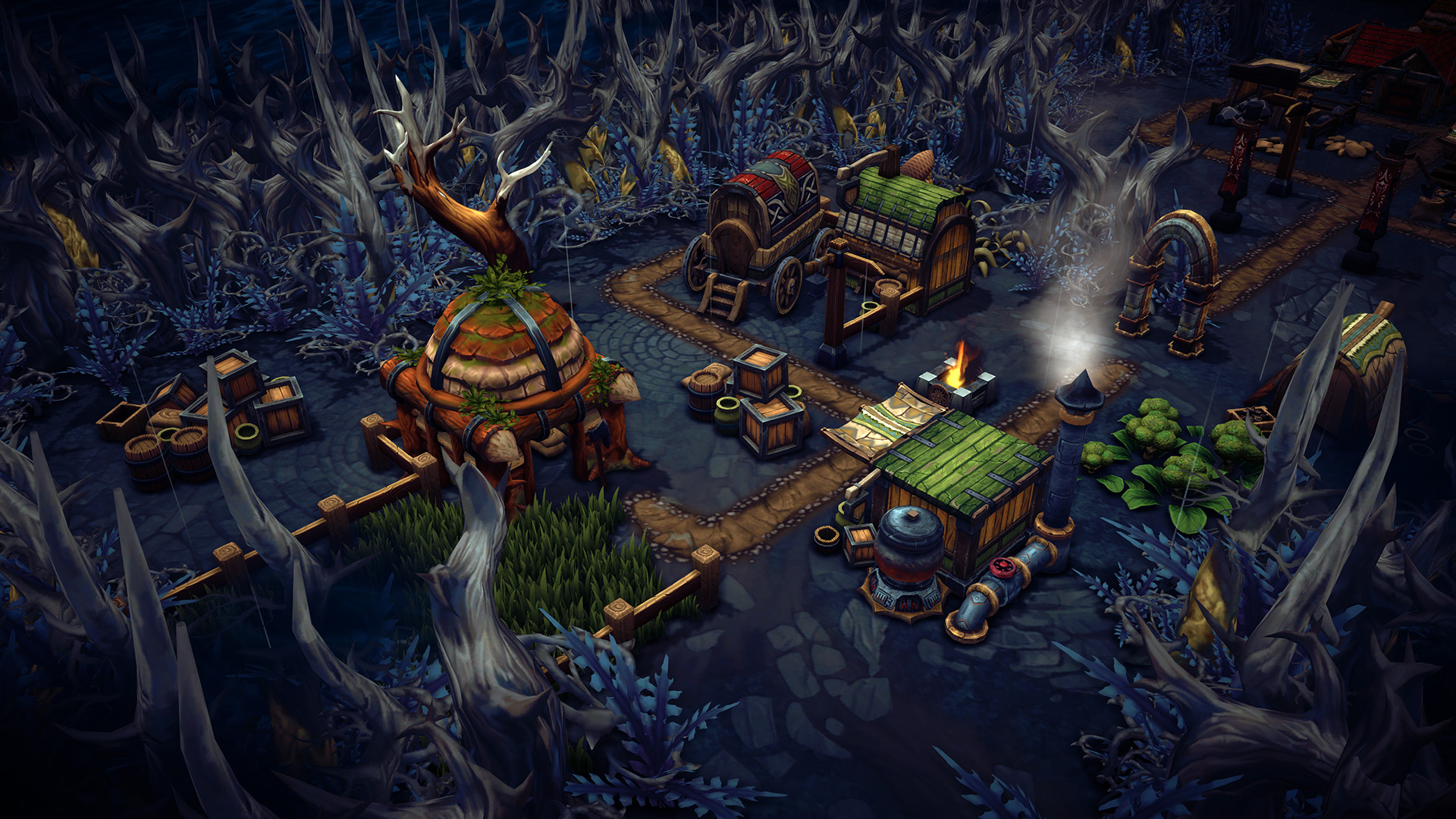 Lastly - we also introduced some balance changes in this update. This time we focused a bit more on Cornerstones, removing some that were too disruptive to the game's economy, and rebalancing a few based on the changes introduced with the new Trade Route system. We also moved some Order rewards around, so they would feel more balanced and in-tune with the amount of effort required. Additionally, we reduced the value of all goods in the game and traders will now pay less for the things you sell them. This was done for two reasons - firstly, we wanted to discourage players from mass-producing one resource and selling it all in exchange for the trader's entire stock, and secondly, we wanted to boost Trade Routes a bit, as a more profitable way of exporting resources for Amber.
We hope you enjoy the new additions to Against the Storm. Have a great time taking on Timed Orders and trying to swindle your neighbors out of their hard-earned Amber, and as always - feel free to share your feedback on our Discord server or using the official feedback tool.
May the storm be gentle on you,
Eremite Games