In this post I want to list out all of our planned goals for the final release of BBB. Our demo works as a solid proving ground of the combat system and core gameplay, but there is so much more we want to build – and I'll explain them all here.
I'll be going through all of this in detail in the upcoming Kickstarter launching this September, but I want to give everyone a hint now of what we're aiming towards. First simply listing out what we already have implemented and playable in our demo –
What's in the Demo now?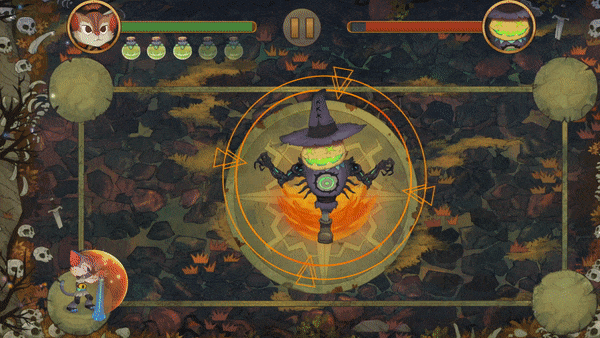 We've built out the Four Corner Battle System with 3 unique bosses, and challenging variations for each of them, along with a rating system to give some replayability in the demo.
The Town of Tumbra has Eldros and Finny to talk to, while not fully story realized – this does show how the story will be told.
Harvest materials and potions in Dreamland with a precision system to time for more materials.
Blacksmith with crafting and upgrading, including 3 sets of unique gear and runes to choose from.
List of the Upcoming Features
2 Player Co-op Multiplayer
AI Partners and Friend Cards
End Game Dungeon System similar to FTL/Slay the Spire map combined with Diablo 3 Greater Rifts randomization and progression system
Equipment with Crafting, Upgrading, Enchanting, Stats, and Set bonuses
3 Playable Characters with their own play styles
10 Unique bosses and 10+ challenging and new variations
Light Story
Battle Broods (Pets)
2 Player Co-op Multiplayer
This is my favorite feature I have planned, for me an Action RPG can go to so many levels of enjoyment with a friend in co-op that it's necessary to add. After Kickstarter, this is my main focus to develop and build out first.
The game will work online, through a peer to peer system, most likely working with Photon for Unity to help all platforms work smoothly. We'll be looking into cross platform support as well, but it's not something we can promise to deliver on until we prove it out first.
I feel that disconnecting online may be a concern for when playing multiplayer on the go, so we're creating AI to both play with while offline, and to take over for a friend if one of you gets disconnected!
AI Partners and Friend Cards
Not only can you bring along AI partners of the NPCs you meet in your journey, but also exchanging Friend Cards with your friends will let you bring their character into battle with you while offline!
End Game Dungeon System
The real focus of Bound By Blades, designed to push many hours of replayability, player increased difficulty levels, randomized elements to keep you on your toes, and an assortment of materials to craft and upgrade your gear with. This is where Multiplayer in BBB will shine, you'll both need to endure the onslaught of battles to reap the rewards!
The end game system is a mix of the FTL/Slay the Spire map along with the player progression levels of Diablo 3 Greater Rifts. Choose your own path, battle random bosses, work your way to a quick break in town to restore potions or go right for the final boss! Survive and you'll have the materials to craft and upgrade some new gear, and the next level unlocked to take on.
Equipment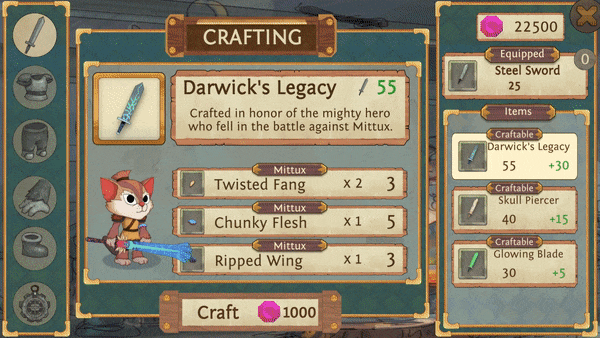 Our plan for gear is to add Set Bonuses for equipping full sets of a boss's gear, and individual stats for each item. Combining these goals into the End Game system, we'll be randomizing the stats you get, along with needing the right bosses to show in the dungeon to harvest their materials for the set pieces you most desire.
That's not to say defeating dungeons without those bosses in it won't help you – you'll still earn upgrade tokens based on the dungeon level you clear, which allow you to push past the upgrade limit and help endure the fights to come.
We're also planning to add an enchantress, whom will enchant your gear with buffs that you prefer to use. Adding this along with the runes which each have their own effects will help you customize your playstyle and builds to determine what you can push the highest with!
3 Playable Characters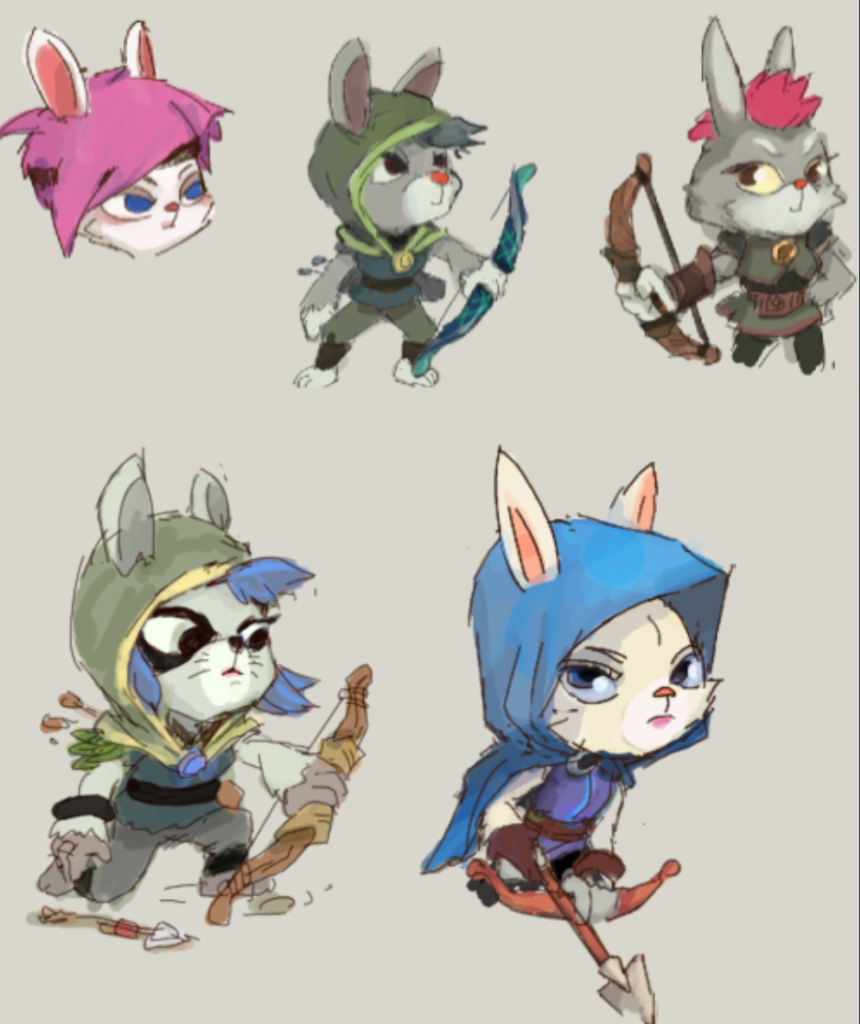 Agile archer concepts, Guren
Teo is the only character shown in the demo, with a powerful, but slow weapon. So what about all the players who want to feel fast? Or the ones who want to play safe? We've got you covered, each with their own unique attacks and abilities.
Our second character is in concept phase now, an agile archer named Guren. And our third will be a tank character with weapon and shield.
10 Unique Bosses and 10+ Challenging Boss Variations
We're aiming for 10 core unique Ilcyon and introduce those as your story progresses. The real fun is what the variations will bring – these are in no way just stat increases, but huge amounts of functional reworks to bring to life the challenging fights that really push our battle system to the limit.
Our end game system will rely on having a large variety of bosses, so we'll do our best to not only have a solid amount on release, but to keep adding more over time.
Light Story
Story throughout BBB will be a lighter element, mainly used as a prologue to the End Game System, and introducing players to the state of the world. You'll learn about the Ilcyon, the tribes, and the history of the land known as Ashmyr.
Battle Broods (Pets)
This is another lighter element to BBB, and will most likely be placed as a stretch goal on KS to ensure development is solid and polished for release of the other core features first.
Battle broods are pets you can feed your extra boss materials to, raising them into 1 of 3 forms, each with their own little animations, a simple attack and ability to help support you in battle. Feeding them more materials will increase their levels and stats for extra support.

In Battle they'll follow along with you similar to how Phantasy Star Online mags work, but also adding in an attack and support ability for a direct bonus as well.
Demo and Community Challenges!
If you're interested in checking out the demo make sure to join our Discord to sign up at Discord.gg

And you can compete in our latest Community Challenge to get in as well! Community Challenge Post
Check out more on our site: Boundbyblades.com<
Follow us on Twitter: Twitter.com
See our new art on Instagram: Instagram.com

Steam page to wishlist: Store.steampowered.com