Hello. Ascenderians!
It's my first time writing this devlog. I'm Alexandrite, one of the artist, who is still coping with Alan Rickman's death. Well, I don't really know how to write but I'll talk about characters in the world of Ascender.
Designing character is quite tricky, as character is the one who the player use throughout the game, so you have to make the character as lovable as possible, in many ways. Amber, our Art Director, provides me with the early sketches of the main character and then trust with the final design.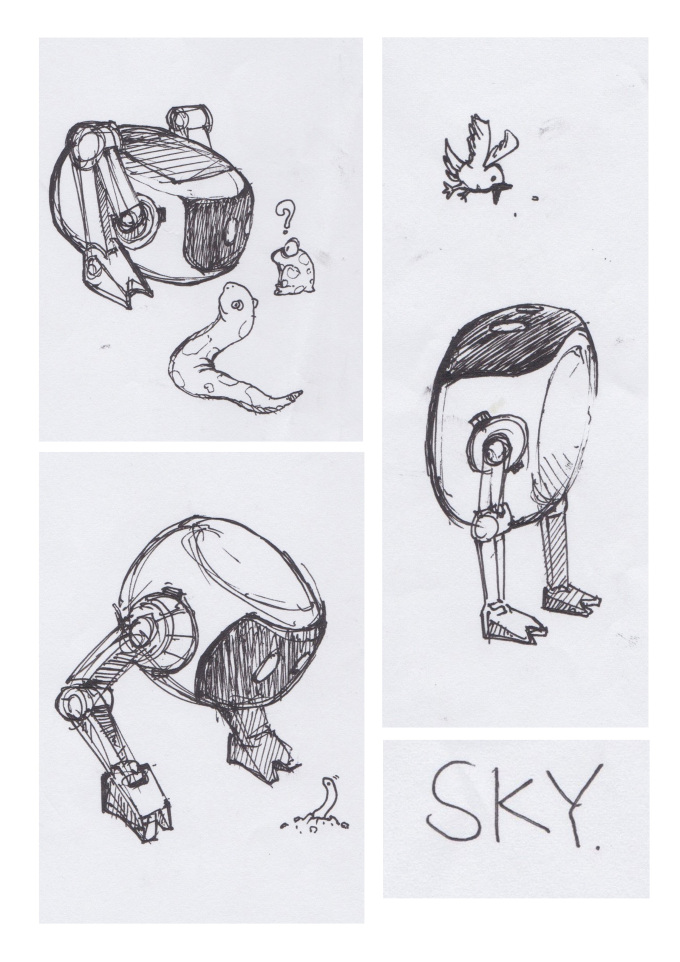 Sketches of Sky
The creation of Sky, our little robot, is the easiest since it has been decided earlier that Sky is the "little, dog-like companion".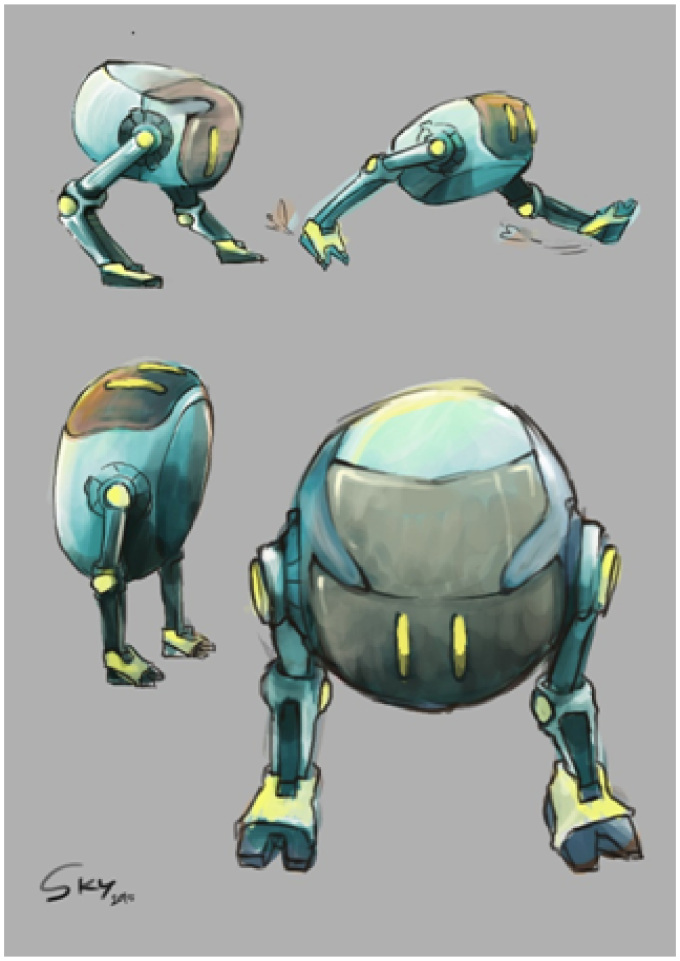 Sky Final Design
Sketch of Ocean
Ocean's concept is the typical "Golden hair, Ocean blue eyes" of classic beauty. It's harder to catch her image since she's just a little girl. I have to make her as innocent as possible while maintaining her beauty, which is not my forte. So in the end, we give her a weird hairdo with three braids. Her image keep changing, until in-game-sprites where her hair is longer, messier with platinum-blonde color instead of golden blonde, and the rings on her front braids is getting bigger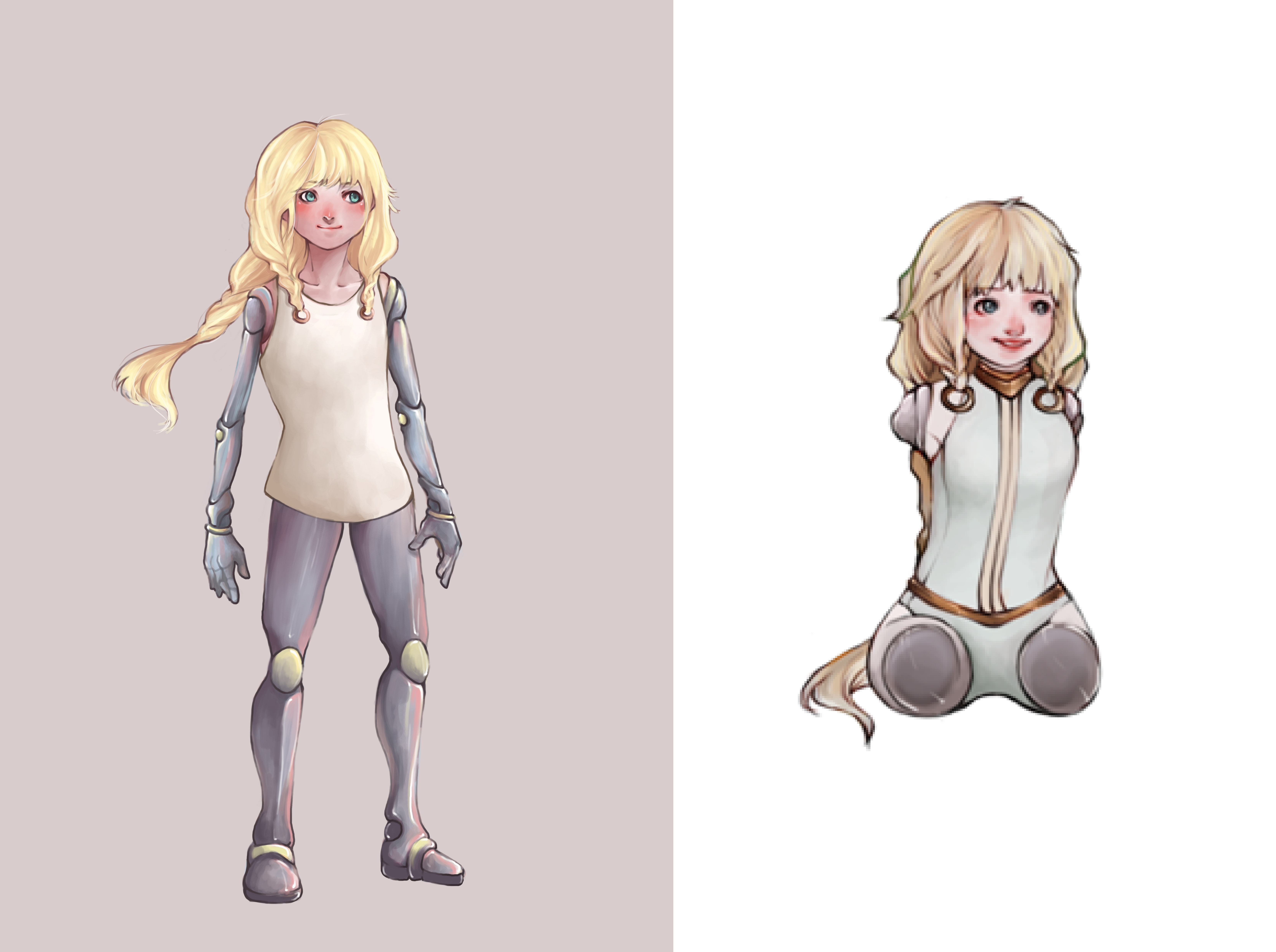 The final design and in-game sprite.
And beside the main characters, there's also NPCs, creatures and the random villagers. It's a new experience to design the GOA Civilization, along with it's cultures, clothes, physical traits.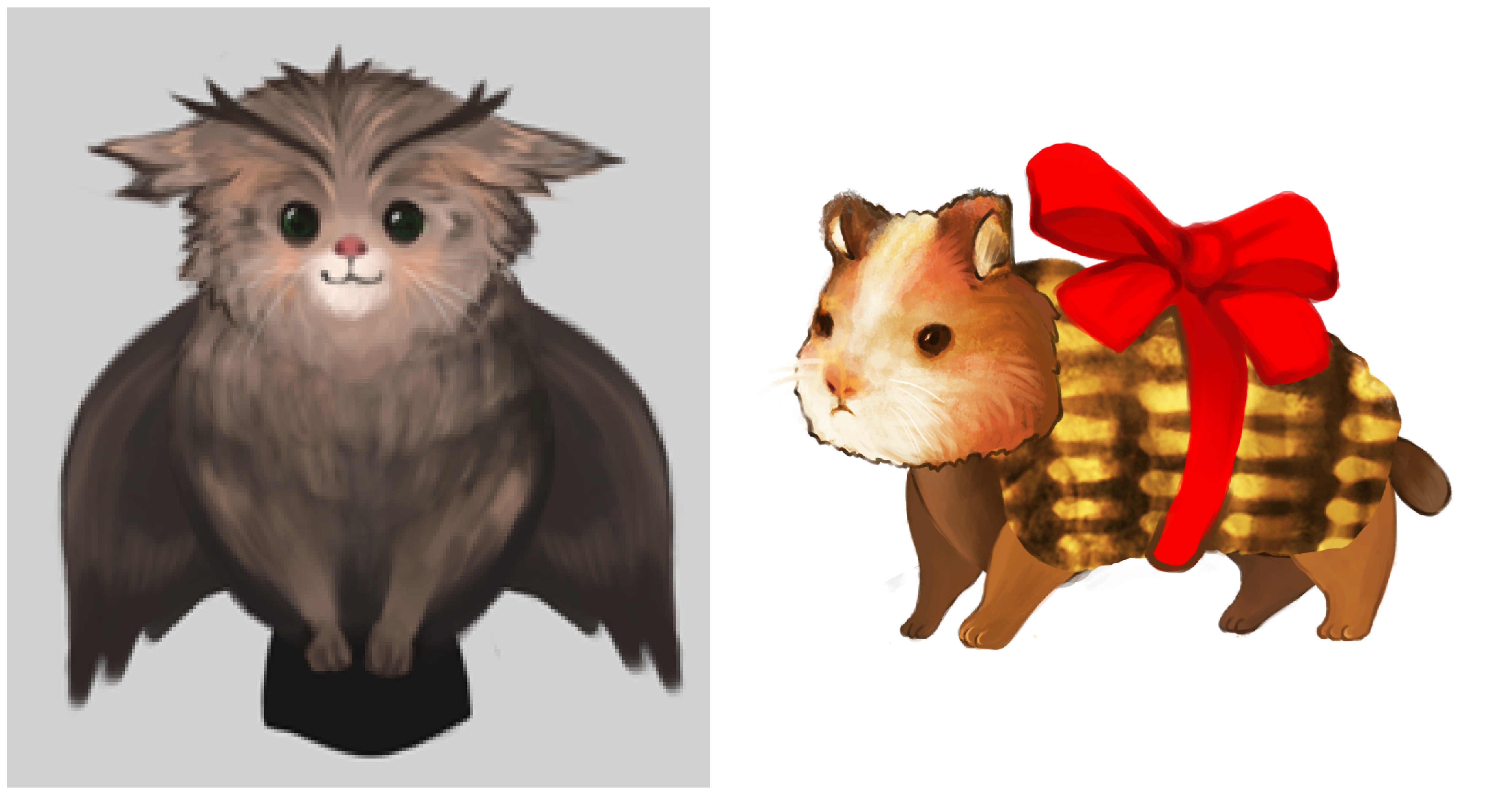 Meowl & Gnallo
The creatures, as Garnet has posted, are the fusions of animals. A weird mix, but they are quite cute, aren't they? Meet Meowl and Gnallo! The fusion of Cat-Owl and Gnawer-Armadillo. There will be quests about them, so, prepare to cath'em all!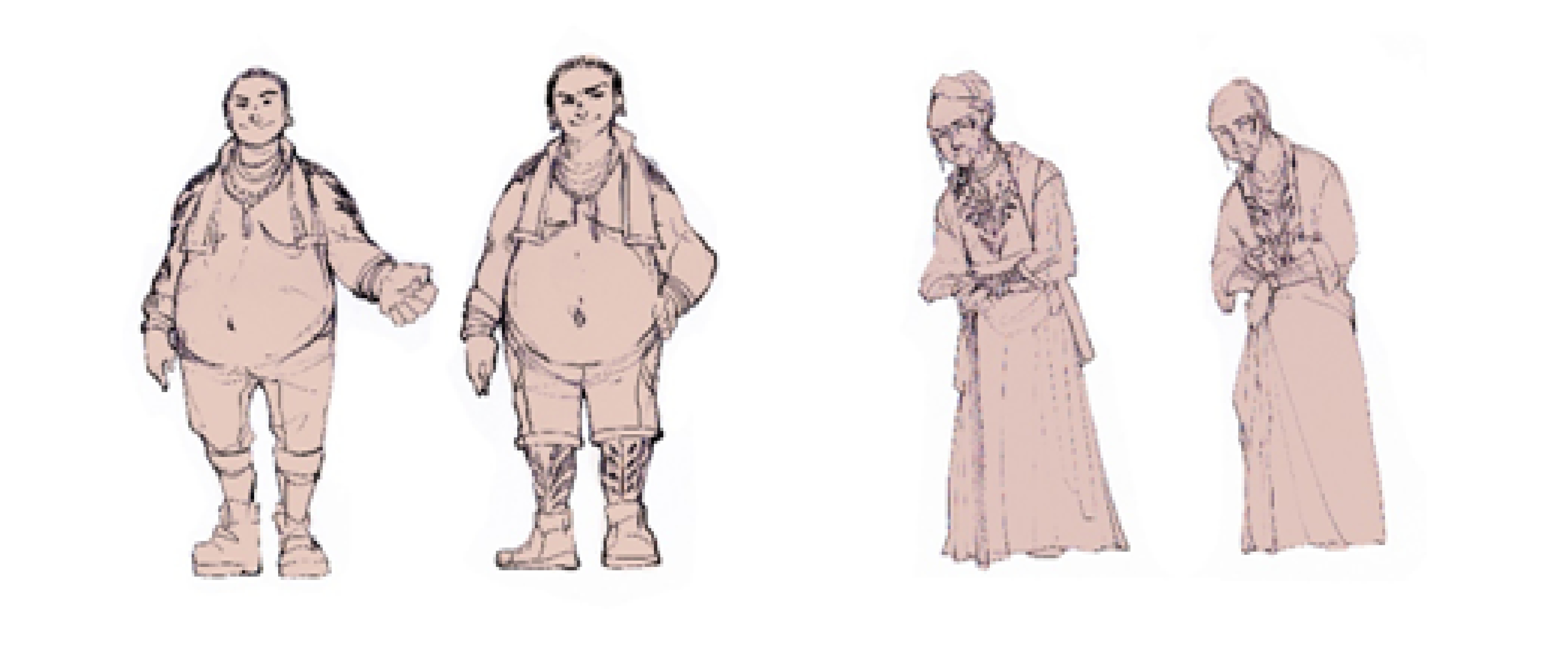 NPC: Villagers
About the Villagers, Honestly, i was having a hard time designing GOA Cultures. And then i was inspired by Borneo Tattoo as the main feature of their culture.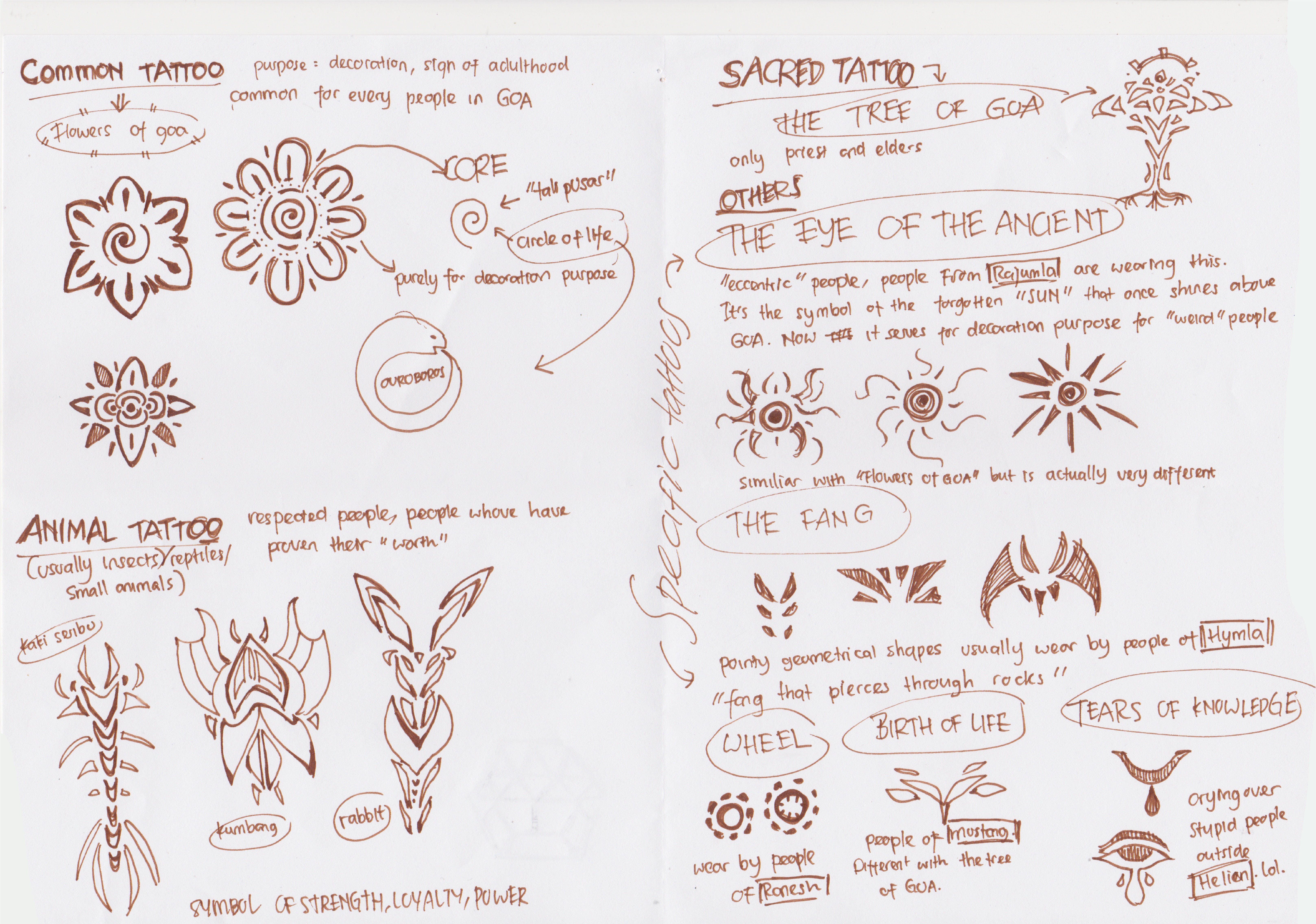 Tattoo of Goa
So, what do you think about our Characters? Or maybe you want the high-resolution tattoo design to tattoo your body.... i'll be delighted since i can't get myself tattoed.
Before I go, don't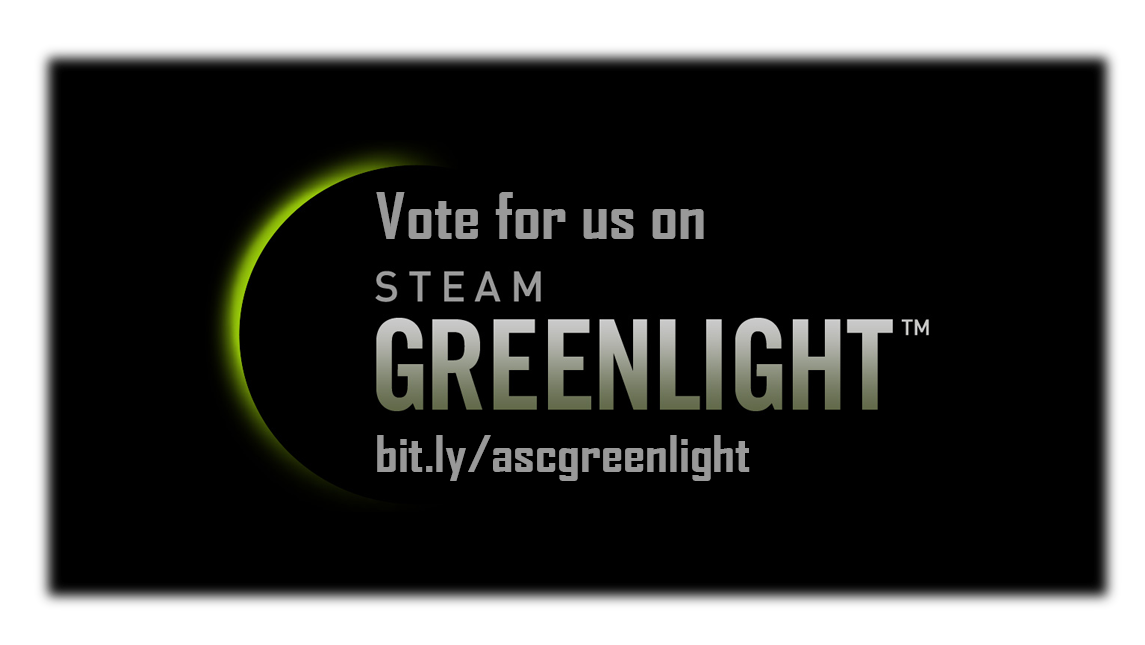 Alexandrite, Log out~