It's been a couple of weeks since the last news item so here's an update. First of all, I casually mentioned previously that I would aim to get an initial alpha version of Isomer available for the end of July. Currently (and I don't want to jinx it too much) this is looking like a very achievable goal. After nearly a year of development work I'm really excited to announce that my target date for making the first alpha build of Isomer available is Thursday 1st of August.
Now this isn't going to be the finished game by any means, there are still many features, animations and bits of the game either in an early stage or will be added after this. However, almost all of the core elements of the game are now in place and include:
World generation and exploration
Enemy facilities that spawn units that will actively come looking for a fight
Resource mining and collection
Base building
Full sandbox gameplay
The great thing about opening up Isomer to alphafunding is you can play Isomer before it is finished and, in so doing, know you've helped support development. What's more, you get a degree of input into the final game by being able to provide feedback and suggestions which have a good chance of making it into the finished game.
What is the minimum (there's a lot more planned but I'm holding off announcing it for now) you can expect in the future from Isomer ?
Lots of enhancements to world generation (more buildings and facilities, different 'natural' world features to discover and explore)
Enhancements to enemy unit AI and game AI
More enemy and friendly unit types
More things to build like transporters
Customising your units with different equipment and weapons
Special abilities for units
Combat modifiers like smoke screens
More dynamic lighting
.. much more!
A lot of work has gone in to making this a possibility in the last couple of weeks, many bugs have been found and fixed. More importantly there have been a couple of rounds of internal playtests which have been so valuable in pointing out areas that required more attention. The most immediately noticeable change has been in the motion of units. Previously when units moved they would jump from one block of the world to another and whilst this was ok - it didn't make the action fluid enough. Consequently unit motion between points is now smoothly drawn (although animations etc are not done yet and may have to come a little later) and it's amazing how such a small change can bring so much more life into an environment.
Other less immediately noticeable things that have been added include better notifications when your units are under fire, when enemy units are spotted for the first time etc. Also, there is now an in-game hint system which will periodically pop up suggestions and information about portions of the game to get new players more accustomed to some of the nuances, for example that biomass seeding trees require light to function or that only some types of key resources can be found in different biomes.
Lastly, units now display health and energy bars when selected and under fire making damage from combat more obvious.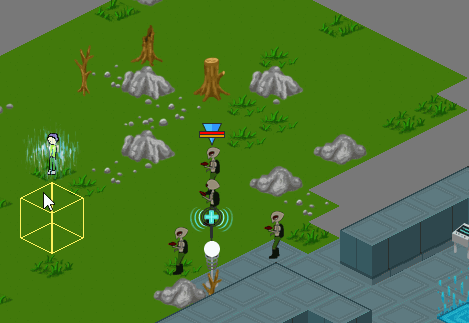 So, keep checking back in the next few weeks as more information shall be provided closer to the alpha release date. Also, if you haven't already, you can sign up to our mailing list to be notified whenever the website is updated.