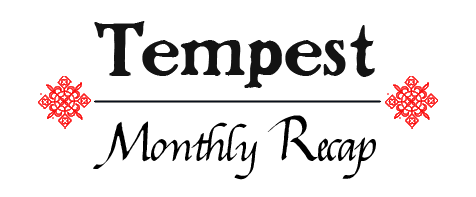 Welcome to our monthly recap for November! This month's progress includes World curvature, UI, ships, terrain, islands, and a health & stamina system.

Volcanic Islands
Our Volcanic tileset has returned in our Unreal build! Thanks to Seb creating new materials & particle effects we have our first volcanic island. These islands are defined by their dangerous lava pits and ash filled skies. New images can be found in our gallery.
Another feature Seb has been improving, something that was included in our Gamecity build but has been slowly improving since - is world curvature. Islands and ships in Tempest that exceed a certain distance will fall below the horizon, causing them to rise up over the skyline as players get closer to them. This effect mimics the curvature of the earth and is pretty neat!
Our 2D artist Sam has begun creating some fantastic icons for the various pick ups and items players will store in their inventories in Tempest. There's still many more to create - but it's a good start!
Being the excellent developer that he is, Seb has also created a health & Stamina system for us, allowing players to die and drown. He also created a radial icon that fills when interacting with objects, informing players of their progress as they interact with something.
Ship Progress

My own progress on our collection of ships has been slowed this month due to life getting in the way. I have mostly been continuing to tune up and re-do previous ships from our Cryengine build and getting them in to Unreal. One in particular is the race-built treasure galleon from our second recap. Hopefully it will be finished by the next update!
We are always looking for more help!

If you are a concept artist, programmer, or voice actor, please get in touch with us either via PM or comment here on IndieDb. We would welcome the support!
Let us know what you think!

If you like the sound of what we're trying to achieve here, or if you'd like to help us out, leave a comment or send us a PM. We welcome critique and feedback. That's all for now. Until next time!