Tears of Avia: Skill System
Tears of Avia is a game that focuses on build craft at it's core. We wanted the game to be just as much about thinking about what it is you're going to do as it is about actually beating up the foes that stand in your way.
The game has hundreds of skills to choose from across all classes, but you can only take five with you to battle. This gives you a huge amount of choice but ultimately means you have to make tactical decisions as to what is the most useful set of skills to bring.
You can think of it a bit like a hiking trip. You could try bringing everything with you including the kitchen sink, but ultimately it's too heavy and you probably don't need all that stuff anyway. So you streamline, and have to think about what's really important. Do you need to bring that lucky scale elephant statue? Really?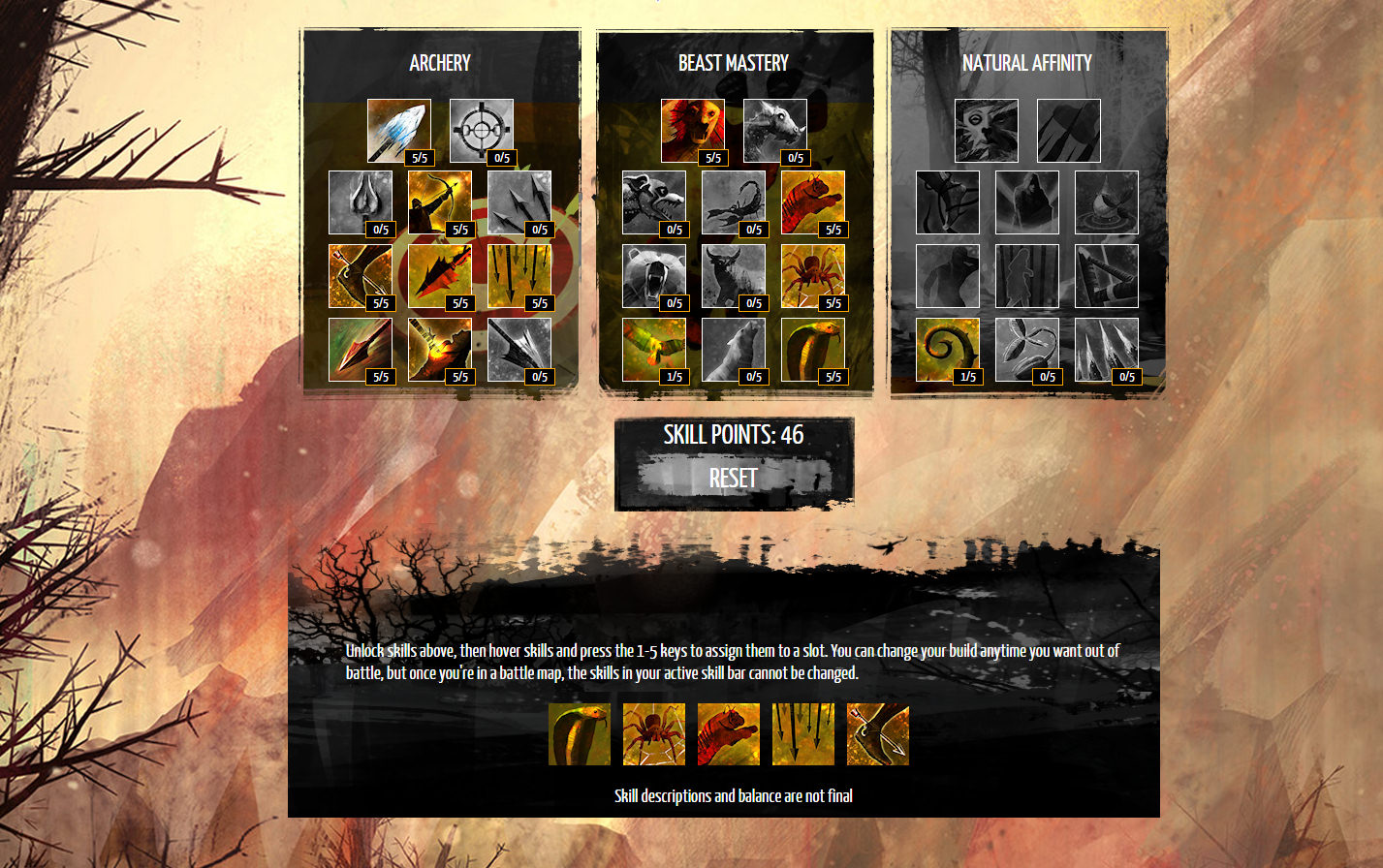 Ranger Skill Builder
While we are still at a prototype stage, we wanted to get across what the skill system in our game is all about. To do this we have started building a web based skill builder that lets you unlock skills and add them to an active bar of skills.
We made this for a few reasons. One, it lets you get an understanding of how the skills work in the game and two, gives us great opportunity for feedback should people come up with some wildly cool ideas that we hadn't even thought about ourselves.
You can check out the ranger skill builder here
Weapon Skills and Other Classes
What this tool doesn't yet offer is the ability to try out weapon skills. Players can take 8 skills with them to battle per class, five are from the class tree itself but the other three are from the weapon. This means you could have a melee ranger using sword or hammer skills. Perhaps, something more supportive is more appropriate, and a healing chalice would be more up your street?
We've yet to fully scope all the weapons, so this isn't yet in the skill builder. Also, we have yet to do all the data entry for the other classes, they'll be coming in a future update.
Given that you can take up to five characters with you to battle, the possibilities are limitless. You could run a party of five rangers if you wanted to or you could play something more balanced with a selection of skills across different classes.
Sample Builds
So here's a couple of sample builds that focus on Ranger alone that I've been toying with.

Beastmaster/Archery Conditionway
This build is an idea for heavy condition stacking and has great synergy between the beast and archery skills.

Summon Cobra will inflict damage and poison your target. Poison is a condition that decreases health at the end of the turn, but lingers over multiple turns. It's effectively turn-based damage over time.
Summon Spiders also inflicts poison but will inflict bleeding ontop if the target should happen to already be bleeding. Well, you can ensure that by using Summon Cobra. Bleeding works in a similar fashion to poison. So now we've stacked two conditions and dealt some damage.
Summon Tigers inflicts bleed, but if the target is already bleeding then it does a whopping amount of damage. Well, assuming you've followed the chain of events before you can guarantee that.
This leaves us with Barrage and Crossfire. With Crossfire you can do a little damage and extend condition duration to last more turns meaning you can get even more out of the aforementioned skills. But Barrage is your combo finisher, dealing an immense amount of damage for each condition on a target.

Spike Trapper
Trapping in Tears of Avia is a more advanced playstyle. It requires patience and planning, but the results can be far more devastating than using a more head-on approach. With traps, you deal no damage in the immediate turn, but rather leave traps (well duh) and then coax enemies into them.

Here's a trapper build that I think would be particularly obnoxious.

Trapper's Speed reduces the cooldown on trap skills and also turns them into area of effect damage. This means you can hit groups of enemies and it's more likely they're going to walk into the traps. It also means you can stack a few extra traps before traps start expiring (they only last on the map for a number of turns).

Spike Trap is a particularly damaging skill that dishes a ton of damage and causes bleeding.
Poison Trap doesn't do as much damage, but also stacks poison.
Snare deals a little damage, but also inflicts freeze. Freeze prevents targets from moving for a number of turns.
Dust Trap deals a fair amount of damage and inflicts blind. Blind is a condition that reduces the target's chance to hit significantly.

If you used Trapper's Speed, you should have time to get another Spike Trap in before the first one expires.
Just think about this build with a cluster of Ranger trappers, or how about bringing a ranger that has barrage to deal extra spike damage on top of those that already fell into the traps? Although it's not obvious yet with the skill builder being only available for ranger, warriors could buff the damage output your rangers do and mages can cause skills rangers use to additionally inflict extra conditions.
Some specific weapons may have skills that can be extremely beneficial to certain build configurations, further enhancing your overall setup too.
Wrapping Up
We hope that this gives an insightful view to the sort of play we're envisaging for Tears of Avia and we hope you'll be able to share with us some crazy ideas for some builds in the future.
In case you missed it, here's that link again: Tears of Avia - Ranger Skill Builder