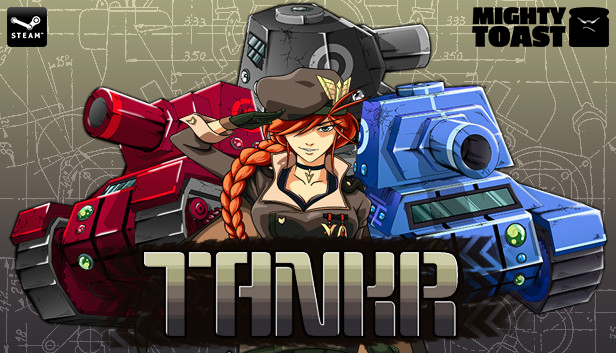 Hi!, after month of hard work we can announce that the release date of Tankr will be next monday, June 6. Available on Steam for Windows, the Mac and Linux versions would be ready as soon as possible.
We've uploaded a launch trailer on the videos section and updated screenshots. Also, we're streaming it right now. Enjoy!
What is Tankr?
Tankr is a top-down Arcade game for PC (Windows, Mac and Linux) developed by Mighty Toast that will be released June 6, 2016.

Play with or against your friends in frenzy local & online multiplayer battles plenty of powerups, ricochet bullets and explosions in dozens of levels or design your own battlegrounds!

Gameplay
Tankr is inspired by the classics of the arcade era. Up to four players can play together in local against the IA in any of the five campaings of increasing difficulty; the game offers over one hundred stages. Players also can take free-for-all battles (local or online) to know who is the best in a selection of battlegrounds, or being able to design new ones thanks to the built-in Map Editor.

The gameplay focuses in ricochet shoots to destroy your enemies by surprise at the same time that you tries dodge the foe's bullets and explosions. We added some spicy to the game with power-ups that improves your tank (like speed up or shields), the main weapon (more bullets or ricochets) and secondary weapons (like rockets, mines or explosive drones).

Others elements of the game are the type of terrain that influence the speed of the tanks or the visibility. Also, the enemies have different weapons, statistics and behaviors too.

Development
This isn't our first game, we have developed some small games for past global and local Game Jams like this or this, but without a place to work together and that two of our four members can only work in their free time, this game is a challenge for us.

This game took to us more than a year to be developed (with zero budget), it's developed in Unity and our team is mainly programmer sided, but that not prevented us for finish a cool game!

We're working in a demo for the launch day, and after the release, we will continue to work to port the game to Mac and Linux (as we promised), and try to fix all the bugs and errors than could appear after the release.
Happy gaming!