Hi everyone,
Yesterday I released on simmer.io the browser version of Tank Rider!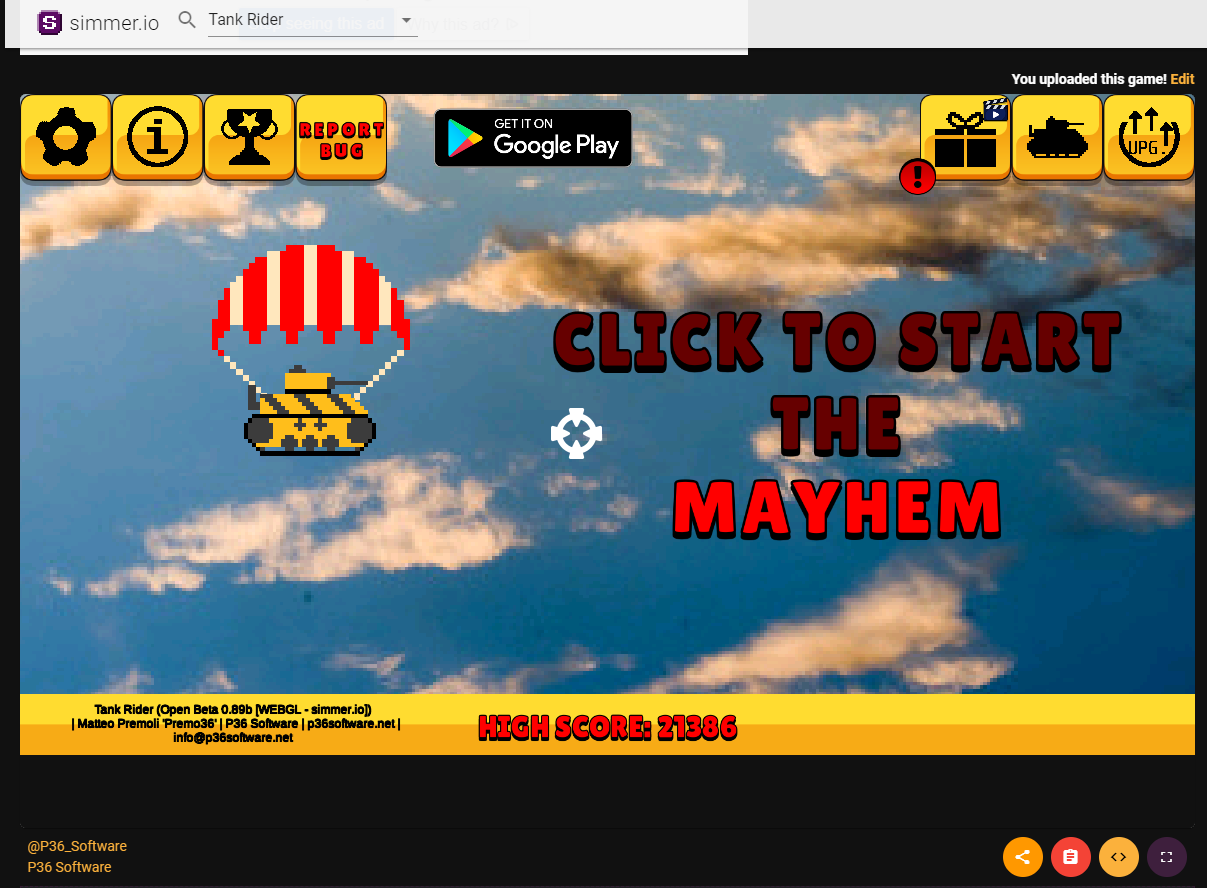 Now the game it's no longer an Android exclusive and can be played with mouse and keyboard from any computer, with any OS, as long as it can run a WebGL compatible browser (any fairly recent browser should work). The game will play directly in the browser, without the need to install it. As WebGL support is already built-in into the browser you don't have to install any third party software, like it used to be with Flash or Java based games.

(NOTE: Features that in the android version requires to watch an AD, like claiming the daily reward, double up the run's gold or get one extra life are not yet available in this version)
---
Tank Rider will be updated and mainteined on all plarform almost simultaneously. Speaking of updates, the Open Beta 0.89 it's out also on Google Play Store and here on indieDB!
Changelog - Open Beta 0.89

Rised by one RPS all "shooting speed" levels. Now it starts from 4 RPS and can be upgraded to 8 RPS.
Added visual feedback on the shooting tap.
Now If a network error occours while trying to claim the daily reward, the error message gives more precise information about the problem.
Minor bug fixing
---
⚠ PLEASE NOTE THIS GAME IS CURRENTLY IN EARLY ACCESS, YOU MAY EXPERIENCE BUG AND PROGRESS DONE WITH THIS VERSION MAY BE LOST WHEN SWITCHING TO THE FINAL RELEASE (MORE INFO BELOW) ⚠

✪Choose between a variety of historical (an not...) tanks, each one with different stats!
✪Dive into an endless desert full of hazards, dangerous enemies, powerups and explosions!
✪Gain money by killing enemies and spend them to upgrade your stats, make powerup last longer and buy new powerful tanks!
✪Compete with your friends and the whole world for the highest record, who will top the leaderboard? (Available only Google Play Store version)

⚠ ABOUT THE EARLY ACCESS:
-Tank Rider (Ex "Tank Rampage") it's near the stable release. Anyone can play it, but there may still be some bugs left, which is why the is in early access. If you encounter any bugs or want to give feedback click on the "REPORT BUG" button in the main menu (or write an email to support@p36software.net)


The Android version of the game contains ADS powerd by Unity Ads:
Unity.com
All ads are OPTIONAL. No ads will automatically play at anytime while you're playng.

CONTACTS:
🔗: P36software.net
✉: support@p36software.net (for reporting bug/give feedback/ask for help)
✉: info@p36software.net (for anything else)
🐦: Twitter.com (@p36software)