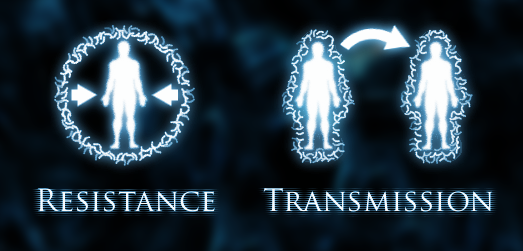 I'm currently working on two different major modes for gameplay. While I have ideas for other modes I'd love to implement, I have to limit the game to what I can reasonably accomplish on my own!
Resistance (Action Mode):
This mode is intended for those who want to dive right into intense microbe-on-microbe action. There is only one host body to explore in this mode, and only one way to go forward. Your goal is to extract as much biomass as you can before the immune system detects and annihilates you.
Loosely inspired by games like 'Spelunky' and 'Binding of Isaac', you will die in this mode... a lot. Whether you're impaled on a cholesterol crystal, dissolved by toxins, splattered by a rogue virus, or engulfed and ingested by a giant immune cell; the life of a microbe is a short and tragic one. But do not mourn for too long, as you have many clones waiting to be used (and destroyed). Successful clones can even pass on their powerful abilities, provided they survive long enough to reproduce.

Transmission (Story Mode):
This campaign is geared towards those who want a more permanent and educational adventure. You jump from sick host to sick host, curing diseases and learning about the wider world – specifically, how and why the 'Symbiont' was created.
While it takes place in the future, it will explore modern issues such as genetic engineering, biotechnology, and antibiotic resistance. Diseases range from cancer, to infections, to even food allergies like gluten intolerance. Using real-life symptoms from these conditions, I'm hoping people will get a little interested in biology after playing these missions!