Submission page: Ludumdare.com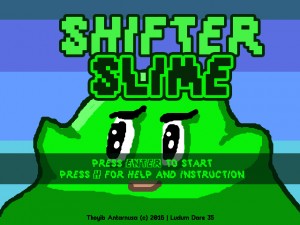 This game is my first game that I can actually finish by myself alone.
It is about a lost slime who lost its magical gem. The magical gem is a device to teleport the slime back to its hometown. The slime needs to find its gem back in order to be able to come back home.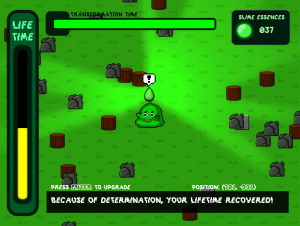 The slime is not a mere regular slime. It can transform into a tool near it. There are three tools and each tool has its own purpose. The slime has to collect slime essences in order to get the gem works. Collecting slime essences can be done by breaking any resources.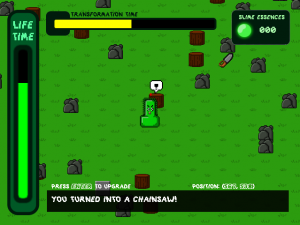 ---
Well, that was the story that I made up after all of my plans were not going well.
First, this game was intended to be submitted in compo, but I didn't make it on time so I will just keep developing until it has a decent gameplay. I don't want to submit an unfinished game.
I wanted to make an Action RPG-ish game using the same transforming mechanic. Then I realized I don't want to code the AI. :p
I changed my plan to make it into a puzzle-ish game. You have to get out from an isolated place, however you can manipulated the objects near you by becoming them. There would be a key that couldn't be taken away but we could transform into the key to unlock the door... something like that.
That idea was awesome but I had trouble implemented those in a very short time (intended for compo). So I changed my plan again by making something like the screenshots you just saw. The difference is, the resources were not randomly put, instead I designed where to put them so it would still be a puzzle game. That idea is still considered as a fun gameplay.
I couldn't do it because my code was so bad that it took a lot of resources for the memory. My game was very laggy. Changed my plan again so the resources location is random.
Well, this is it. A somewhat boring game that I made. To break that boresome, I added a total score feature so it will be challenging to people to beat the game as quickly as possible and get as many essences as possible.
Eventhough it's considered as boring, I still enjoy playing it, though.
But what I enjoyed the most was the development of this game. It was fun, it was stressful, I was tired, but I am happy. I learned a lot, figuring out why this and that things couldn't work.
This is my very first Ludum Dare ever. I'm totally going to join Ludum Dare again next time.
Here is my entry: Ludumdare.com
I'm very happy if you want to try it.