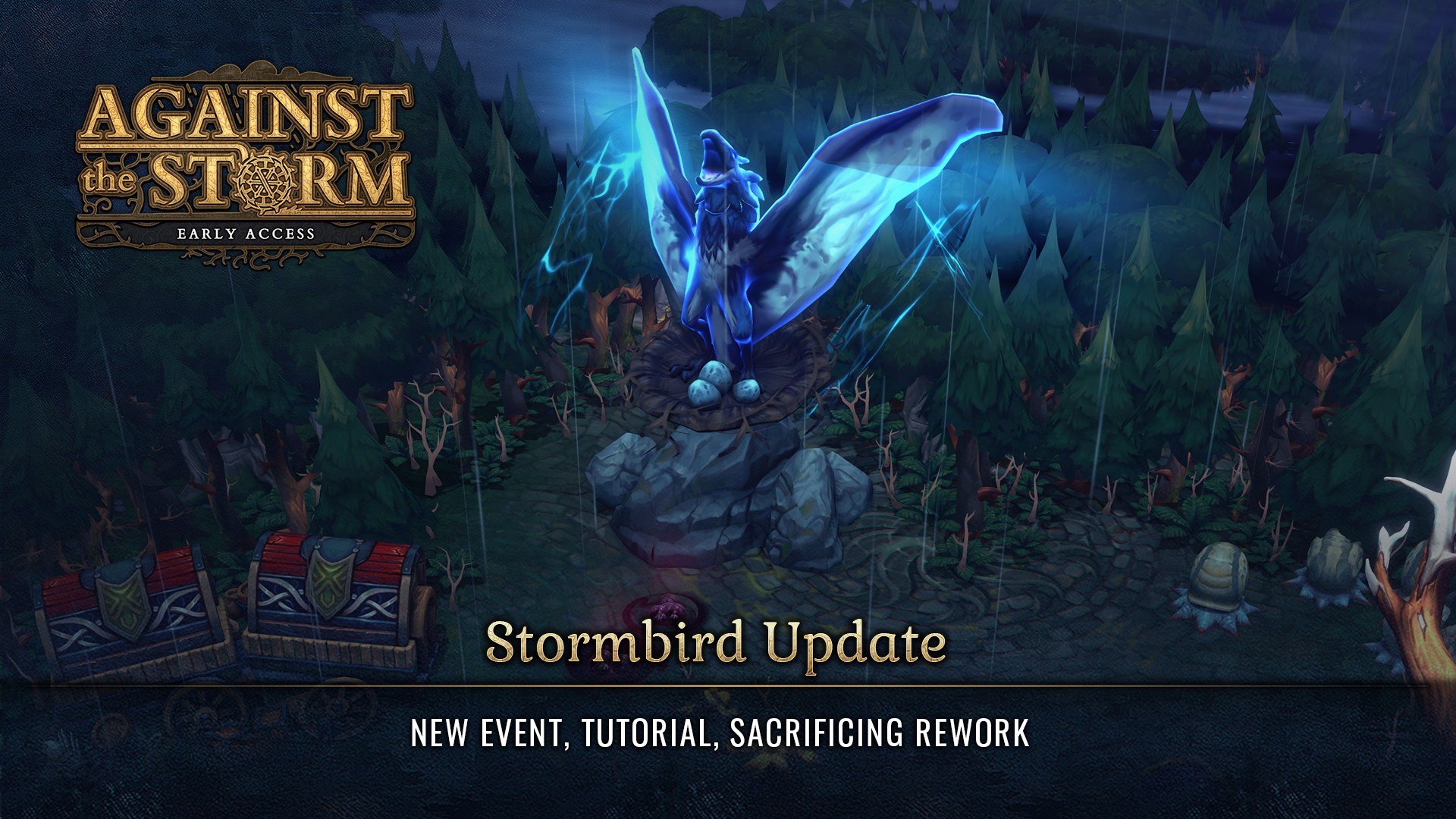 Greetings Viceroys!
Look! Up in the sky!
It's a bird!
No, it's a plane!
Oh, wait… It actually is a bird.
A thundering Giant Stormbird.
But the feathery beast is not the only feature coming in this update. Here's what's new:
New event: Giant Stormbird
Hearth Sarificing rework
World Map Tutorial
Woodcutting quality of life features
And more!
Below you can find our design notes, the full changelog, community memes, and various announcements. If you enjoy the game, help us spread the word and let your friends know about it!
DEVELOPER NOTES
With today's update, we continue on our path to add more polish to the game. The most notable addition is the World Map tutorial, which explains the most important aspects of the meta layer of the game. And although the experienced Viceroys among you might not need it, we hope that new players will enjoy this change and have an easier time starting their journey in Against the Storm.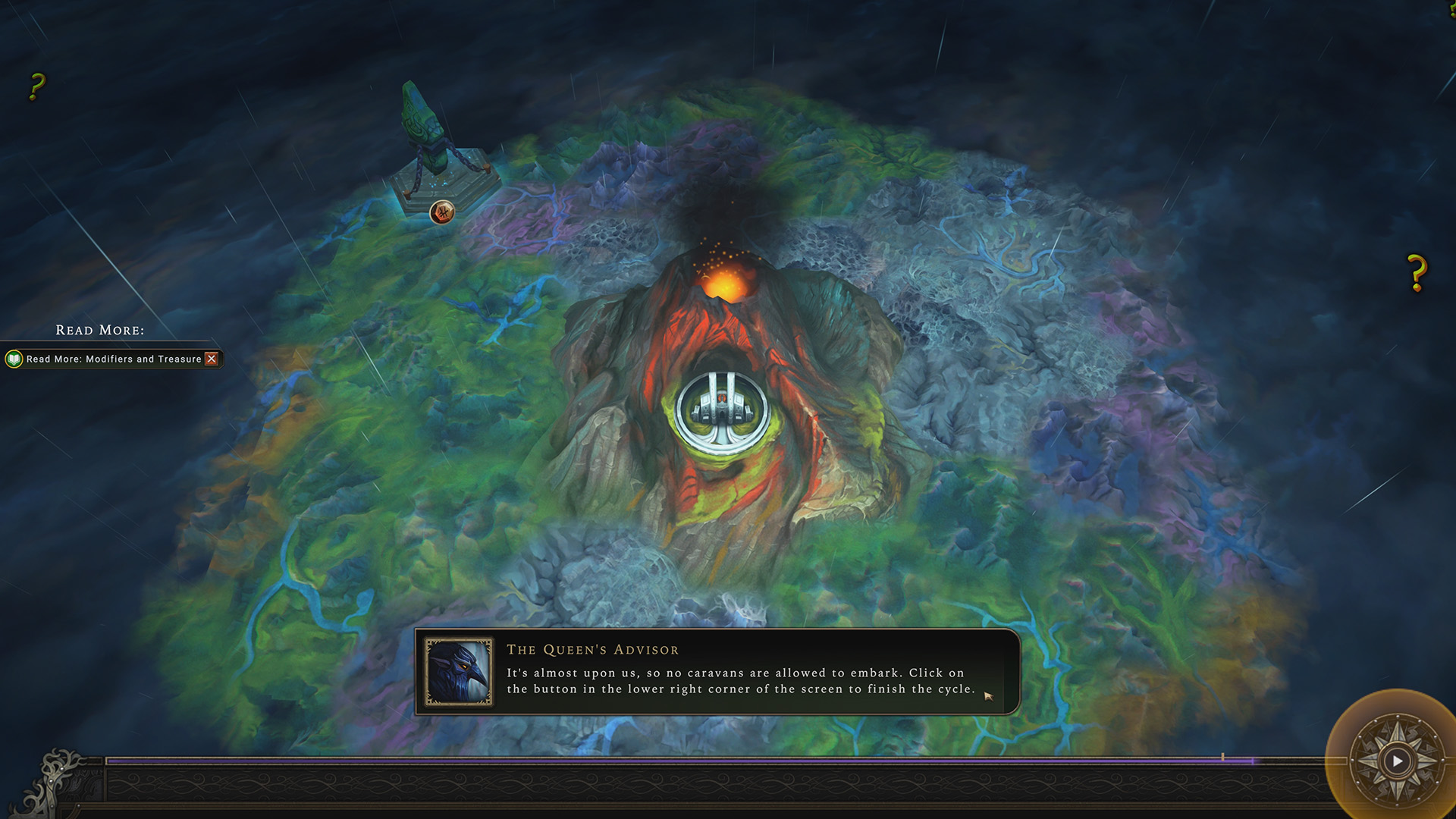 World Map Tutorial
But wait, if the tutorial is the most important new feature, then why is this update called "Stormbird Update"? Well, that's because we also have a little surprise for you – a new Glade Event! And it's the namesake of this patch, the Giant Stormbird. It can be found in some Forbidden Glades and is extremely dangerous, but according to some Viceroys, it can be tamed and used to your advantage.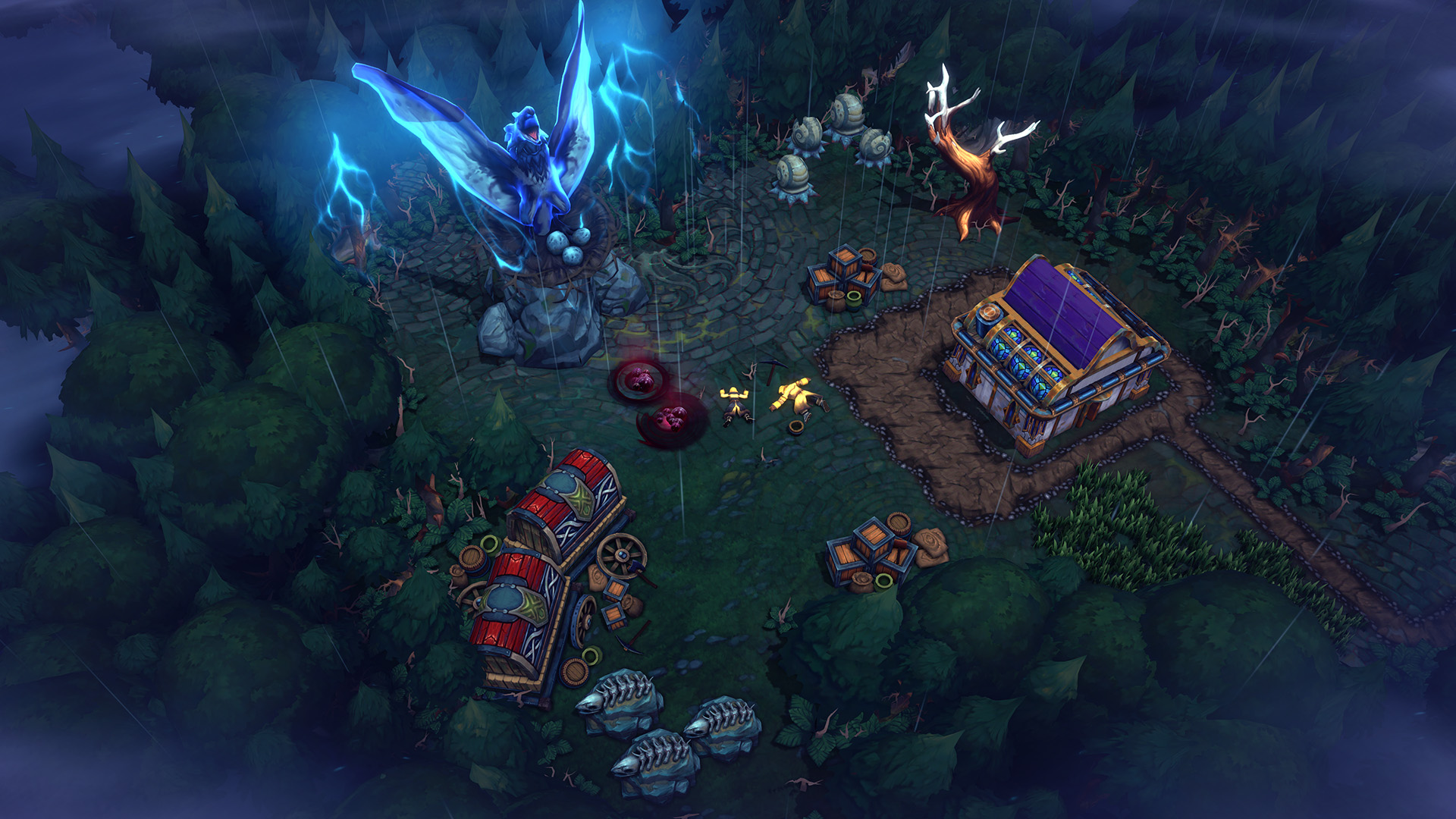 Stormbird
Another big change in this update is tied to balance. More specifically – sacrificing fuel in the Hearth. In the last couple of days, there has been a lot of discussion about the sacrifice meta (or, as some of you have lovingly called it, Fuelxodia). The tl;dr of this situation is that Resolve can basically be cheesed by having a steady supply of resources to sacrifice. Instead of engaging with systems like needs and services, it's tempting to focus heavily on fuel and use it to carry you to victory (especially in the later stages of a game). Additionally, Resolve goes up at a faster rate than it goes down, so some crafty Viceroys have figured out a way to "cheat" the system by sacrificing goods for a few seconds each time Resolve gets dangerously low, waiting for it to rise again, and then stopping the sacrifice process until it's low again (rinse and repeat).
And while we agree that sacrificing for Resolve is a useful tool in combating some negative modifiers, it feels more like a one-and-done solution than a deliberate choice on the player's part. That's why we recently released a sacrifice overhaul on the Experimental branch, and are now moving it over to the main version (after some balance adjustments inspired by your feedback). From now on, sacrificing goods will activate different buffs instead of increasing Resolve (like lowering Hostility, increasing production speed, or speeding up working times in Glade Events). With this change, we hope to add a bit more decision-making into the sacrifice mechanic, while still giving players enough tools to work with when facing difficult challenges in their settlements.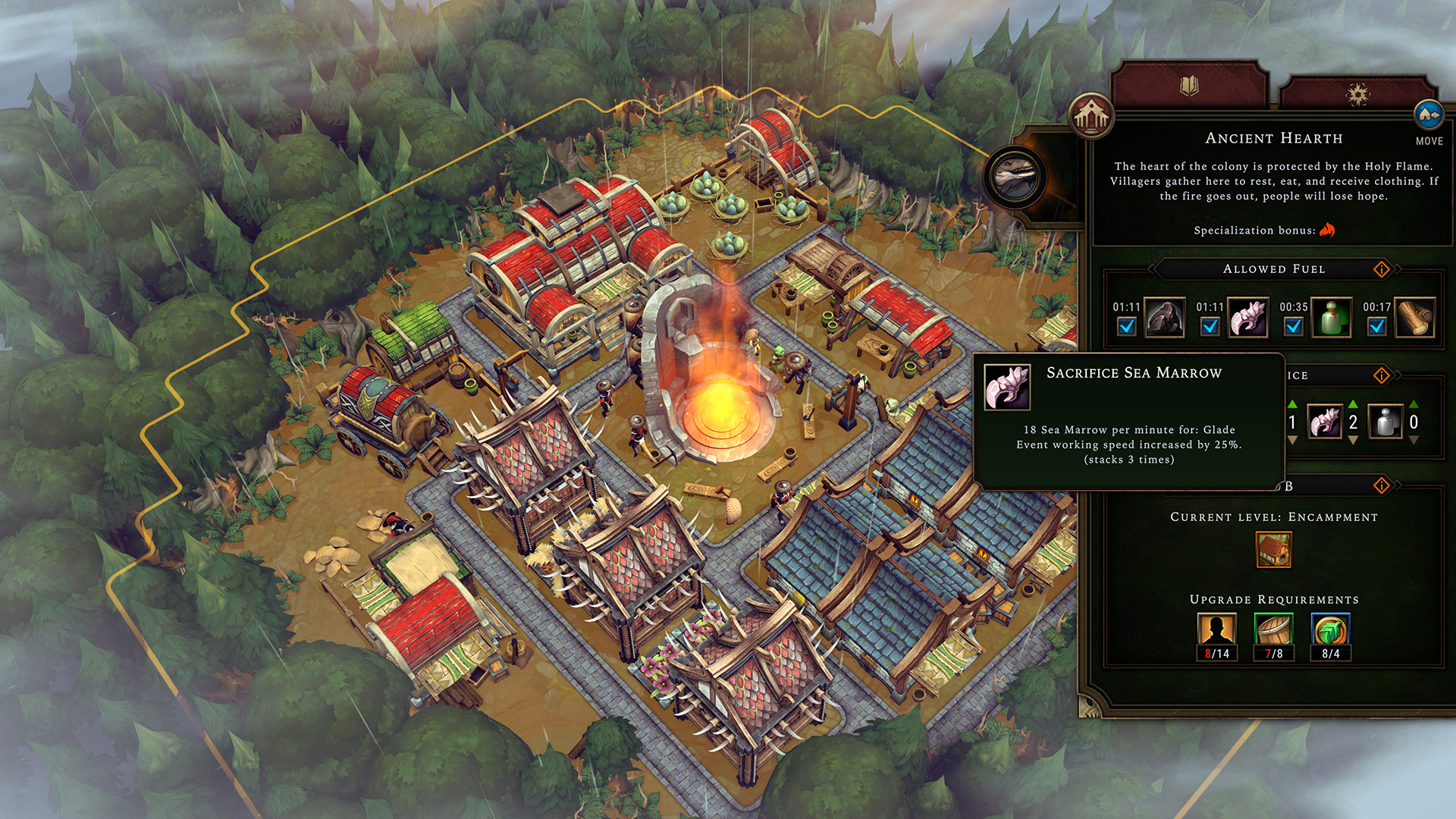 Reworked sacrificing
Lastly, let's talk about the user experience. In this update, we implemented a LOT of improvements, and almost all of them are inspired by the community. Some notable examples are: range indicators for Glade Event explosions, camera zoom on the World Map, the ability to change the size of the tree marking brush, building removal confirmation popups, automatic Timed Order completion, and much, much more.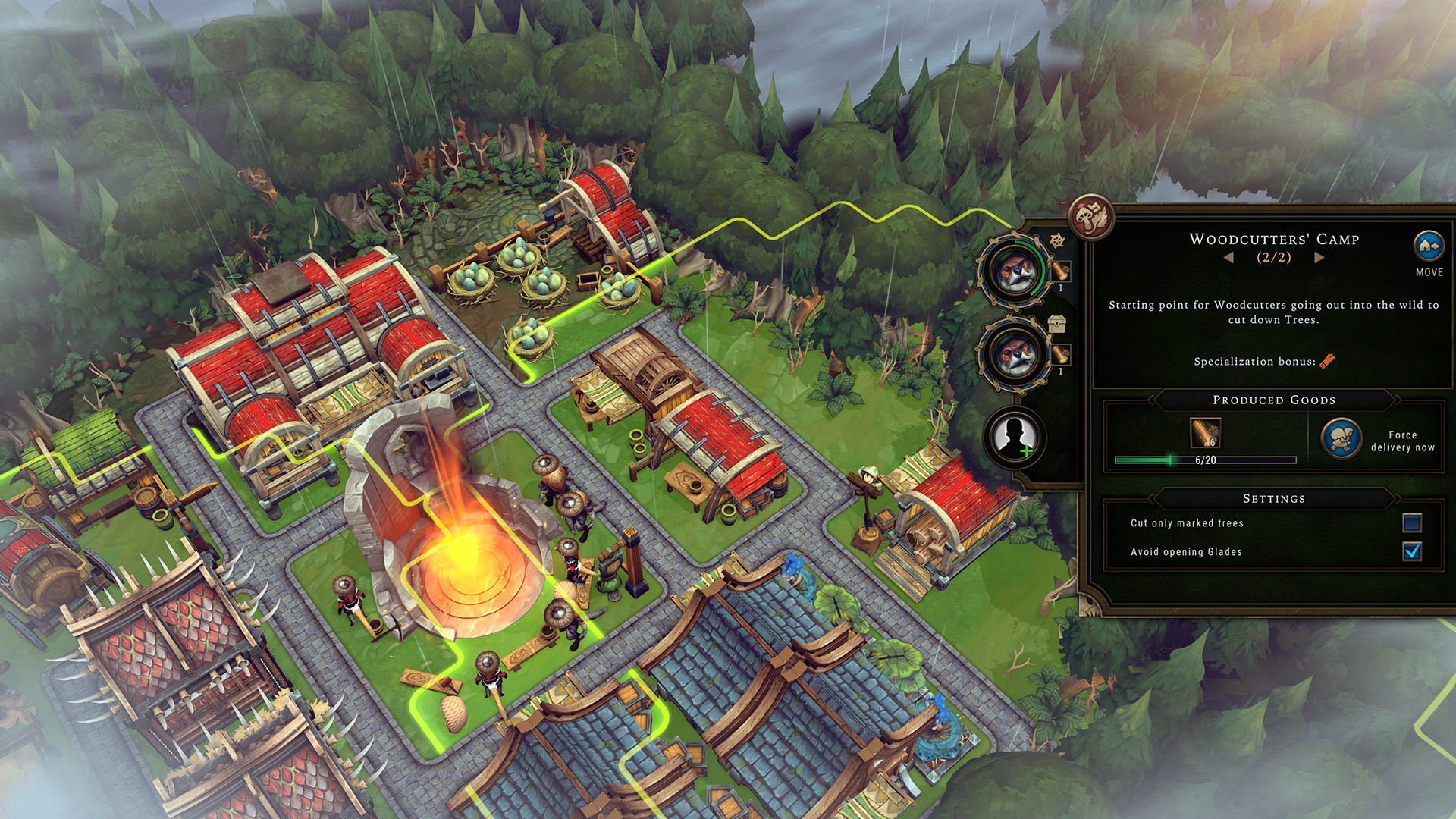 Avoid opening glades
We hope you'll enjoy the new changes. And if you'd like to share your ideas for upcoming updates, here are some useful links:
Have fun and may the storm be gentle on you,
Eremite Games