Sorry for the lack of updates recently. Between exams and the various game jams we've been doing I haven't had much time to work on Crawle. Hopefully that should change.
Since the last dev blog there have been numerous new changes, additions and fixes. The major ones include the rain mechanic and the reintroduction of traveling merchants.
Firstly, rain is a new weather mechanic with both negatives and positives. Positives include reducing the rate of thirst loss and increasing the rate at which crops grow. Negatives include the fact that rain puts out fires and can reduce your body temperature.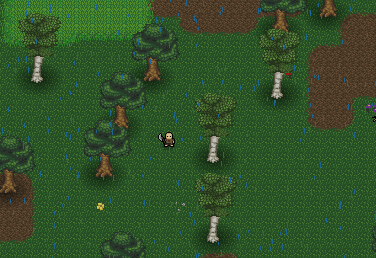 Next, we've reintroduced the travelling merchant. During the early days you could trade with a randomly-spawning merchant. We've now reintroduced him and he now behaves much like a villager does except that he isn't afraid to move around a bit more and has slightly better items.
We've also implemented a slightly new system for woodcutting. Previously all axes would do the same damage, however the new system allows different axes to do different amounts of damage (and accounts for dual wielding too), e.g. a Raider's Handaxe will do more damage to the tree than a Crude Tool.
Finally we've reduced the amount of rocks, branches, fruitbushes, animals and chests for unforgiving worlds to make survival in those worlds slightly more challenging than before.
Join our forums at Sleepystudios.com to stay up to date with all the latest discussions.