The Steam store page is now public for Toad On Fire.
People are testing it. The planned release date is for June 30th.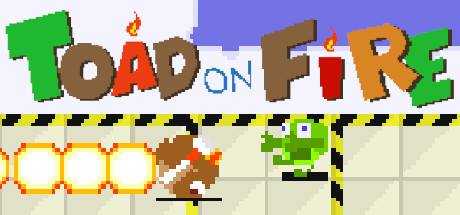 Click here to go to the store page for Toad On Fire
The game is indeed on the home stretch! It feels weird, since I've been working on it so long. There was no "bang!" of inspiration or completion of a milestone that made this come about. Rather, it's been anticlimactic, like when you go for a walk, a really long walk, and after many hours pass all you think about is getting back home. You become exhausted. You stop paying to your surroundings and just focus on moving forward, one step at a time. "You'll get there," you tell yourself, "just keep moving." After an eternity passes, the corner of your eye catches a familiar landmark, a sign that you're in your neighborhood, close to home. "Oh..." you think to yourself, apathetically by this point, "it looks like I'm almost home. ... Didn't even notice." But you're too exhausted to leap in the air, celebrate in some manner, or add a spring to your step... maybe so tired you don't care. You just want to get home and crash. Ha! But... there is some excitement brewing as this gets closer to release.
Either way, I won't believe it until I see it -- complete and released out to the world. I always wonder if that light at the end of the tunnel is just a mirage. But I think it's different this time. :)