So, I thought it was long overdue to explain how units work and the stats that underpin the game. Every unit in Isomer has the same set of attributes, they are shown on the newly (literally today) added stats screen.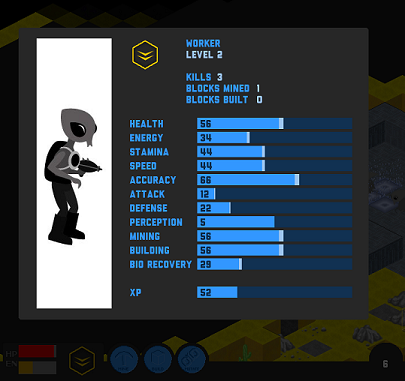 Every unit has a unique set of base attributes depending on their type. On top of these, progressive veterancy gives fixed bonuses shown by the lighter part of the bars above. Experience points are gained by almost everything - mining, building, killing and looting but in different amounts.
The higher levels really reward careful leveling by adding new abilities like recovering health from looted bodies on top of the stat bonuses.
Here is a complete breakdown of all the stats and how they are used.
Health
As the name suggests, this attribute governs how much damage an entity can take before dying.
Energy
Every action in Isomer ( e.g. moving, mining, shooting etc ) has an implicit energy cost. When this drops below a quarter there are implications such as a temporary halving of the entity weapon accuracy.
Stamina
This attribute governs how quickly an entity recovers energy.
Accuracy
This is a percentage attribute used to calculate where a weapon fired by the entity hits the intended target. Other factors like range are taken into account but this attribute is the most important part of the calculation. For entities without combat capability (i.e. engineers) this can be zero.
Speed
How quickly the entity moves around the world.
Attack
The maximum amount of damage this entity can effect to a target. If a shot fired connects, the actual amount of damage dealt is calculated as a random value between 1/2 the attack and the full attack value. The damage is also mitigated by defense (see next).
Defense
This is a percentage attribute which deals reduces the damage done by a weapon blast by a fixed percentage.
Perception
Governs how far units without orders will scan their surroundings and automatically engage enemy forces. Measured in blocks.
This is the only attribute that is not enhanced by veterancy.
Mining ability
Percentage attribute which governs how quickly a unit will mine a block. If the unit is unable to mine due to other mutated specialisations, this will be 0.
Building ability
Percentage attribute which governs how quickly a unit will build an object or block. If the unit is unable to build due to other mutated specialisations, this will be 0.
Biorecovery
Some units are able to recover an amount of the important biomass resource from killed friendly and enemy units. This percentage attribute governs how efficiently they do this.
Work continues and I'm hoping we will reach an initial alpha by the end of Jan or early Feb. In the next news item I'll explain the various units and mutations you can command in Isomer as well as some of the enemies and neutral creatures you can encounter.
Until then, here's a work in progress version of the initial worker alien you can command.