Wow. What a weekend.
The adventure began on Thursday night. Matt, Murilo and I all stayed up til ~5am working on getting everything perfect for the show. Two hours after going to bed, it was Friday morning and I was packing up the car to make the drive to Philly with my very old friend Mark, who graciously agreed to go with me.
The drive itself was thankfully uneventful. A 2.5 ride North on interstate 95 was light on traffic almost devoid of streetlights. For those of you unfamiliar with driving in the mid-Atlantic region, here is what it looks like to drive on the highway around here:

Note that despite being nearly 20 miles apart, these two pictures look nearly identical.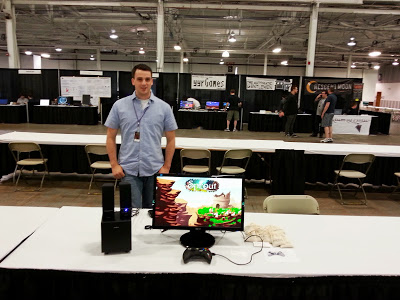 After just setting up the table. It turns out that less than half of the free IndieGame tables like this one actually showed up. We remained neighborless for the duration of the show.
Anyway, the drive eventually ended, we checked into our hotel and made our way out to the convention center to set up, which took no longer than 5 minutes on any day. We were the first of the IndieGame Showcase tables to show up, but I felt confident the rest would be along shortly.
As you can see in the picture, though, most of the booths were already set up. Those positions cost a bit extra and, being unfamilar with the con and, to be honest, these kinds of things in general, I opted against it. Perhaps the wrong move, but nothing damning. We set up a couple of little pictures and some little pouches and our medium-sized monitor and got ready for visitors.
My first pang of regret came pretty quickly. I wish I'd splurged and bought some kind of giant printed logo thing for the game, but alas, I did not.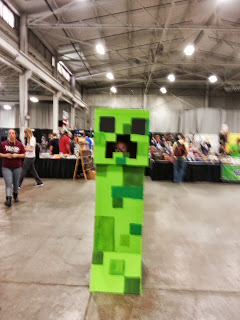 I made sure to keep my distance while nabbing this picture.
Friday was a slow day, in general. We got some people playing but not many. Mixed with the fact that I had only gotten ~2 hours of sleep, I ended up leaving feeling, well, depressed. Mark suggested that the level was a bit too spread out. Not enough events. So that night I started over. Spent 3 hours in the hotel room redoing everything before I passed out with my face on my keyboard. I can only hope I didn't drool.
I had smartly set an alarm for 6 am the next morning so I could finish, which I did. We arrived at the con about half an hour early, giving us enough time to test the new level and find and fix all the (many) errors. Every time we did find one, though, it sent a jolt of adrenaline through my body and my heart would race as I attempted to quickly correct the mistake before I was tried and hanged for gross negligence.
After finding a way to semi-relax, I went around to take some pictures. Between Back to the Future, a creeper, a pair of full-sized Mario dolls sitting on a couch playing Mario, and the not pictured billions of game vendors, Mark and I were thoroughly, thoroughly happy.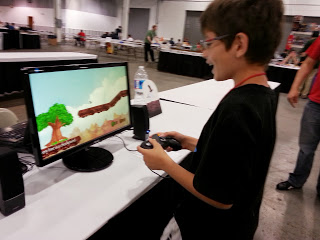 One of many smiling kids who played Sprout
When everything was ready. Things start to go much better. The fact that Matt was on hand pretty much non-stop all weekend to deal with some of the more technical issues was a huge boon to what we were able to accomplish. In my opinion, compared to what we went in with on Friday, what we left with on Sunday was about a million times better. And I think it really showed on the faces of people who played. Almost everyone smiled at the sight of the vine-growth, swerved in their seat as they dodged a shadow-enemy, and remarked at how beautiful they thought the game was. It is with some sense of embarrassment that I must admit I was practically beaming with pride.
Despite getting a total sleep time of about 11 hours over three nights, I'm still feeling ridiculously good. Confident is a word I might be considering using.
Here's some more pictures: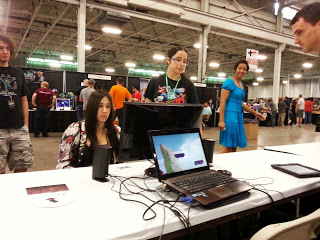 She had a really hard time passing one of our more deadly obstacles.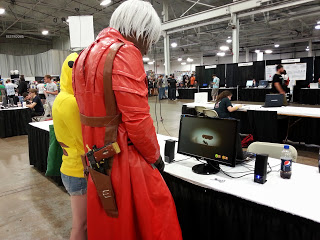 Dante plays Sprout while Pikachu looks on.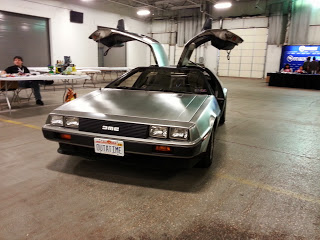 You know what this is. I shouldn't have to say it.