No horde can exist without the Grunt Zombie, the basic unit that all other mutations are built from. Undead Overlords may play with dead flesh like it's silly putty, but they need something to start with, and meatsacks are just the thing. They're a harvest of flexible flesh . . . once they've been made satisfactorily pliant.
So today we salute the Grunt Zombie - the worker bee who makes the whole horde possible. That simple single snacker, unstoppable in swarms.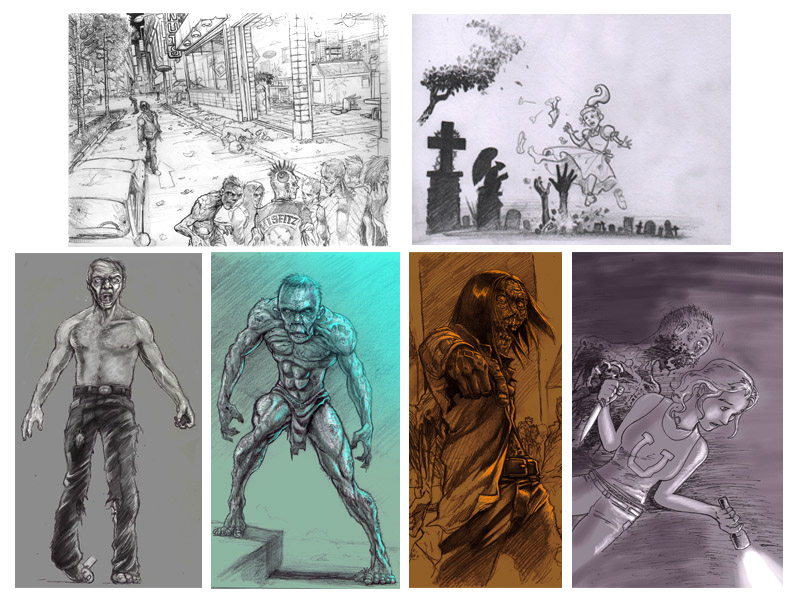 Name: Grunt Zombie
Height: ~5-6 ft
Weight: 95-220 lbs
Attacks: Smash, Slash, Crash
Mindless, brutish battering is about all one can expect from a Grunt Zombie, but they do it so well. Meatsacks and their barriers alike all fall before the relentless destruction of the horde.
As versatile as they are destructive, flesh from Grunts also serves as the building block for more powerful mutations. Their sacrifice strengthens the horde, whether they like it or not.
Special Abilities: Cannibalize, Frenzy
By ingesting inert flesh, the Grunt Zombie regains lost cohesion. And since cannibalism is such a meatsack taboo, the act of ingestion creates strong chaos energy, helping to further destabilize the Earth Conception, and bringing the Undead Overlords that much closer to dominion.
Grunt Zombies can also spend a small amount of their physical cohesion to generate a temporary speed increase. Crossing fields of fire more quickly, or rapidly finishing off a particular meatsack - the frenzied Grunt can be deadly, and even more so in packs.
Detail:
"I can vaguely remember...before I was gorged on and transformed...life was so blah. I had so little desire, so little thirst for...anything, really. But now? Now?! I get so hungry, it drives me WILD! My desire is, is, is...HUGE! In a stupid way, I've never felt so ALIVE! My brain doesn't work like it used to, yeah...things get...fuzzy a little...kind of dumb sometimes...but when I sniff a fresh meatsack nearby, things get really clear all of sudden.
And, it's funny...but sometimes I'm hustling after a tasty meatsack, nothing else on my mind but hunger, when - WHAM! It's like my body gets taken over and I get sent somewhere else. Totally out of my control. Like there's something moving me. And...it's weird but...it's a great feeling! I feel like I've got a higher purpose all of a sudden, like I'm part of a group, and we're all in it together - and together, we can accomplish so much more. Hell, I can stand there and kick an old mailbox for hours without getting anywhere, but when I'm bundled in with other grunts, we mash it in an instant. It's crazy, but . . . I'm happier in the Horde than I've ever been."
- Bob Zombie