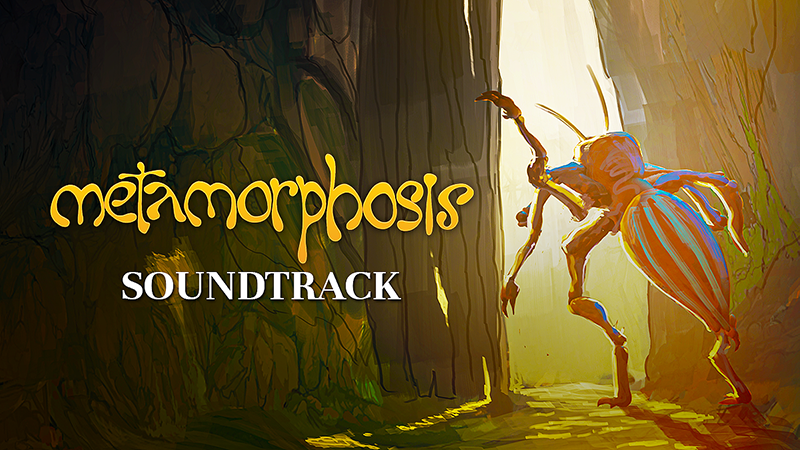 The incredible original soundtrack to Metamorphosis is now available on Steam and is free to anyone who owns the game (applies to previous and future purchases)! Experience the haunting music of complete transformation now!
Also, you can get Metamorphosis for 60% off now and be transported to a bug's-eye view of reality! Are you ready for your own six-legged journey through Kafka's classic?
Metamorphosis Soundtrack
Music plays an extremely important role in Metamorphosis. It complements the plot and creates an atmosphere of anxiety and helplessness, deepening the feeling of surrealism.
Metamorphosis is a unique artistic expression, inspired by Franz Kafka's novels, and takes place in a bizarre and surrealist world inhabited by insects and a corrupt bureaucracy.
The game gave the composers a perfect opportunity to write music inspired by the expressionist era of art and music in the early 20th century. Composers Arnold Schoenberg and Alban Berg, as well later composers such as Bernard Herrmann were inspirations. The composers incorporated techniques of the era such as Sprechgesang (half spoken half sung), 12 tone, aleatoric, as well as tonal and atonal harmonies to invoke a past age that worked perfectly for the world of Metamorphosis.
New Patch
The game also received a new patch with fixes and improvements.
Changes:
Added some missing textures

Fixed a rare issue with player's legs stuttering mid-air

Improved memory management

Added some missing collisions
Please remember that if you want to report any issues, you can reach us on Discord, all our social media channels, or via email (support@allingames.com).
Enjoy the game and the soundtrack!
Ovid Works & All in! Games
Connect with the colony and follow our official channels to stay up to date: