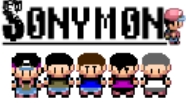 Sonymon of course being a very popular PSP homebrew created by V@ughn. There are some plans at the KosmicSoft Development Team to port this project to the iPhone, iPod Touch and iPad. But since the team is working on another project at the moment, the development of the iOS port of Sonymon hasn't started yet, so there is no release date either. The founder of the early Sonymon versions is also the founder of KosmicSoft, so if you like this project, you might like his other work for iOS devices here!

---
If the iOS version is going to happen, you will encounter some changes. These changes can be viewed below, so you'll have an idea how it will be in the future. There is no Android or Windows Mobile version announced, but more on that in the future.
You can choose one Sonymon, and train it slightly differently than with Pokemon. You can train your Sonymon on their limbs and bodyparts, so when it level ups, the moves that will require that bodyparts to use, will be stronger.So if like:
Offense:
12 Attack Stats with Fist
13 Attack Stats with Feet
9 Attack Stats with Head
5 Attack Stats with Knee
7 Attack Stats with Mouth
The "feet" has the most power, so a move that requires the feet (lets say MEGA KICK) will be stronger than a move that requires the head (like HEADBUTT)
And a Sonymon like CECEI obviously would have a high Attack Stats with their Mouth since CECEI resambles a lion.


When you attack an opponents Sonymon or a wild Sonymon, you need to use your finger to touch the body part you want to attack on.. Like when you touch the head, it would do more damage than if you'd attack the feet. Why? Because the Sonymon won't only power up on different levels offensively, but also defensively.. Like:
Defense:
50 Defense Stats on Arms
48 Defense Stats on Legs
32 Defense Stats on Head
34 Defense Stats on Body
So a Sonymon like STURK would have a high Defense Stats and a low Attack Stats, since it resembles a rock, but is often frightened and weak. Not only will the Sonymons have Stats for attack and defense, but they will also have a small tab for "other" stats.
Other:
32 Stats for Eyesight
14 Stats for Stamina
Eyesight: The eyesight is so the Sonymons don't miss their attack. Sonymons with high stats won't miss often.
Stamina: Sonymons who have high stamina stats can avoid the enemy attacks more often then the slow ones.A Sonymon like MYBOROSS would have high Stats for Eyesight since it resembles a spider with one huge eye.


---
There are no plans yet to do this with the PSP version of the game. But if the iOS version is really happening, you can expect some other various changes to the gameplay. More trainers, more wild Sonymon and of course, more Sonymon!
Leave a feedback on what you think, and if you have suggestions, please tell us.
---
Find KosmicSoft Development at: