With Chapter 1 of the campaign complete, we've shifted our focus to improving game mechanics and adding a few features we've been putting off for a while.
First of all, we finally finished the artwork for our second biome: snow. A survival map for this biome has completed and will be included in the next build. Currently, biomes only affect graphics, sound effects, and music but we are experimenting with biome-specific mechanics.
We've also added upgrade options to some structures. Now walls and auto-turrets can be enhanced. This changes both the stats of the building and the sprite used to represent it. We are considering adding this option to more structures as well as the possibility of having branching upgrades.

An upgrade button has been added to the infobox for some structures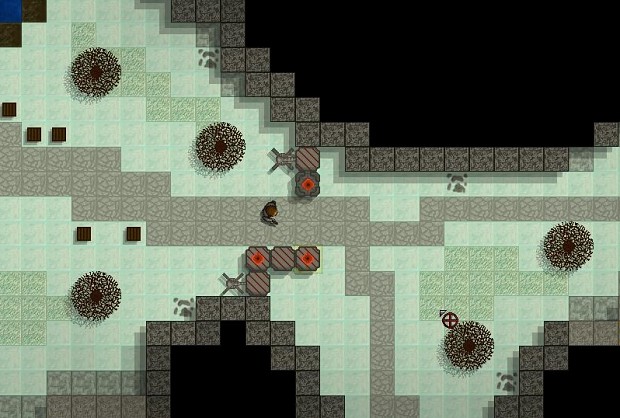 Walls and turrets can be upgraded, which makes them more powerful and changes their graphics
Resource hubs (lumber camps, mining camps, and wharfs) have been overhauled. This is something we have been intending to do for a long time. Workers are now more closely tied to hubs - which can only house three workers each - and workers will only gather from resource nodes within a 16 block radius from the hub.
We overhauled resource hubs for a few reasons. First of all, we had a huge problem with workers wandering into enemy bases to gather resources. Limiting the radius allows the player to confine workers to their base.
We also wanted player bases to look and feel more like towns. We considered the possibly of restricting population with houses (in addition to resource income) but ultimately decided that would over-complicate things. Now, hubs function as both worker housing and a resource drop-off point.
Note that if a resource hub is destroyed the workers will try their best to find a hub that can house them. If there are no housing is available they will quit working until one is constructed.
In addition to these features, we have filled out the settings tab on our main menu and added a resolution setting. The game now supports all common resolutions, which should fix some of the issues our users were having on screens that were not 16:9.
Work on saving/loading scripts has begun. We hope this feature will be included in the next test.