Scrum sessions 12th – 16th October
Introduction to Scrum We use this agile methodology in the development of Skara with a daily stand-up meeting, answering these three basic questions:
What did we do yesterday?
Problems we encountered with the previous tasks.
What are we going to do today?
This approach means the whole team (all 10 of us!) knows what's going on in in each 'department.' We can discuss features, any potential problems, and get to know in which area there are technical issues that will act as a bottleneck for the whole project. In these posts we will try to summarize all the daily scrums into a weekly one, for you to have absolute knowledge about what's going on in the development of Skara. If that's not enough for you, remember we stream part of the development via our Twitch Channel!
1.1) Completed tasks
Combo type detection: We are now able to create special skills that add a new feature to particular combos. This will help make the fighting style more advanced.
Shinse's Poison kunai VFX. The new Shinse class skill throws several poisoned knives into a damage cone - all foes inside this area receive poison damage. We used Cascade - the Unreal particle system - to develop this.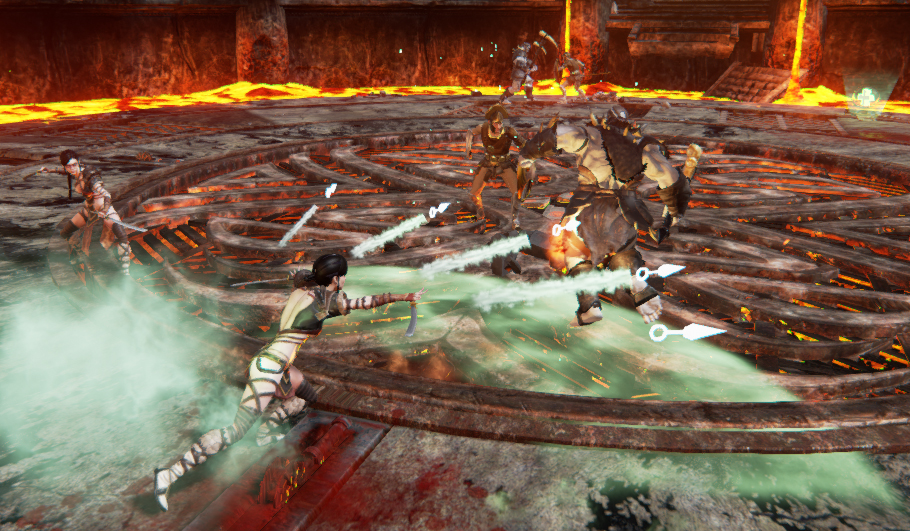 New menu special skill selection page: we are refactoring the way skills look, are selected and equipped.
New way to unlock the special skills. We prefer you to discover this in the next build :)
Frag display : we implemented a system which show players' relevant information when they die, such as the time since the last respawn, who killed them, number of kills on that strike, etc… This task involved Ciro from the programming department and myself as the only graphic designer in the team.
New slot for ranged special skills. Say goodbye to the old-fashioned knives and say hello to the brand new Range Special Skills. Celea had its own with the Disc of Sun but now Poison Kunais was added for Shinse and Rock Blast for Kharn.
Zem big tree: Sculpted on our Twitch channel, this asset will be very useful in the Zem arena to populate the environment with this mix of ruins, debris and dead trees.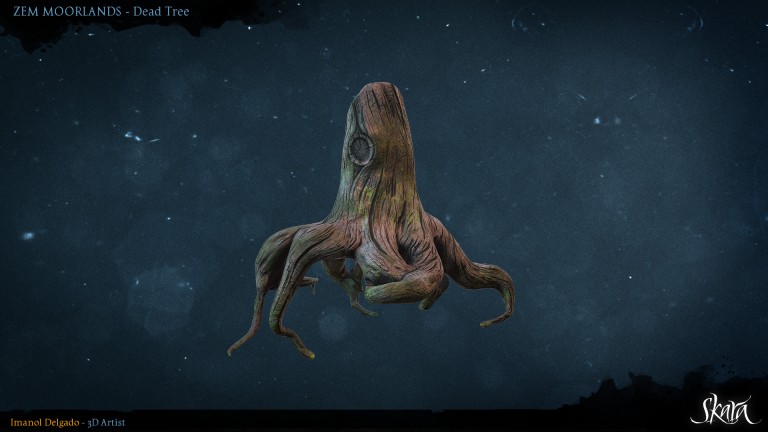 Shinse concept art study. Sub-factions, clothes, hair, and swords.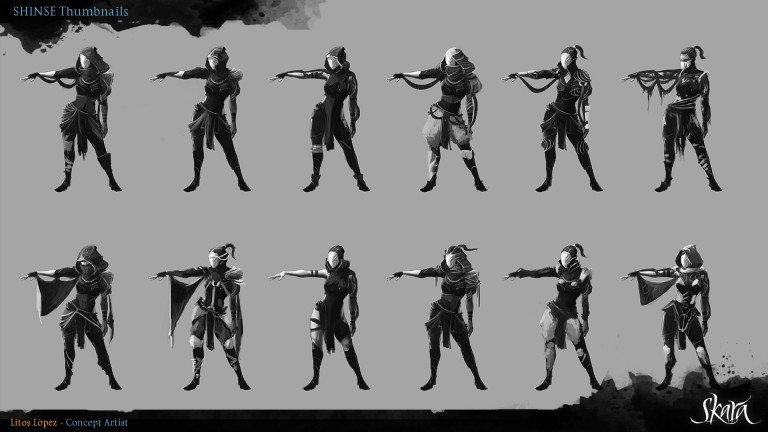 Shinse skin final concept art: Soon to be announced.
Tamvaasa skin final concept art: You have seen this image around; we are very happy about how the new Tamvaasa skin will look!
Cards final design: Yes, Skara will have cards! Check Build 0.5.5 to discover more about them!
Medals: Achievements that can be unlocked every match in each of our arenas. We start with our old Coliseum. Check out what happens if you are the player who inflicts more damage on Groth!
New Unreal version integration: We are moving to Unreal 4.8.1! It's been a long while since we updated our Unreal Version, and this always comes with a lot of integration problems - or to put it another way: it's a pain in the ass. Juanma has been working for all the last week (and part of the current one) on this.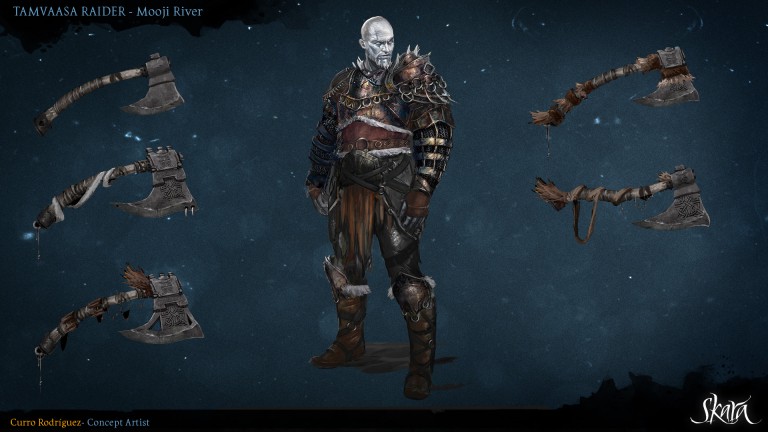 1.2) In-Progress
Celem's blade ability: A new Class skill for the Celea
Decal I+D:
Cloths I+D
Camera shakes for Kharn, Shinse and Celea to feel more a part of the battle from the third-person perspective.
Final rig for Kharn.
Tamvaasa concept art study: our next character in Skara will be ready for full modelling.
Concept art for the strong Tamvaasa attacks: these are going to be spectacular!
Jotheim BSP's + first arena test: The competitive arena is coming.
Rage vortex VFX: The Kharn class skill will become a real treat to watch and use.
Characters balancing: This is a constant battle, and we will really use all of the player feedback we can get.