Hello again and welcome to the release of the third build of Siege of Turtle Enclave! I took a bit longer than I had planned but I couldn't be more pleased with the results, and I hope that I will not be alone in that respect!

The download includes a fully feature instruction manual PDF so veteran and newcomer alike will be able to slip into the new flow of the game with as little confusion as possible. (Unless you are a proper hard-core gamer and don't read manuals...Learning the game the hard way is the only way, right?)
If you haven't heard, this will pretty much sum up what the game is about at this point:
Some of you might notice this is the same trailer from the last release, but I though it had enough dazzle for at least two performances.
Well well, where to begin? I could start by telling you all about the new enemy Villain, that will lay siege to the Enclave or players' citadels, oh did I mention you can build fortified, arrow-raining citadels now? Or maybe I'd prefer to start off by introducing the new rock-paper-scissors engine that makes battles even more intense and engaging, or perhaps the new goodie huts that unlock new global spells & new units, wait, you hadn't heard about the new global spells? I'll include a changelog at the end of the article, but for now I'd like to showcase one of the more significant changes to the game, the Corruption and Purification process, it controls how territory is lost and how it is gained.
Before, enemy tiles were always filled with enemies, some to a lesser or greater degree than others, but all of them garrisoned, you'd attack and drive them out and then the tile would be cleansed and you could harvest it, and they might attack and drive you out, denying the tile to you, but not anymore...Now, when friendly troops move onto a Corrupt tile, if it is empty (either because there are no enemies currently stationed there or the player has just forcibly ejected said nasties), the tile will begin to be 'Purified' a process that takes two turns, players can harvest these tiles at a reduced rate until they are cleansed, and once that has occurred the enemy may move in to try and 'Corrupt' it if it is devoid of any friendly troops, in which case the player may thwart an enemy invasion before it takes root and likewise the player can 'be thwarted' in their own attempt to expand. I thought this new method was far superior to the former invasions and had more room for making strategic decisions. But only time will tell, let me know what you think!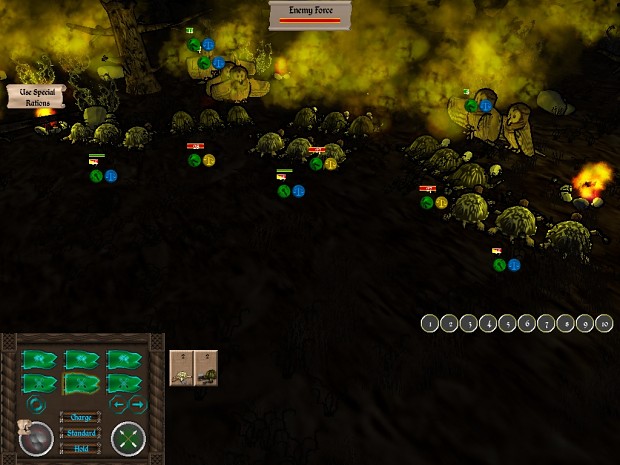 But now on to more important matters... The game in it's current state, although lacking in most of it's intended 'content', is functioning just about the way I want it to be, (with the exception of the upgradable structures feature, and a few other minor trivialities), and that means that I must humbly request you, dear players, to supply me with some much needed feedback on how the game plays, and how you are playing it, because right now I am just proceeding on my own feeling of how the game should flow in order to be fun based on my own limited play testing time... If it turns out my instincts are right on and it's paced and balanced perfectly (*strikes pompous pose*) then I can continue to go along my merry way, but getting back to real life I need to know what needs speeding up or slowing down, what's too weak and what need to be nerfed, etc... This of course will change when I add the new building tiers but I need a point of departure or some idea of where to start if I don't want the subsequent additions to be way out of line.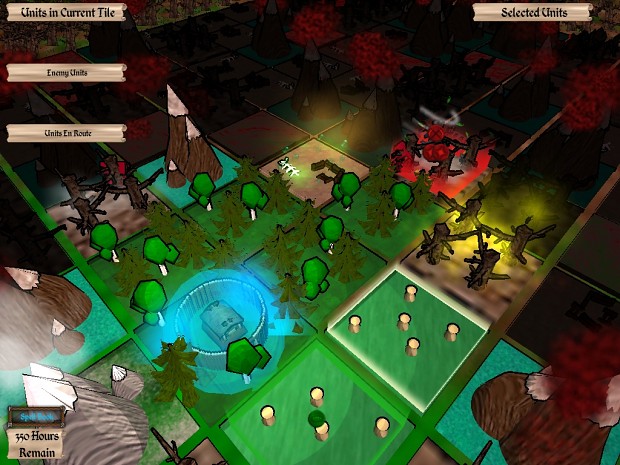 Sincerest thanks in advance for any aid you may lend me in my project, every comment helps! Please don't be afraid of being critical, it's all for the best. I'm also trying to cultivate a presence on Facebook, Twitter, & Tumblr where I'll post updates, screen shots, the current state of the game, and will give you other venues to comment or reply to status updates or features, supplying me with more vital feedback on how the game is living up to your own expectations.
And now for the 0.3a changelog:
Additions:
* Added Enemy Capital (but at this point it can't be captured).
* Added Enemy Barracks (acts as a focal point of enemy troop concentration).
* Added Enemy Towers (spawns 'Villains' and makes sieges of players holdings and enemy global spells possible).
* Added An Enemy Villain (haven't come up with a suitably epic name for him just yet, but he's a mage).
* Added Enemy Unit Icons for 'Scouted' tiles. (But actual scouting isn't implemented yet, not sure how I want it to work).
* Added Goal-based enemy A.I. (now attacks are a little less arbitrary, uses a bit more strategic approach, needs refining though).
* Added Corruption and Purification for losing and conquering territory (control shifts a bit slower than before).
* Added Fancy Notifications at the start of a new turn (replacing the crude notifications that were already in place).
* Added Day/Night cycle to World Map & all Battlegrounds.
* Added Citadels (adds bonus damage to tile & adjacent tiles and make them harder to Corrupt).
* Added Goodie Huts (special locations hidden in the world map that hold valubale treasures).
* Added Global Spells (powerful abilities that have a major impact on the campaign).
* Added Rock-Paper-Scissors mechanic to Units (this changes how battles are fought tremendously).
* Added Weather (different weather effects units in battle).
* Added 3 new Turtles; the Hastati, the Velite, and the Mauler (all of them are goodie hut rewards).
Alterations:
* Initial camera position in Enclave is now 'Zoomed Out'.
* Changed How Enemy Deploys it's Troops in World Map.
* Changed camera movement, added E & Q keys to Zoom-In & Zoom-Out functions respectively.
* Re-Did World Map GUI.
* Optimized World Map Fog-Of-War & made it more intuitive.
* Tweaked Battle GUI to make it less obtrusive.
* Re-Did how Structures are handled (under-the-hood alteration, makes it easier for me to add new structures...).
* Removed Raiding (the space it was originally intended to fill has been removed, so it was no longer required, might bring it back, might not).
Fixes:
* Fixed jerky camera movement at boundaries.
* Fixed Road bug (Troops could move to any road tile, even when they starting out on one).
* Fixed Hero showing up for deployment in the Enclave even when they're dead...
* And probably other stuff I forgot to write down...
Well that pretty much sums it up, but somehow I can't shake the feeling that there is a game-breaking bug lurking around somewhere in this build, but it's more like a lingering feeling than a real suspicion, I haven't come up with anything during playtesting, but if you manage to find this imaginary menace please let me know and I'll release a hotfix build.
Thanks for reading and I hope you all enjoy the new build!
~KingHeftig.