Hello adventurers and welcome to first weekly development log of our game. But, first thing first, what is Shopeneer?

Shopeneer is in heart Shop Management game, with plethora of ways to maximize your profit margin. Will you be daring adventurer, defeating monster threats to the city, and sell your loot, or will you make shady deals with even shadier people and take part in fencing stolen goods, profiting on the dark side, or will you simply try to investigate current events in the kingdom, like skilled trader you are, and follow the trends? It's up to you.
But, don't think that your actions are without consequences. Because every action has impact to the town. If you decide to be weapon oriented shop, selling shiny swords, sharp axes and deadly bows, you can find yourself in town on a brink of the rebellion, with frequent bandit visits, and uncertain future. On the other side, you can sell old books and artifacts, that will bring every scientist in kingdom to study and research them, but maybe those books and artifacts were for reason buried in the darkest depths.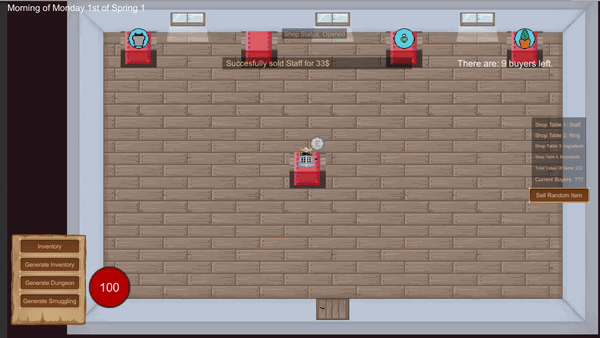 (Sneak preview for the dev log next week)
At least, you are not the only game in town, there are several other shops, that will do anything and everything to stay relevant. You will need to find allies, do favors, and most important to make town council listen to you.
This is just an overview of the game, you can expect more details in the following dev logs, that will be published every week. We are planning early access release to be in the fall, but you can expect alpha builds in the following months. In the meantime you can stay up to date about our developmet by following our Shopeener Facebook page.
See you next week!