Closing in on a new character, and some massive improvements to our bots... some of the strides of progress made by the SKARA Team this week!
Completed tasks
Unreal Clothes R&D The way clothes move in Unreal 4 are visually stunning, but they take up a lot of resources from the CPU and GPU. We did some tests this week to find out what the maximum number of clothes a character can wear before breaking the sytem. It is important to mention that we did all these tests in a next-gen console environment, so we can check the PS4 and XboxOne hardware limitations. (Skara on Consoles is just around the corner! Stay tuned!)
New Khärn skin The Khärn 'Mad Bones' 3D skin is almost complete. What do you think?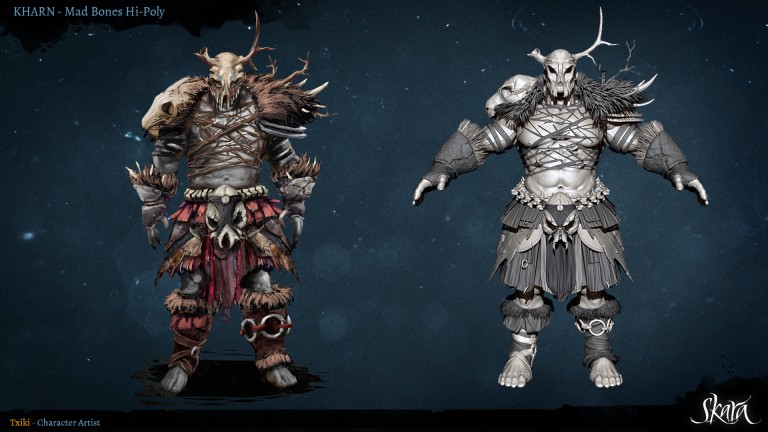 Celea concept art study We are making aesthetic decisions about the future factions of Celea: Including how they will look and what kind of clothes, armors and weapons they will wear.
Tamvaasa navigation animations are coming together! We worked out the running, idle and basic movements, and we are almost finished completing the first big batch of animations for our upcoming character, the Tamvaasa!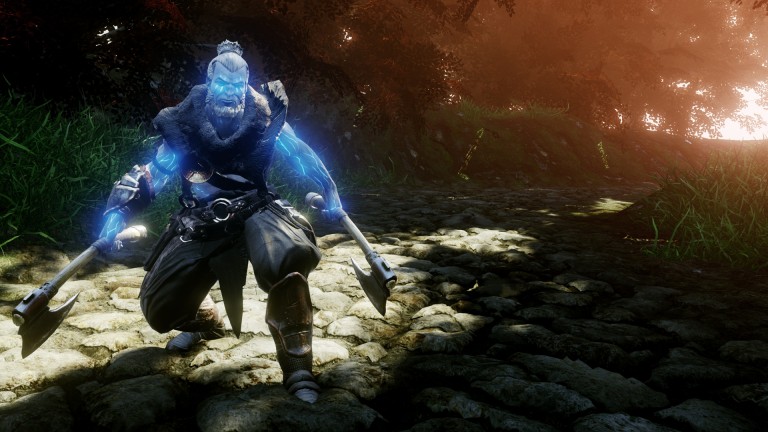 AI documentation = Smarter Bots! Ok, you all know that Skara's bots are… stupid, to say the least. Now that we moved from the 0.4.3 version of Unreal 4 to the 4.8 version, we have a new system to be able to create additional behaviour trees for the AI. During this first phase, the design and programming departments met to determine the basic rules of behaviour for the bots. Alberto, our AI programming expert, did a wonderful training with our Game Designer, Joan, and for future updates, he will be in charge of defining the bot's attitude. So make sure to try a couple of battles against the bots to comment on the changes!
In-Progress
We added a long list of tasks to get on with before November is over.
Khärn concept art study: We are moving on to the Khärn variations, now that we have basically completed Shinse and Celean studies.
Tamvaasa combat system animations: Now that we have their basic movements, we can define their own versions of combat movements--using their famous axes of course. This includes their first skill animation.
Tamvaasa: 3 skills + 1 ranged skill
New gameplay feature: Talents
Dedicated servers integration: Finally we are moving forward with implementing dedicated servers, to make the battles more fluid with players, no matter where they are or what kind of computer they have. This is a long process, so stay patient!
Forum refactoring: Our new forum is going to be very cool and we cannot wait to show it in action…
Menu & Cards UI remodeling: We are perfecting the way these look and feel. If you have an opinion, don't be shy in sharing it!
Celea first skin evolution: We are taking our first Character, the Celea, to the next level. This is going to look very awesome.
Bible for Talents, Skills and VFX
Zem refactoring: The Zem arena continues to evolve into something more and more fun. Please do spend some time in the Team Deathmatch and tell us how you think it could improve!
New Tamvaasa skin: They're not even public yet, and we are already busy defining another skin for users to enjoy.
Cosmetic shop first iteration: The store is going to open soon, so that all the game currency players have amassed will be put to good use!