We are working hard to get a prototype ready before the IGF deadline. This is taking up most of our time, leaving us with little time to write new amazing and exciting updates. But, at the same time, we don't want to stop posting updates. It's fun, it keeps us motivated and getting some feedback is an important part of the development cycle. So we decided to resort to this: posting a bunch of pseudo random screenshots, along with some even more pseudo random comments.
This particular set of pseudo random screenshots are the result of some tests I've been carrying out, using different shaders, and also some good old fashioned fooling around with Unity's camera effects. Most of the stuff you see here will not be in the game's final version. They are tests, weird stuff. So posting them here is also a way to put them to rest. Of saying goodbye to them. Farewell, random test!
So, without further ado, here they are. Pseudo random screenshots.

Smoke in the Stone
Basically playing around with fog here. The grey tint gives it a smokish look. Perhaps we can use something like this if a whole city or area is burning. Or maybe the ancient Greeks had smog too.
Ye Olde Delphi, or the unavoidable need to try a sepia filter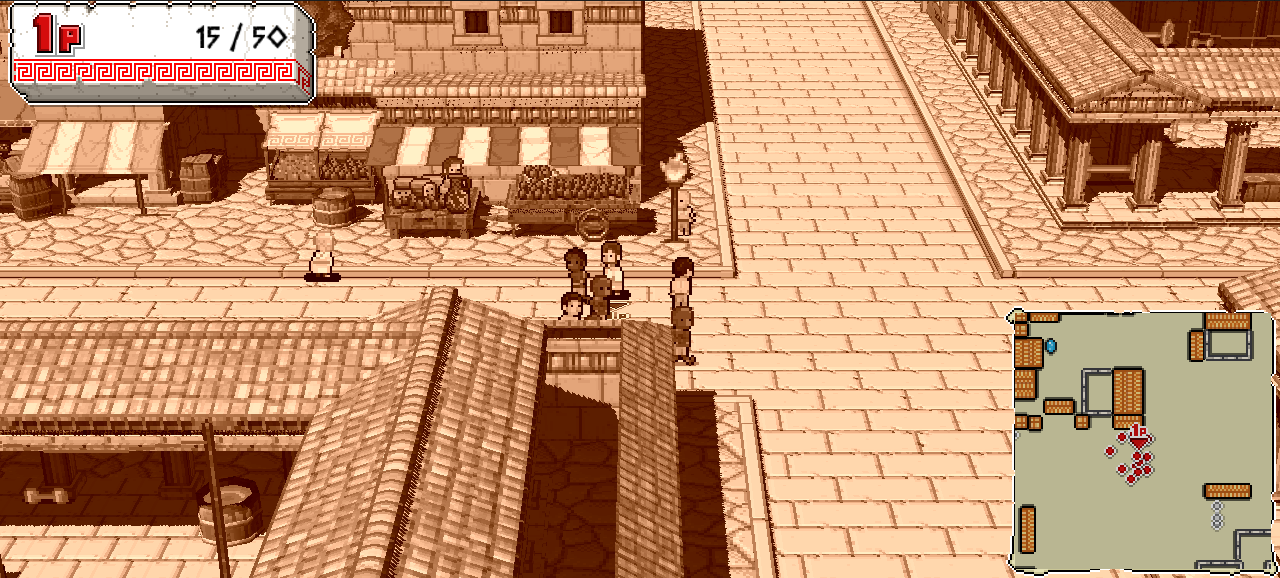 It just had to be done.
Extremely Loud and Incredibly Close
Okay, maybe not so loud since it is a screenshot with no sound whatsoever, but it is indeed a closer look at some of our favorite Greek mobsters. Plus, check out the pecs on that warrior. Someone has been working out!

The Snake Mode

Or the mob's conga line if you prefer.

Fisheye Mob

Testing some more camera effects. Here another of the classic ones. I don't think this will make it to the final cut, though.

A Lighting Test

Just a single philosopher, in the middle of nowhere. Plus Unity's editor thingy up there in the corner (that's the technical term for it, don't let anyone fool you).

The Shadow Mob

Booo! They are dark and evil… You know, I kind of like how they look. I am thinking we could keep one of these guys as a hidden character and name him Niatsabes Euqor...

Under Medusa's Shadow

Testing an overlay effect with a frame from Medusa's death animation.

Medusa's Mist

More crazy medusa-induced effects.

Conga Line, Part II: Someone shouts "B"

And as a bonus a merry group of Carmenmirandesque medusas of different sizes try to join the party.

The Brightest Day

And still quite some time until someone invents the sunglasses.

A Poor Old Man in the Snow
Life can be tough sometimes. This was a test using a snow shader (something that would have allowed to create a snow level without changing a whole lot of textures) but it didn't work out very well. Okhlo's style (low poly, sprites, pixel art) doesn't lend itself very well to something like this.
Dusk At Delphi

Both Roque and I agree that this was the best of the lot. It was the result of testing different shaders and playing around a little bit with the scene's lights. If everything works out the way we plan, be prepared for more dynamically lightning in Okhlos!