A Text Adventure Reborn
It's been about twelve months since the last post here on IndieDB and, with the year drawing to a close, it's time to revisit the past and bring this sci-fi world back to life. Scaffold 22 has been steadily improved over the course of the past year, having evolved from a primitive text-based adventure story into a far deeper and comprehensive RPG experience - albeit one still based around narrative prose.
Also, we've moved to a dedicated website. The current version of Scaffold 22 (beta 0.3.1) is free to play and available at:
Now let's look at what's changed since this game was first introduced. Foremost, Scaffold 22 is no longer a purely narrative adventure. The most notable change coming to Beta 3 - as of V.0.3.1 which is currently online - is game world illustration. The idea is to begin with setting the tone via images and expand as time goes on. Not every scene is intended to be visually represented but, at the very least, the major hub locations should be visualized, at the very least to indicate changes in textual content. In other words: if the image is the same, the text is identical and can most likely be skipped over. If there is no image, the scene is different and deserves to be read though in its entirety.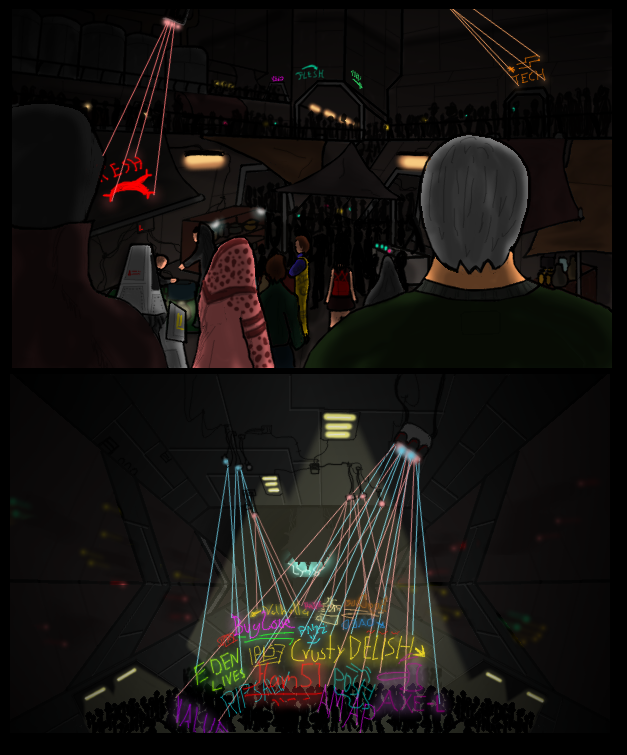 Two existing locations; visualized:
the Bazar (top) and the Crossroads (bottom)
Furthermore, the combat system, once static and pre-determined based on equipment and the given scenario, has evolved into a dynamic, turn-based system that allows for various playstyles, gear combinations, and builds, much like one would expect from a traditional role playing game. There may not be character levels per se but your success is dependent on how you outfit your character, be it with biosynthetic augments, high-powered railguns, or simply the flashiest outfit you can lay your hands on.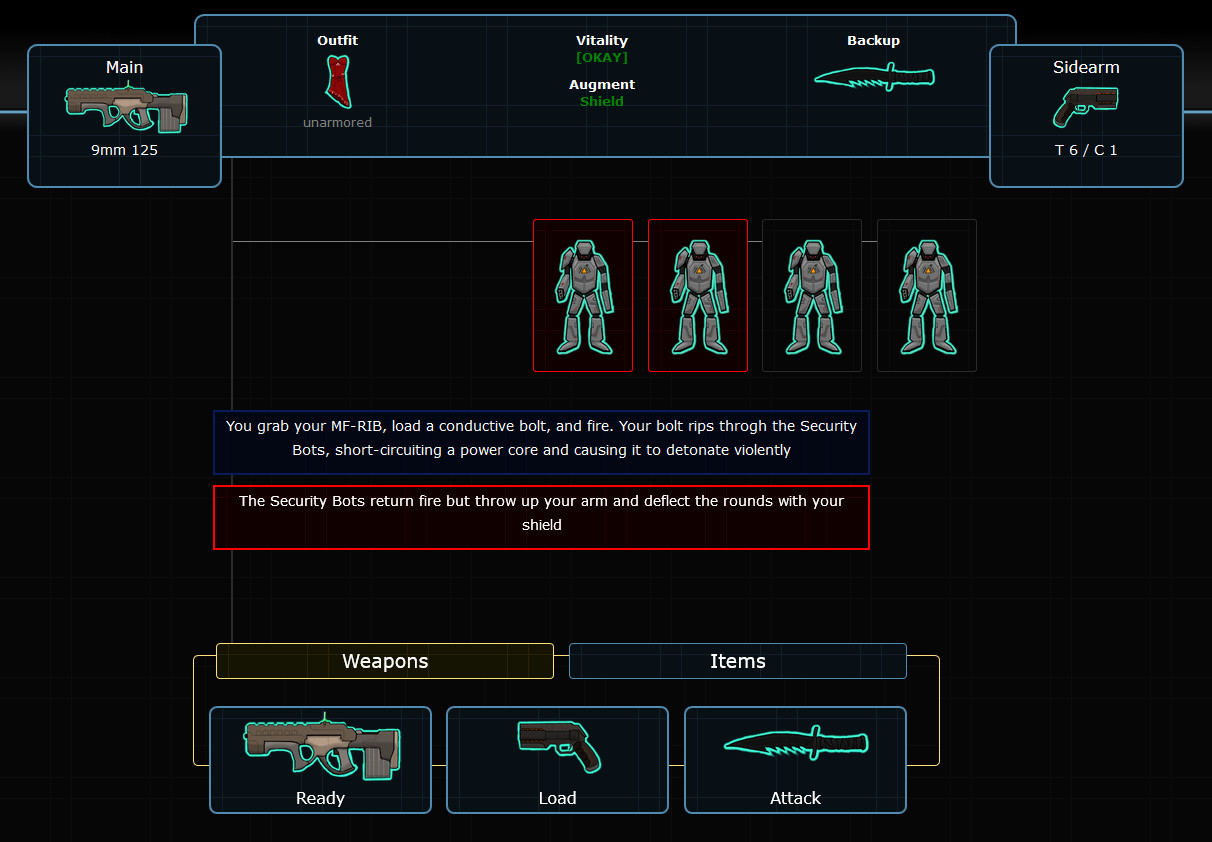 Updated Combat System
But Scaffold 22 was never just about killing things. It tried to portray a vast and complex futuristic world, complete with ample backstory and engaging conflicts to partake in, all the while searching for the truth behind a sinister conspiracy. Earlier incarnations lacked both interactivity and player agency, leading to a situation where one experienced a world but couldn't actually affect it in any meaningful way due to the limited number of choices and encounters.
Also, Beta 0.3.1 makes up for where earlier versions fell short by vastly expanding the available content, allowing the player's investigation to take its own course, and including opportunities to influence both minor and major events based on personal preference. More importantly, the world - and story - evolve based on the player's choices; or at least they should. There are still a few bugs in Beta 0.3.X but the ultimate goal is to offer a multi path adventure, in which not all roads lead to rome but they at least lead somewhere.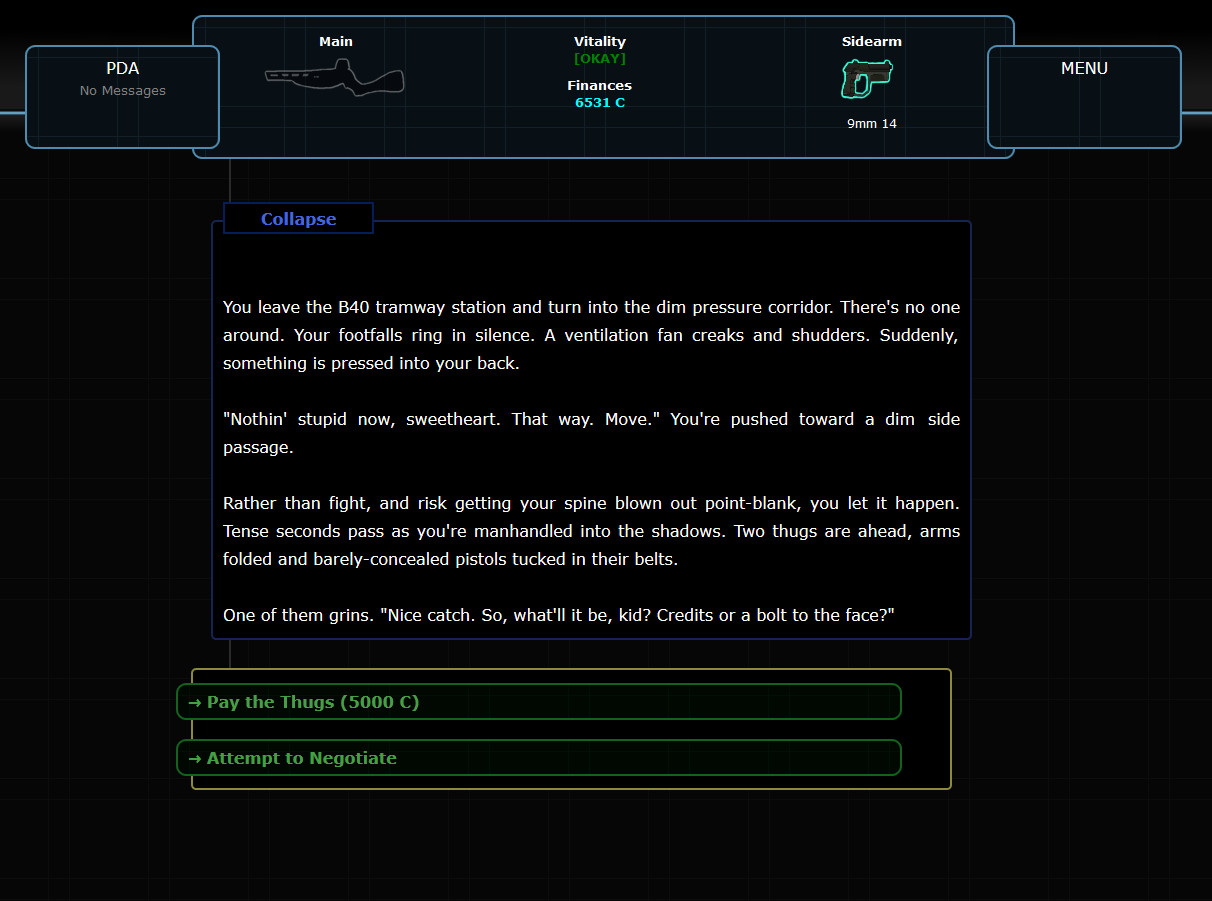 An unfortunate encounter
Whether you're partial to the space cowboy out for justice in a galaxy seemingly devoid thereof, prefer to play the drug-addicted loner obsessed with your next fix, or opt for a completely different style, Scaffold 22 caters to numerous tastes and refrains from judging your actions beyond what consequences they should logically bring about. In Beta 0.3 you no longer experience a pre-determined character's story but write your own unique version of events based on the choices you make, the character you play, and the conclusions they lead to.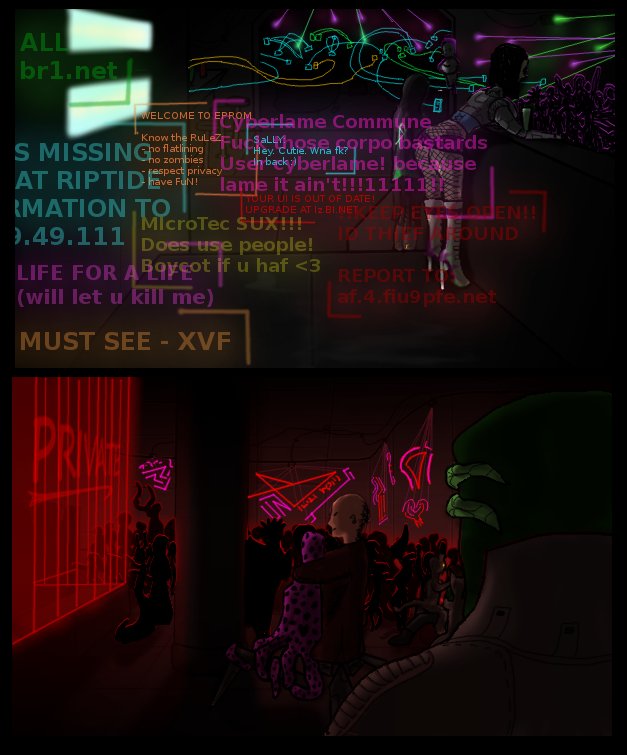 A new location: EPROM (top) and the existing Siren's Song (bottom)
Last but not least, Scaffold 22 is finally compatible with mobile browsers, and can be played on any device with an internet connection. In fact, it's probably best suited to mobile devices, where the gameplay feels vastly more intuitive - if a little buggy - than on desktop computers, which are not designed for reading layouts. Scaffold 22 may not boast the flashiest graphics or most addictive gameplay mechanics but the world is one you won't forget - provided you're into sci-fi adventures and don't mind a little light reading.