Some notes and ideas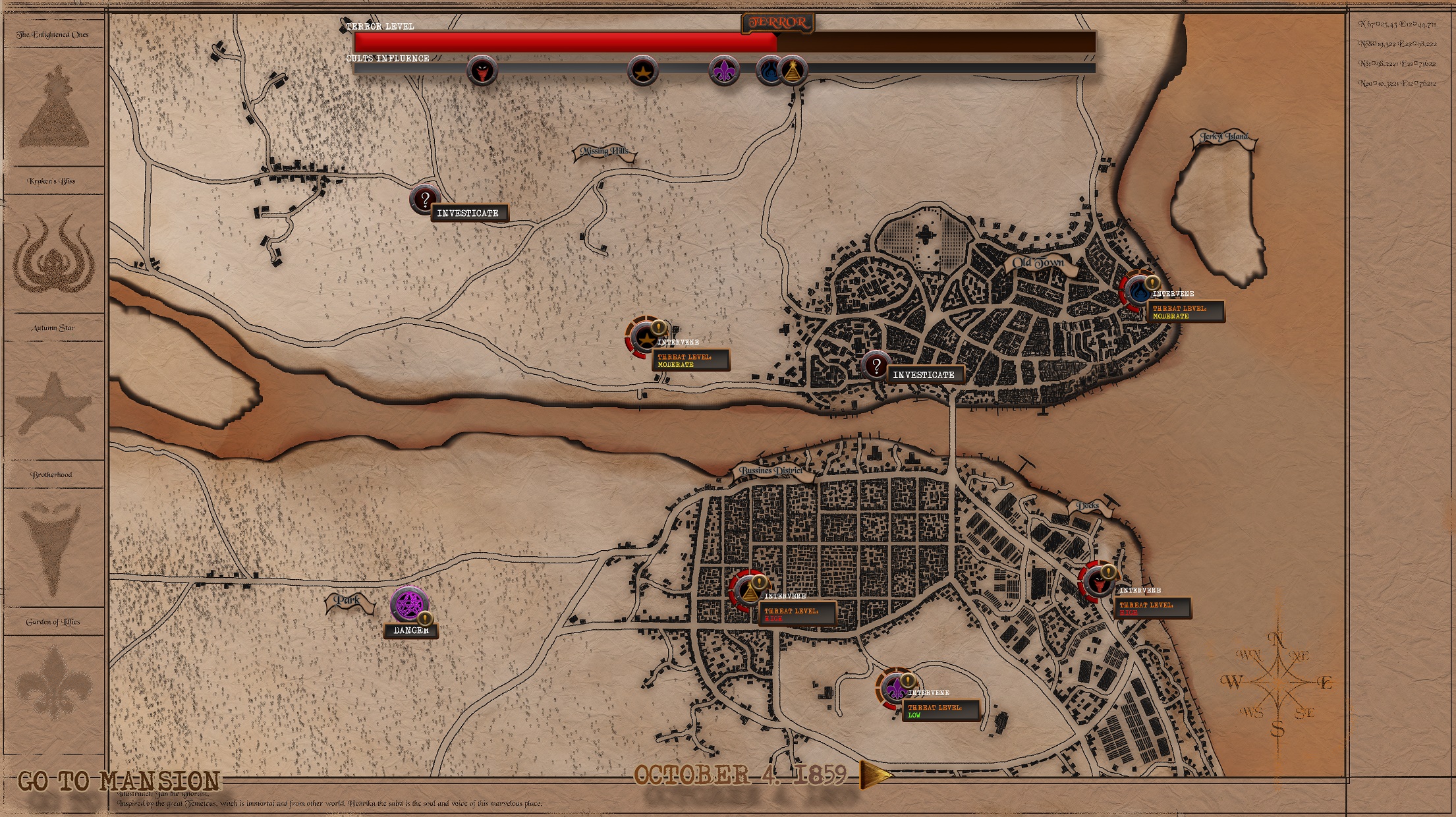 Here's one of the first concepts for the metagame map, a sort of hub where player can observe the different events taking place in the city of Rivermouth and makes (hopefully hard) decissions on where to commit his or hers investigators.
The time on the metagame is also turn-based: dawn in the city will turn into afternoon when the player hits the button.
On the left, you can see symbols of five different factions, which in this concept are all cults. Since then, we have actually added the Rivermouth PD as a faction in the game. The idea is to have a metagame bit similar to XCOM: Apocalypse(Microprose, 1997), which managed to bring the city ravaged by aliens alive by adding all these neutral factions with their own agendas and plots, such as corporations and private security forces. Maybe different groups of civilian townspeople should be added as factions too, but we shall see. We aim to tie the faction system to mission types - for example, one type of mission could be to prevent a cult faction from destroying a civilian faction. A battlefield with different actors and sides present simultaneously sounds intriquing, at least to me!
Aside from XCOM-games, the board game Arkham Horror (FFG, the 2005 edition) acted as a huge inspiration for the meta: whats great about it is the constant feeling of impending doom as the Great Old One nears and terror level rises. In Gaslight Horror, cults conduct their sinister operations in the city and every now and then, summon a lesser mythos horror to help. But when they are sufficiently powerful, they will be able to summon their "end boss", a huge and powerful mythos god they worship. As with Arkham Horror, it will be possible for the player to defeat the end bosses of the cults only if he or she can keep the cults at bay just long enough to develop a well-equipped, trained and not-too-far-tainted team of investigators.
There will be a lot of smaller design questions to be answered, but we think this is a good foundation to build on.