BHP and SG re-visit Renegade Alert
So after hearing the bad news that the new Command & Conquer has been cancelled, we've decided to carry out a plan that we've been thinking about these last few months: a throwback event so that we can play some good games of older APB builds. This first throwback event will feature Renegade Alert version 9935!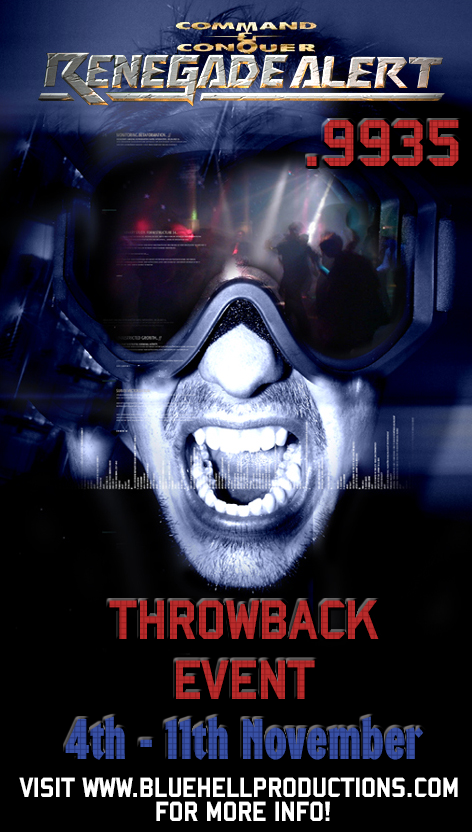 If you're wondering how to participate, fear not; we've got you covered!
We have partnered up with the Steel Guardians clan (who will kindly be providing the game server and stats system) to go back to the good old days and have a nostalgia-filled experience.
[h3]FAQ[/h3]
Q: Do I need Renegade to play?
A: Nope!
Q: How do I obtain a copy of Renegade Alert 9935?
A: We've been working together with Triattack to get a version of 9935 that can be delivered via the Bluehell Productions Launcher! This way you won't have to worry about finding the downloads and servers from old sources.
Q: 9935 is going to be on the Launcher? Sweet! How does that work?
A: Well, Triattack has been working with us to upgrade 9935 to work with Scripts 4.0! This means that it will work through the launcher and all game resolutions are supported! :D
Q: Will the old fan maps be included in the server rotation?
A: Of course! We'll be hand-picking the best maps from that era to go into the server rotation. There may also be some maps that have never been seen before!
Q: You mentioned stats. I like stats! Where are the stats?
A: The Steel Guardians will be hosting the stats system. You can find the link to it here: Tristats.site50.net
Q: Can we win anything by playing?
A: Yes you can! Since we have a stats system, we can keep track of the top players over the course of the week! The top players will earn entry into the hall of fame for the event and will be able to choose a custom user title for use on the forum and ingame! We might even be tempted to give out tester spots if the top players are that keen!
Q: Will anything else be happening during the week?
A: I'm glad you asked! On Friday we'll be running a special event called Funday Friday! During this event, some interesting things will be happening on the server, but you'll have to play to find out!
Q: Are you going to be running more events like this in the future?
A: Probably yes! We'd love to run an event for APB version 1.2.0 and Nuclear Winter!
Come join us this week!
Feel free to come and join us next week as we re-live part of this community's history once more! :D